A reliable business growth strategy should be an essential part of any company's long-term success. Marketing is a critical component in developing and maintaining customer relationships, generating leads and driving revenue. Successful companies around the world invest a handsome amount of their budgets in marketing initiatives to gain a competitive edge. Grow your company with the nine marketing methods that are known to produce great results. Implementing these tactics will help you reach more customers and increase your profits. So what are you waiting for? Start reading and put these strategies into action.
What is Marketing Strategy?
The definition of marketing strategy is a plan designed to achieve business objectives by successfully targeting market opportunities through the use of effective tactics. A successful marketing strategy should be built on research, analysis, and planning. It should include a combination of both traditional and digital tactics that are well-aligned with your overall business goals. Good marketing is based on a strategy containing four important P's: product, price, promotion, and place (distribution).
Marketing Strategies for Business: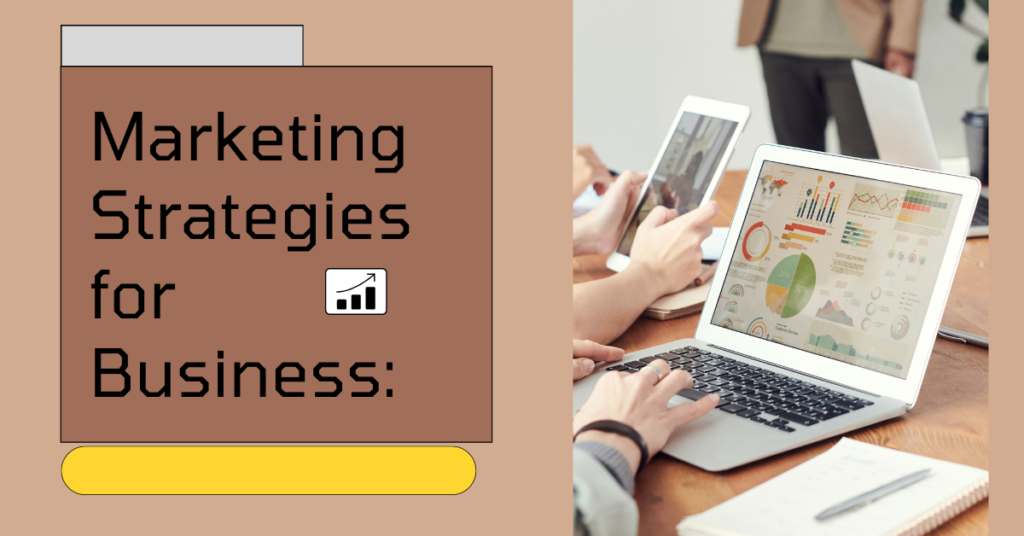 There are many marketing strategies that can be used to grow a business. Here are the nine best options for businesses of all sizes:
Set Clear Goals:
Establish clear, measurable goals for your marketing activities. This will help you track and measure your progress so that you can make adjustments as necessary. You should have a clear strategy for all of your marketing efforts, including where your budget will be allocated and which tactics will be used to reach your objectives.
SEO:
Search engine optimization (SEO) is a critical component of any digital marketing strategy. SEO helps you to rank higher for relevant keywords, driving more organic traffic to your website. Investing in SEO will help you reach a wider audience and improve brand visibility. There's no doubt that search engine optimization (SEO) is one of the best marketing strategies of all time. In fact, according to studies, 93% of online experiences are with search engines. So, if you want your website to be seen by potential customers, it needs to show up as one of the top results for relevant searches.
Develop a Content Strategy:
A content strategy is essential for creating, delivering, and promoting relevant information to your target audience. It should focus on providing helpful, valuable content that helps customers solve their problems. Content marketing is an effective way to build relationships with your audience, attract more leads and generate sales. This will ensure the success of your overall marketing efforts. The brands that are succeeding today are those that are creating and producing new content and finding new ways to engage with their audience.
Network:
Networking is an important aspect of marketing because it helps you gain new connections, leads, and customers. Attend events, join online groups, and take part in activities that are relevant to your industry. This will help you not only build better relationships with potential clients but also increase awareness about your brand. Having new connections means new customers and potential business opportunities.
Social Media Marketing:
Social media marketing is one the most powerful tools in any marketer's toolkit. It is a great way to increase brand visibility, engage with customers and generate leads. Investing in social media marketing will help you reach a wider audience and build relationships with them. It is also an effective platform for launching campaigns, contests, and giveaways that can help drive traffic to your website.
Pay-Per-Click Advertising:
Pay-Per-Click (PPC) advertising is an effective way to generate traffic and leads from search engines like Google, Yahoo, and Bing. PPC campaigns can be very targeted, allowing you to focus on specific keywords, locations and demographics. You only pay when someone clicks on your ad, so it's a cost-effective marketing strategy for businesses of all sizes.
Referral Programs:
Referral programs are a great way to get customers to promote your business. You can offer customers incentives such as discounts or free products for referring friends and family members. By doing this, you will gradually allow more people to become aware of your brand, which in turn will give you a higher chance of making sales as there are more potential customers.
Referral programs are successful because people generally trust their friends and family's opinions about brands and services. There are plenty of referral apps available in the Shopify App Store to get your program started. Just download an app, set your incentives, construct the campaign, and then promote away.
Facebook Ads:
Facebook Ads is another powerful way to reach your target audience. With its detailed targeting options, you can create customized campaigns that are tailored toward people who have a high likelihood of engaging with your brand. The platform also offers powerful analytics tools so you can track how well your ads are performing and make adjustments as necessary.
Email Marketing:
Email marketing remains one of the most effective forms of marketing. It is a great way to stay in touch with customers, build relationships and increase sales. Investing in email marketing will help you reach a wider audience and keep them updated on your latest products or services. You can also use personalized emails to send special offers and discounts that will help drive more sales.
Analytics:
Analytics is essential for understanding your customers and tracking the success of your marketing campaigns. It allows you to measure website traffic, analyze customer behavior, track ROI and optimize campaigns for better performance. Analyzing data will help you make more informed decisions about your content, campaigns and strategies so that you can get the best return on your investment.
Influencer Marketing:
In recent years, influencer marketing has become increasingly popular. Influencers are people with a strong following in a specific niche. They often have an engaged audience that trusts their opinion and recommendations about products or services. Partnering with influencers can be a great way to reach new customers and expand your brand reach. You can collaborate with influencers to promote your brand, create sponsored posts, or run giveaways and contests.
Many businesses, like yours, have found success in influencer marketing. You may feel that finding an influencer would take too much time, but luckily there are multiple platforms designed to help you find creators, start your campaign, and monitor progress.
Final Words:
Marketing is an essential part of growing any business, and the strategies mentioned above can help you reach new customers, drive traffic to your website, and increase sales. It is important to remember that no single strategy will work for every business; it's about finding the right mix for your particular goals. With patience and experimentation, you can create an effective marketing plan that will take your business to the next level.