As a business owner, growth is likely one of your desires. However, for growth to occur, you must be a proactive entrepreneur. One way to be proactive is advertising the goods you sell or your products to your ideal customers.
Advertising can be passive, where it speaks on your behalf even in your absence, or active, where you must be involved almost entirely. In entrepreneurship, you have many operations to run, and time might not be on your side to be too involved in advertising.
If this sounds like you, all hope isn't lost in advertising. A website is one of the tools you can use for this. It's passive but effective. But the website's design must be top-notch.
You can decide to custom-make one or use a template. Yet you should know the ins and outs of each option before deciding. This post will assist you by discussing the pros and cons of web design templates. Read on to learn more.
Pros Of Using Web Design Templates
Using web design templates has its disadvantages. Some of them are listed down below:
It's Cheap
Expenses are things you must reduce, if not eliminate, as a business. It's the only way to avail as much profit as possible. By adopting a template, you'll minimize your expenses. The template will eliminate the need to hire a team to design your website. Most charge by the hour, which can become expensive, considering the process can even take months. In addition, there are free design templates for your brand, eliminating expenditure.
It's Fast
Time is of the essence in business since it directly impacts productivity and profits. Creating a website is no easy feat. It consumes a lot of time; there's a lot of back and forth trying to arrive at the final design that meets your business needs. A web design template eliminates all the design hassle. These templates are ready-made; you only have to insert your business data, like the logo, statement, and contacts.
Also, these templates are ideal if you don't have time on your hands to undergo the whole design process, which can extend to months. Time can be limited if you want to keep up with the social media trends that are time conscious. For instance, this year social media trends have been on the rise, and you must adjust accordingly to remain relevant among your target audience.
It's Simple
For any technology or investment to serve you efficiently, you must understand its working. It'll enable you to utilize its features to the maximum. A web design template provides such simplicity. Usually, these templates are developed with the larger population in mind. Anybody, whether literate or illiterate, should be able to use it easily. Hence, once you adopt a template, you can start using it in a few hours.
Nonetheless, it's important to acknowledge that simplicity isn't always good for businesses. It might not meet all your business needs, especially if you're large-scale or have complex systems.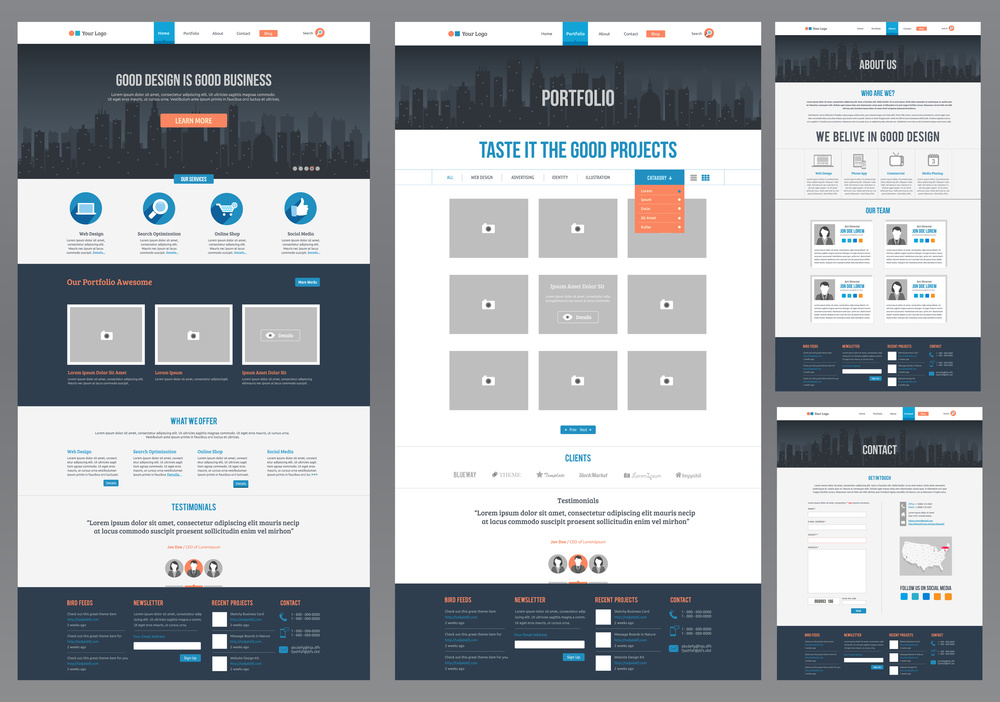 Cons Of Web Design Templates
It's best to keep in mind that although using web design templates has its perks, there are certain disadvantages. Carry on reading to learn more.
It Makes Branding Challenging
A brand refers to business identity. How does the public recognize your company? Do you have a unique color, logo, or phrase? Branding is one of the ways you can stand out in business among your competitors; your website should help you do this.
Unfortunately, a web design template won't give you much room for branding. It being a template means there's minimal you can change to suit your brand. In most cases, you'll only change the color and theme, but rarely the design.
Since these templates are often similar, with many businesses adopting them, you'll find it hard to have a unique business identifier on your website.
Not All Are Effective
Just like there are fake and genuine products in supply, there are also fake website templates. These fake templates might only work for a given period and end up being an expense rather than an asset to your business. As a result, you'll have to find another one to meet your needs.
It's best to be wary before acquiring any one template. If possible, refrain from acquiring the free ones. There's a likelihood of poor quality in its design, which might showcase itself later as you utilize it. However, some free ones are also effective; do your due diligence.
Minimal Technical Support
As you use your website template, you might experience technical issues that need an expert's hand. Finding this assistance can be challenging, considering you can rarely connect a website template to its developer. It's likely the case if you chose yours online.
Suppose you decide to hire a professional website developer to address your template issues. It'll be challenging since most will avoid repairing a system they've not developed. It's like finding a needle in a haystack. However, if any of them agrees to the task, it won't come cheap due to all the work involved, from identifying the issue to diagnosing it and rectifying it.
Conclusion
Website design templates are an investment you should consider adopting in your business. Yet you should only proceed with the investment if you're well-informed about these templates. The post above has shown the advantages and disadvantages of web design templates.