In our increasingly digital age, platforms such as Google Ads have become an important component of any company's marketing strategy. In this article, we discuss 3 types of Google Ads, and how to use them.
Types of Google Ads
Google Ads is a convenient Pay-Per-Click (PPC) advertising platform created by Google that enables businesses to advertise in Google Search results and the company's network.
There are several types of Google Ads available that you can use depending on your marketing goals, and the specific advertising campaign that you plan to utilize. Basically, your decision about which type of google ads malaysia to select will boil down to a couple of factors – such as your company's brand strategy, and equally as necessary, the amount of time that will be dedicated to the specific ad campaign. 
Google Display Ads
Google Display ads are one of the types of Google ads available for businesses to advertise products or services. These are visual ads that create brand awareness for your business by leveraging the expansive Google Display Network which encompasses millions of websites, YouTube, social media, in addition to apps.
One of the key advantages of choosing Google Display Ads is their "reach". Via Google Display Network, the company has partnered with over 2 million websites reaching about 90% of all users on the internet. Suffice to say, that is an enormous number of possible impressions, which could ultimately lead to more sales.
What Two Types of Remarketing Can be Used on Google Display Ads?
Remarketing" refers to users who have previously visited your website through a Google Display Ad. Think of it as a gentle reminder to people about your product or service. A list of all users to your website is created by either yourself or automatically generated through Google Ads.
The two types of remarketing that can be used on Google Display Ads are Standard remarketing and Dynamic remarketing.
Standard remarketing –

Displays generic ads of your company to users who have previously visited your website, creating brand awareness.
Dynamic remarketing –

More advanced than Standard remarketing, this remarketing displays ads with specific products or services that users have previously viewed on your company's website, resulting in potential sales.
Google Ads Example
Below is an example of one of the best and most effective Google Ads.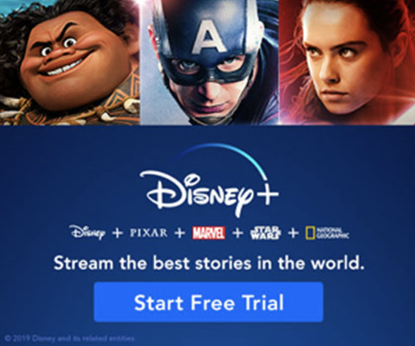 This is a Disney+ Google Display Ad. For those not aware, Disney+ is a subscription-based streaming service that was launched in November 2019 by The Walt Disney Company. 
The streaming service primarily features content owned by Disney properties including Disney, Marvel, National Geographic, Star Wars, and Pixar. Since its inception, as of January 2022, Disney+ has generated 129.8 million subscribers.
Google Shopping Ads
Google Shopping Ads are perfect for retail companies that want to display their products to potential customers. These visual types of ads will appear in either product-based Google Search results, or conversely, in Google Shopping results.
Furthermore, for a company that has a brick-and-mortar location, you can select local inventory ads. These types of Shopping Ads let you advertise products that you sell at both your physical store location and online via your website.
Google Video Ads
Google Video Ads appear at the beginning, middle, or end of YouTube videos or other Google-partnered websites and apps. It should be noted that as of 2022, YouTube alone has over 2 billion users around the world. That is certainly a huge audience at your disposal to target with brand awareness and potential conversions.
There are 5 types of Google Video Ads you can choose from depending on your objectives:
Skippable in-stream ads

are displayed

beginning, middle, or end of YouTube videos.

Non-skippable in-stream

ads that are 15 seconds or less.

Bumper ads are

Non-skippable,

6 seconds video ads.

In-feed video ads appear solely on YouTube.

Out stream ads are featured only on mobile devices with

Google-partnered websites and apps.
Google Ad Manager
Launched by Google in 2018, Google Ad Manager is the conflation of two previous products from the company: DoubleClick For Publishers (DFP) and Google Ad Exchange.
 In essence, Google Ad Manager is the platform that enables you to create different types of Google Ads campaigns in various formats, make Google Video Ads, and provides analytics tools enabling you to analyze the data from your various Google Ad campaigns.
Moreover, with Google Ad Manager, companies have the peace of mind knowing that their website or app is safe from unsuitable ads and protect against malware, piracy, and fraud that ultimately could prove detrimental to brand safety.
Google Ad Management
Google Ads are an invaluable resource for any business, regardless of the industry. However, the fact of the matter is that Google Ad management or any Pay-Per-Click (PPC) management is essentially a full-time endeavor. That old adage, "Time is money" certainly rings true in this day and age. Businesses may be better well-served by opting to go with professional Pay-Per-Click (PPC) and Google Ad management services. These professional services offer affordable solutions such as PPC audits, Google Ad management, display advertising, and remarketing campaigns. Thus, you can focus your energy on additional aspects of your company, ensuring future growth and continued success.