Your website is like your digital reception desk, and as such, you should ensure it feels welcoming and interactive. Otherwise, you may turn away potential customers even before they know about your products. Therefore, creating a website focusing on your target audience isn't the only key feature. You should also ensure your website provides the best user experience. 
Most website designs would give you an option to do a usability test. This allows you to check on features that can enhance user experience and thus improve your website's traffic. By doing these usability tests, you learn more about your website, which will guide you in making the necessary improvements. 
As you look closer at user experience, the below ways can help improve your website's usability, translating to more website traffic. 
Work On The Page Loading Time
While it's good to have a detailed and comprehensive website, ensure that the content doesn't reduce its loading speed. Consider optimizing images and any other content before uploading onto the website. This can help reduce your pages' loading time.  
It's recommended that the page loading take at most three seconds. Visitors may opt out if your website takes more than this, and you can lose potential customers. Additionally, ensure that it's not just the home page that's quick to load, but all subsequent pages within your website. If you focus on the home page only, while other pages take longer, you still lower the website's usability. 
You can use page speed tools to measure your website page load speed. These tools generate a score that can help you improve where necessary. It's important to remember that visitors to your website use different devices; thus, establishing the right loading speed is vital to satisfying each one. 
Ensure A Balance Between Images And Texts
Remember that you have a limited time frame to impress your visitors and convince them to stay longer or click through your web content. Therefore, find a balance between descriptive text and images. Even though you may want to elaborate on a product or service, see if an image can pass the same information. The same applies to giving a line or two instead of an image. 
Time is of the essence, and thus you would want to communicate the relevant information without losing the attention of your visitors. Your text should be short, clear, and concise, and where necessary, highlight clickable areas that may interest the reader. Optimize your images, too, so as not to be too intrusive and have the right pixelation for clarity. 
Make The Navigation Layout Simple And Familiar
Sometimes you may want to be innovative and provide a different navigation layout from your competition. However, keep in mind that most visitors are used to a particular layout style. For example, majority layouts would provide categories at the top or left side of the home page. Thus, you can work with these existing outlooks but still create an adventurous navigation layout. 
An unfamiliar layout may provide navigational challenges to your visitors, who can abandon the process altogether; thus, affecting your website's click-through rates. Additionally, you can avoid drop-down menus and use short and vivid labels on your navigational features.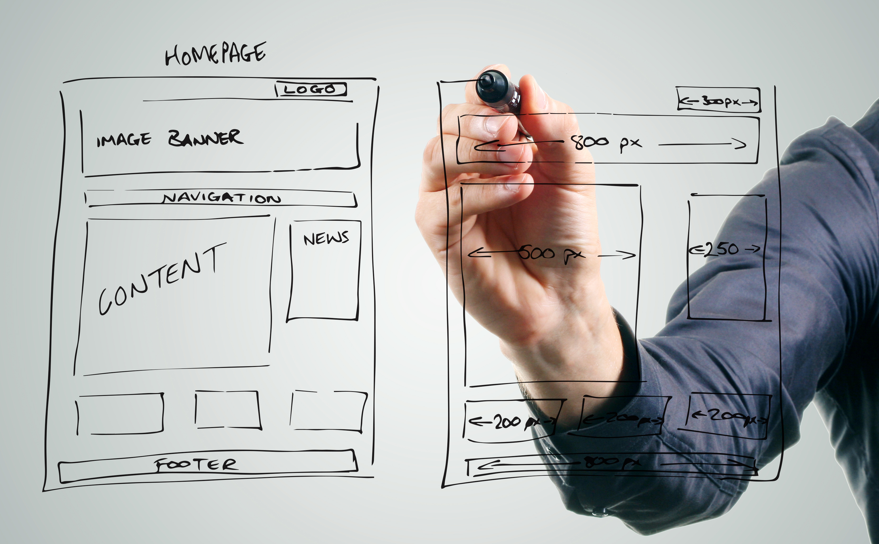 Prioritize Your Top Content
You must make and retain an excellent first impression, whether on new or old visitors. Thus, provide vital information about your business at the top. 
For example, highlight your products or services on the landing home page, then provide links to detailed sections within the website. These highlights enable your visitors to choose where to go next and avoid unnecessary long searches. Essentially, website usability could also mean simplifying the search navigation process within your site.  
Customize The Website To Serve Various Devices
With the current technological advances, users visit your website via different devices. It's worth noting that the use of mobile devices is increasingly rising among these devices. Therefore, your website design should factor in its accessibility and use via a smartphone. 
With this in mind, the website should ensure that the characteristics and familiarity of your website don't change when using different devices. Even though you may need to change the overall layout, your branding should be consistent no matter the visitor's device. The desktops and smartphones have different screen orientations and sizes, so you also need to adjust image and layout sizes. 
Furthermore, some search engines are known to downgrade your search ranking if your website isn't mobile-friendly. Thus, this is another reason to ensure your website is responsive to various devices. Due to the constant upgrades on mobile phone operating systems, you need to keep up with these updates and adjust your website accordingly. 
Be Consistent Throughout Your Website
Once you have visitors on your website, provide a consistent design, color, and layout through the pages they visit. A visitor gets a general outlook of how the rest of the pages would flow from the homepage design. However, if the layout changes from one page to another, it may give an impression that they've been redirected to a different website and may abandon their visit. 
Conclusion
To summarize, having a website representing your business online is key to increasing your search engine ranking. However, you should ensure you provide a website that's easy to use and is interactive. The above ways can help attain this usability and increase user experience.