Technological advancements have made hosting a virtual meeting possible and easier in that distance no longer poses a threat. Ways to host meetings and events keep getting redefined in this modern day and age. Workplaces and organizations are increasingly adopting remote jobs as the new normal, and this has been effectively aided by virtual platforms for communications. 
Therefore, any progressive-minded worker or organization must hone their virtual meeting etiquette and skills so that the agenda of the meeting is successfully driven home. The tips below can help you host a successful virtual meeting in this technology-driven age:
Have An Agenda
Good preparation dictates the success of any meeting. A detailed agenda outlining the objectives, timeframe for discussion, and time for questions and answers or other matters helps keep the meeting organized.
Keeping things organized is an elementary way of ensuring success. This helps to instill the purpose of a meeting in both the host and the attendees, and it also reaffirms that the host is in control.
Off-topic contributions derail the course of the meeting, and this can easily disinterest the attendees, especially in a virtual space. So, it is important to create an agenda for your virtual events for work and also stick to it.
Effective Publicity
Before hosting a virtual meeting successfully, you should consider the kind of audience it benefits most. After you identify the target market, you'll be able to create a list of attendees and promptly send out their meeting invitations.
It is more pertinent for the meeting invitations to be delivered to the speakers, attendees, and all those that would be involved in the meeting early. This would give them enough time to clear their schedule to accommodate the virtual meeting. Make sure that the invite is detailed with all the salient information like date, time, and invite link.
Engage Your Audience
Always remember that a virtual meeting is not a monologue, such that the host or speaker would keep doing all the talking while your attendees do the listening. Make the virtual space comfortable for all in a way that they can easily give their contributions.
Foster healthy discussion through an open forum. Allow participants to ask questions and give enough time to hear each other's input.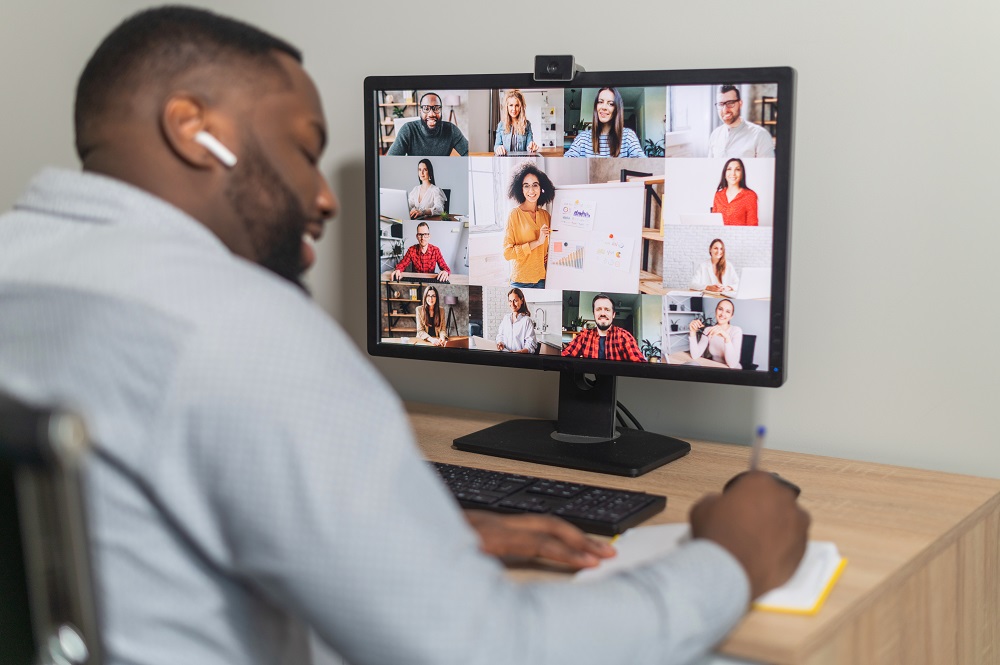 Define Rules Guiding The Meeting Early
Having ground rules is important to ensure that a virtual meeting delivers its purpose. A lawless society, even if virtual, is always susceptible to chaos and doom. So, before the commencement of your virtual meeting, let your participants know all the ground rules and find a way of enforcing them respectfully such that they would have no other choice than to stick to them.
Such rules could include muting their mic when someone else is speaking, and this helps to keep things organized.
Choose The Appropriate Platform
Information Technology has provided virtual reality among the top emerging technologies, and this drives many virtual meeting platforms to work according to the desires of the host. The most appropriate platform should be considered carefully based on its conformity to some important factors. Factors like the number of participants, the mode of engagement (if visual or audio), and the stability of the platform, should all be considered before choosing the virtual meeting platform that fits.
Give Room For Some Familiarity
Yes, no matter how formal or professional the setting is meant to be, remember to always give room for some jokes and informalities that can strengthen the bond among the virtual meeting participants.
However, maintaining balance is key to success. A virtual meeting that is too tense restricts the participants from the active engagement of the meeting's agenda, while an extremely loose one drives unseriousness.
Learn to introduce casual talks or jokes as an icebreaker, this helps to keep the flow under control without losing its essence and also get more out of the virtual meeting.
Schedule Conveniently
Owing to different and individual plans of the participants, convenience in terms of time, platform, and date for the virtual meeting is relative. Therefore, having a schedule convenient for all may seem not easy, but it is possible.
This can be done by having a pre-meeting survey to consider the time, date, and the preferred virtual meeting platform that is convenient for most of the participants. After which you then prioritize accordingly.
Conclusion
As the world is transitioning to more remote work, virtual meetings are gradually going to be the order of the day. It is important to note that hosting a successful virtual meeting requires proper planning, and the tips mentioned can be leveraged to drive the growth of any institution or organization considering a virtual meeting.