Enterprise Content Management helps efficiently collect, store, manage, and distribute material and documents. Organizations across sectors must address the growing number of papers and data in the digital age. ECM uses innovative technology and tactics to expedite company operations and provide several benefits beyond document management. This overview of ECM's benefits will include document management, collaboration, security and compliance, process automation, cost reduction, and environmental sustainability.
What is a Content Management System?
A Content Management System (CMS) is software that allows users to create, manage, and publish digital content on websites and online platforms, simplifying content management and updates.
Here are some advantages of CMS
Efficient Document Capture and Storage
ECM's capacity to organize and store documents is a major feature. Electronic document management (ECM) solutions digitize paper documents for easy searching. Document loss and damage are reduced by eliminating physical storage space. Digitizing papers makes data storage safer and more dependable. Physical papers are vulnerable to fire, flood, misplacement, and theft. These hazards are greatly reduced by ECM systems' digital document protection. ECM also permits document classification and indexing, making information easy to find. ECM systems store and retrieve invoices, contracts, and client information efficiently.
Improved Collaboration
Collaboration is a cornerstone of modern business operations. ECM systems facilitate collaborative work by providing a centralized document-sharing and editing platform. Multiple users can collaborate on documents simultaneously, fostering teamwork and boosting efficiency.
Here's how ECM enhances collaboration:
Version Control: ECM systems maintain a clear record of document changes, ensuring that the latest version is always accessible. This prevents confusion and errors resulting from outdated information.
Document Locking: ECM systems often provide document-locking features to avoid conflicts in collaborative editing. When one user is working on a document, it can be temporarily locked to prevent others from making conflicting changes.
Secure File Sharing: ECM systems offer secure file-sharing options, allowing users to share documents with colleagues, clients, or partners while maintaining control over access permissions and version history.
Enhanced Security and Compliance
ECM assists in meeting compliance requirements by ensuring the proper management and retention of documents.
Here's how ECM enhances security and compliance:
Access Controls: ECM systems allow administrators to set precise access controls, determining who can view, edit, or delete specific documents.
Encryption: Many ECM systems employ encryption to protect data both in transit and at rest. This safeguards documents from unauthorized access or data breaches.
Audit Trails: ECM systems maintain detailed audit trails that track all interactions with documents, including who accessed them, when, and what changes were made. Audit trails provide transparency and accountability, which are essential for compliance and security.
Retention Policies: Compliance with regulations often requires organizations to retain documents for a specified period. ECM systems enable the implementation of retention policies, ensuring that records are kept or disposed of by legal requirements.
Data Backup and Recovery: ECM systems typically include backup and disaster recovery features, safeguarding critical documents and data. In unforeseen disasters or data loss, you can quickly restore information and maintain business continuity.
Streamlined Workflow Automation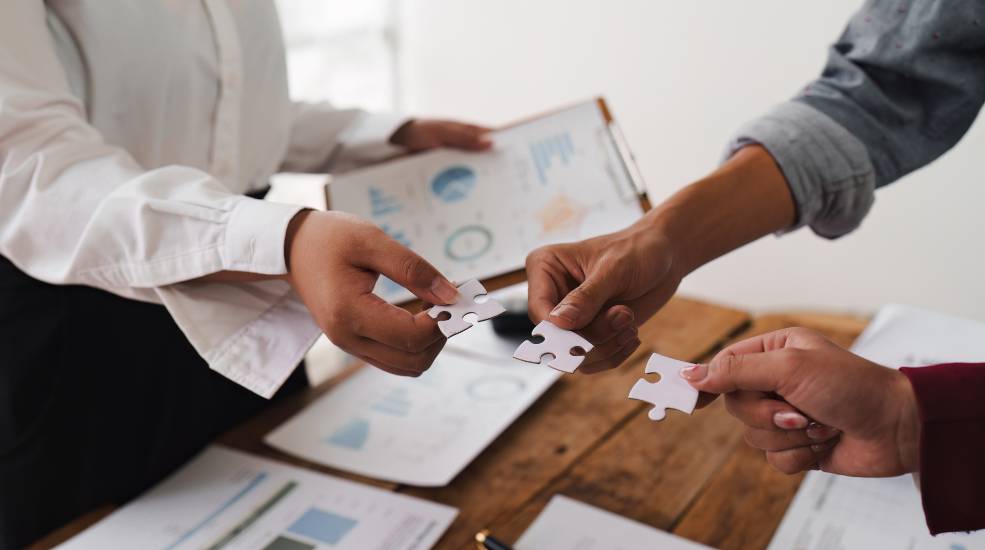 ECM systems automate repetitive and manual processes, such as document routing and approval workflows. This reduces the risk of errors and accelerates business processes, leading to faster decision-making and improved customer service.
Here's how ECM streamlines workflow automation:
Document Routing: ECM systems can automatically route documents to the relevant departments or individuals based on predefined rules. For example, an invoice can be routed directly to the finance department for approval.
Approval Workflows: Approval processes can be automated, ensuring that documents move through the necessary steps and receive approvals promptly. This is especially beneficial for methods like purchase orders or contract approvals.
Notification and Alerts: ECM systems can generate automated notifications and alerts to inform users of pending tasks, deadlines, or document changes. This helps teams stay organized and ensures timely actions.
Integration with Business Applications: Many ECM systems integrate with other business applications, such as CRM or ERP systems, to streamline data exchange and ensure that information is consistent across the organization.
Cost Savings
By reducing the reliance on paper documents, physical storage, and manual processes, ECM systems lead to significant cost savings. They decrease the expenses associated with printing, storage space, and document retrieval, contributing to a more cost-efficient operation.
Here's how ECM systems result in cost savings:
Reduced Printing and Paper Costs: ECM systems promote paperless document management, reducing the need for printing and associated supplies.
Savings on Storage Space: Physical storage space is costly. ECM eliminates the need for extensive file cabinets and storage rooms, freeing up valuable office space for other purposes.
Time Savings: Efficiency gains from streamlined document management and retrieval processes translate into employee time savings. Time is money, and ECM systems help employees work more productively.
Lower Administrative Costs: Manual document management and administrative tasks, such as filing and sorting, can be labor-intensive. ECM systems automate many of these processes, reducing the need for dedicated administrative staff.
Version Control
Managing document versions is critical in many industries, especially those that deal with contracts, legal documents, or regulatory submissions. ECM systems maintain a clear record of document changes, ensuring that the latest version is always accessible.
Here's how ECM systems enhance version control:
Version History: ECM systems keep a chronological history of document changes, allowing users to track modifications, additions, or deletions. This helps ensure that everyone is working with the most up-to-date information.
Document Locking: ECM systems often offer document-locking features to prevent conflicts and maintain version control. When one user works on a document, it can be temporarily locked to prevent others from making conflicting changes.
Collaboration with Confidence: Version control features give users the confidence to collaborate on documents, knowing that their contributions will not lead to version confusion or data loss.
Disaster Recovery and Business Continuity
ECM systems include backup and disaster recovery features, safeguarding your critical documents and data. In the event of unforeseen disasters or data loss, you can quickly restore information and maintain business continuity.
Here's how ECM systems contribute to disaster recovery and business continuity:
Data Backup: ECM systems automatically back up documents and data at regular intervals, ensuring that copies are available for recovery purposes.
Offsite Storage: Secure, offsite locations often store backup copies of documents, protecting them from physical disasters like fires or floods that could impact the primary office.
Quick Data Recovery: In the event of data loss, ECM systems facilitate rapid data recovery, minimizing downtime and ensuring that business operations can continue seamlessly.
Data Redundancy: ECM systems often employ redundancy measures to ensure data availability. This means that even if one server or storage location fails, there are redundant systems in place to maintain data accessibility.
Conclusion
ECM streamlines document capture and storage, making information easily accessible while reducing the risks associated with physical document management. Enhanced document retrieval capabilities save time and boost productivity, and improved collaboration tools foster teamwork across departments and locations. Moreover, ECM ensures robust security and compliance, safeguarding sensitive data and helping organizations meet regulatory requirements. Workflow automation accelerates business processes, resulting in faster decision-making and better customer service. In the digital era, embracing ECM is not just a choice but a strategic imperative for organizations seeking efficiency, security, and competitiveness. It is a pathway to modernization, optimization, and a sustainable future in an increasingly data-driven world.