Adopt the Internet of Things (IoT) has proven to be a game-changer for businesses, bringing forth an excess of benefits backed by compelling statistics. The impact of IoT technology is evident from reduced costs and heightened efficiency to improved customer experiences and enhanced mobility. This introduction explores the transformative power of IoT through key statistics, demonstrating how it streamlines operations, opens new business opportunities, and elevates customer satisfaction. As companies harness IoT's potential, the path to increased cost-effectiveness, productivity, and agility becomes even more promising.
Reduced Costs
As IoT devices continue to gain popularity in the business world, their tailored applications will further enhance operational efficiency and profitability. With a focus on cybersecurity and workplace efficiency, IoT technologies are proving invaluable. Integrating sensors into business equipment reduces maintenance costs as problems are proactively identified and resolved. It minimizes downtime and large repair expenses.
Various sectors, such as manufacturing, logistics, and food and beverage, benefit significantly from IoT implementations. Streamlining common processes remains a top driver for IoT investment among companies, offering endless opportunities to positively impact the bottom line through increased productivity and optimized workflows.
What the Stats Say About Cost Reduction
The implementation of IoT has significantly reduced costs in industries like manufacturing, with predictive maintenance (PdM) alone leading to remarkable benefits. Deloitte's study revealed PdM could cut maintenance planning time by 20 to 50%, boost equipment uptime by 10 to 20%, and reduce overall maintenance costs by 5 to 10.
Improved process efficiencies through IoT have led to 83% of organizations enhancing efficiency, lowering labor costs, and optimizing employee output. McKinsey notes that activity monitoring can improve productivity by 10 to 12%, offering businesses more value for their investments while benefiting the bottom line.
Higher Efficiency and Productivity
IoT offers SMBs effective solutions to boost revenue by enhancing efficiency. For instance, automated PDF tools expedite communication and documentation. At the same time, IoT fosters better internal and external office communication, resulting in increased productivity and collaboration (Harvard Business Review survey reported a 58% improvement).
IoT optimizes office floor plans and resource allocation within the workplace, like copiers and printers, for streamlined management. Leveraging big data analytics through IoT provides insights into employee productivity, identifying improvement areas. In manufacturing, big data enables tracking delivery systems and optimizing inventory management to stay ahead of demand, boosting overall efficiency.
What the Stats Say About Efficiency and Productivity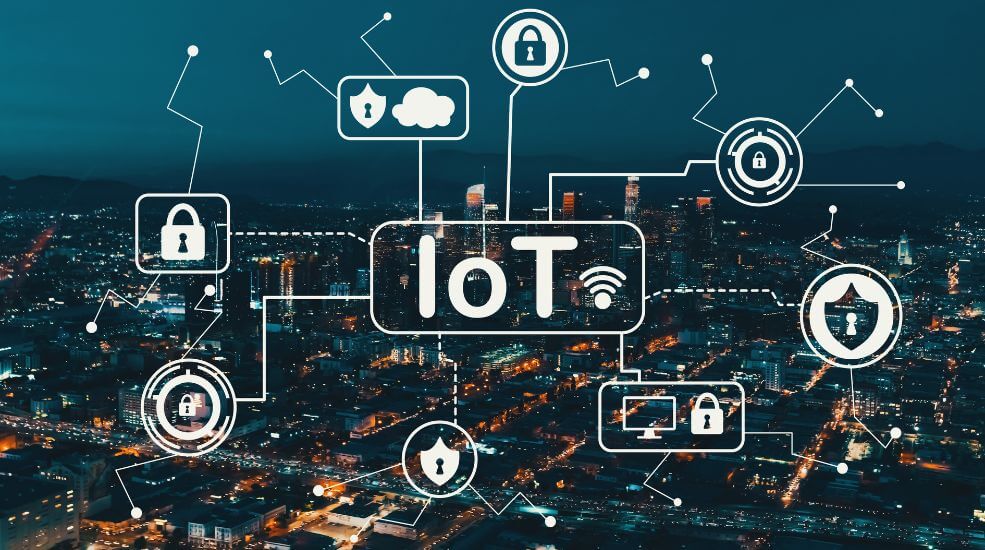 Implementing IoT strategies can lead to positive effects, including improved workforce productivity and reduced labor costs. Surprisingly, 46% of businesses that adopted IoT experienced efficiency gains, exceeding the 29% expectation. Many of these businesses initially aimed at modernizing processes rather than targeting specific efficiency gains, making the observed benefits unintended but highly welcomed outcomes.
Moreover, IoT's introduction has proven valuable for companies, with 78% reporting improved effectiveness of their IT teams and 75% enjoying increased profitability. These statistics highlight the profound impact of IoT on business operations and the overall bottom line.
Business opportunities
IoT is revolutionizing revenue generation for SMBs by providing advanced analytics, AI, and smart utility grids to gather valuable customer-centric data. These insights inspire new business models and reshape traditional industries. For example, IoT-enabled automobile sensors optimize insurance rates based on driving habits, and retailers use IoT to track foot traffic for impactful displays.
Astonishingly, 36% of companies explore new business directions with IoT. Leveraging IoT's connectivity to customer behaviors, businesses expand their customer base, deliver updated offerings, and accurately predict consumer needs with abundant IoT-derived data on preferences and product performance.
What the Stats Say About Business Opportunities
The impact of IoT technology on SMBs worldwide, especially in the United States, is immense. In the US, 94% of businesses have adopted IoT in some capacity, with 27% utilizing IoT-specific projects within an average "time-to-use" period of 11 months. The benefits of IoT adoption, particularly in manufacturing, logistics, and distribution industries, have led 78% of businesses to plan more IoT projects by 2023. Sales enablement is a primary reason for IoT investment, with 32% of organizations utilizing IoT to enhance products and services, seeking new growth opportunities.
Improved Customer Experience
IoT technology's initial impact was mainly on back-end processes due to its novelty, but now it has revolutionized omnichannel strategies, transforming how consumers engage with businesses. Front-end customer engagement has become a priority, facilitated through IoT devices. Modern customers expect seamless interactions through automated chatbots, reliable mobile websites, or dedicated apps.
Surprisingly, 40% of consumers are still determining whether they receive assistance from a chatbot or a human as long as their needs are met. Forward-thinking businesses are leveraging new technologies and integrating IoT to enhance customer service, providing their audiences with a seamless and efficient experience.
What the Stats Say About Improved Customer Experience
IoT's unsurprising yet significant impact on customer experience drives modern businesses to unify internet-connected devices, ensuring seamless experiences across various IoT devices. Investing in custom apps for diverse endpoints is a growing trend to better serve audiences.
IT leaders embrace low-code solutions, with 90% recognizing the enhanced customer experience through flexible and speedy development environments. Acknowledging the importance of extending key processes to everyday IoT devices is crucial for future competitiveness. Customer comfort with IoT-driven proactive customer service has risen to 30%, reflecting evolving perceptions of IoT's benefits since 2017.
Increased Mobility and Agility
IoT technology offers significant advantages to SMBs, enabling employees to work from any location and fostering flexibility. This revolution has led many small and mid-sized businesses to shift towards hiring more remote employees, reducing office lease costs. Implementing IoT policies results in a remarkable 43% increase in business agility by streamlining operational processes.
The pandemic prompted the creation of remote work policies to meet evolving demands, making remote workers a permanent part of modern workforces. Organizations must focus on seamless communication across all devices to fully leverage IoT benefits and prioritize secure endpoint strategies.
What the Stats Say About Increased Mobility and Agility
The Internet of Things offers diverse opportunities for businesses, but security and safety concerns are significant barriers to adoption. Around 42% of companies find managing IoT security challenging, encompassing remote worker devices and various edge devices. Additionally, 29% perceive the risks of IoT adoption outweigh the benefits.
A robust cybersecurity policy is essential for safe and effective IoT use in business operations, especially for organizations adopting a remote-first approach. While IoT enhances mobility and productivity, it simultaneously expands the potential attack surface, making a strong security plan imperative for organizations to support IoT technology.
Conclusion
The statistics underscore the immense impact of IoT across various aspects of business operations. IoT drives cost reduction by optimizing maintenance and enhancing operational efficiency, as studies show improved planning time by 20 to 50% and increased productivity by 10 to 12%. Furthermore, IoT creates new business opportunities, with 36% of companies exploring new directions. Improved customer experiences are evident, with 30% of consumers feeling comfortable with IoT-driven proactive customer service. Lastly, IoT's adoption fosters increased mobility and agility, enabling businesses to embrace remote work policies and enhance responsiveness to market demands.