The PDF editor software is an excellent tool for professionals and amateur document creators alike to create PDFs instantly. Whether you need to make simple edits, fill out forms, or sign documents digitally, you can use a good PDF editor to get the job done quickly and easily.
There are a number of great PDF editors out there that can help you get the job done. We will take a look at five of the best PDF editors available today in this brief note. We'll discuss what each one offers and how it can help you create better PDFs.
What is PDF Editor Software?
PDF editor software is a tool that allows users to create, edit, and manipulate PDF files. It enables users to perform various tasks such as adding text, images, and other objects to PDFs and formatting them for better readability. It can also be used for creating forms, signing documents electronically, and more. The PDF format is wildly popular among businesses for its ability to retain the same formatting, regardless of what operating system or hardware is used.
Adobe Acrobat PRO DC:

Acrobat is the undisputed king of PDF editors and is used by millions of professionals around the world. It offers a comprehensive set of tools for creating, editing, annotating, and sharing PDF documents. It also comes with a built-in optical character recognition (OCR) tool for quickly converting scanned documents into text. With this PDF editor, you can effortlessly produce, convert and modify your PDF records into various formats like MSWord. It also makes it easy to share the documents with others and even sign them when necessary.
Pricing:
Adobe Acrobat PRO DC is available for purchase or by subscription.
For a Yearly Subscription, it cost $178.
For a Monthly subscription, you have to pay $25; on a yearly basis, it costs $15.
Canva PDF Editor: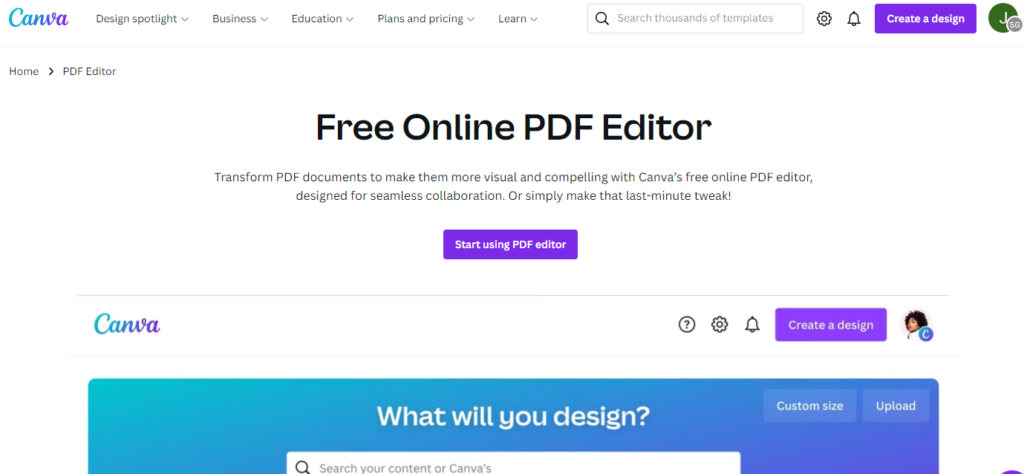 Canva is an excellent choice for anyone looking to quickly and easily create beautiful documents. It's a great all-in-one design tool, and its PDF editor is top-notch. With it, you can easily edit existing PDFs or start from scratch with a new document. You can add text, shapes, images, and more to your PDFs and even save them in different formats. Whether you choose to start from scratch or use one of the templates available, creating a project with this software is easy. You even have the ability to edit PDFs using its powerful editing tools.
Pricing:
Canva PDF Editor is free to use, but you can purchase additional features with a paid subscription.
For Pro Subscription you have to pay $54.99/year and for Team Subscription it cost $84.99/year.
WorkInTool PDF:
WorkInTool is a cloud-based PDF editor that allows you to quickly and easily edit, convert, and share PDFs. It comes with an array of powerful tools that you can use to edit existing PDFs or create new ones from scratch. You can also easily add text, images, shapes, and annotations to your documents. And it even supports OCR, so you can quickly convert scanned documents into text-based PDFs. With this software, you can effortlessly add or delete watermarks from a PDF file. It also offers robust security features so that your documents remain safely protected – you can rely on WorkInTool to encrypt and password-protect any PDF document with ease.
Pricing:
WorkInTool is totally available in free mode. You can use it just by downloading it from the internet.
PDFescape: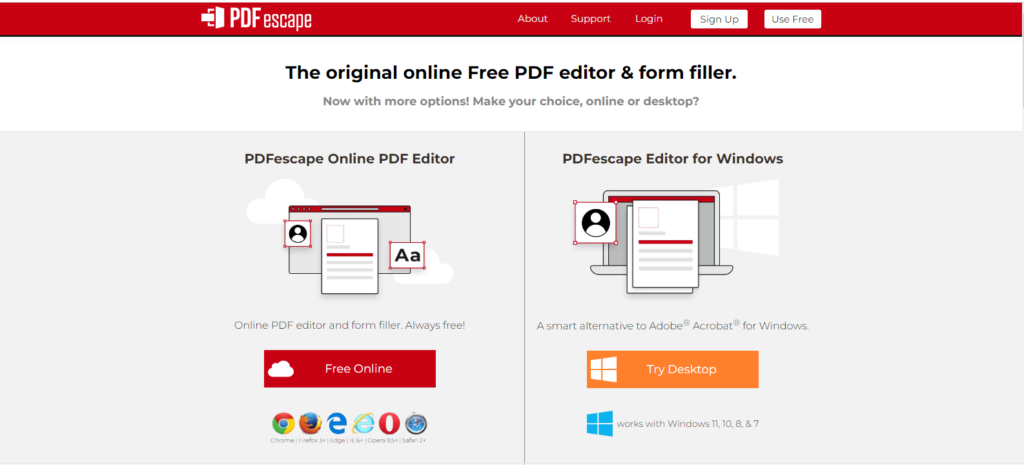 PDFescape is the ultimate resource for all of your PDF needs. Not only does it come equipped with editor, reader, and annotator capabilities; but form filling and design functions as well. Make easy work out of complicated tasks by utilizing this intuitive platform. With one click, you can edit text and images in your PDFs, add annotations, or create new forms. You'll have no trouble converting existing documents into PDFs, filling them out with ease, and sharing your work with others. With both a desktop and online version, this PDF editor software offers you the best of both worlds. The desktop variation has more features than its' online counterpart, providing you with the ultimate versatility in editing documents.
Pricing:
PDFescape is free to use in the basic version. However, its paid version starts from $6/month to $9/month.
Swifdoo: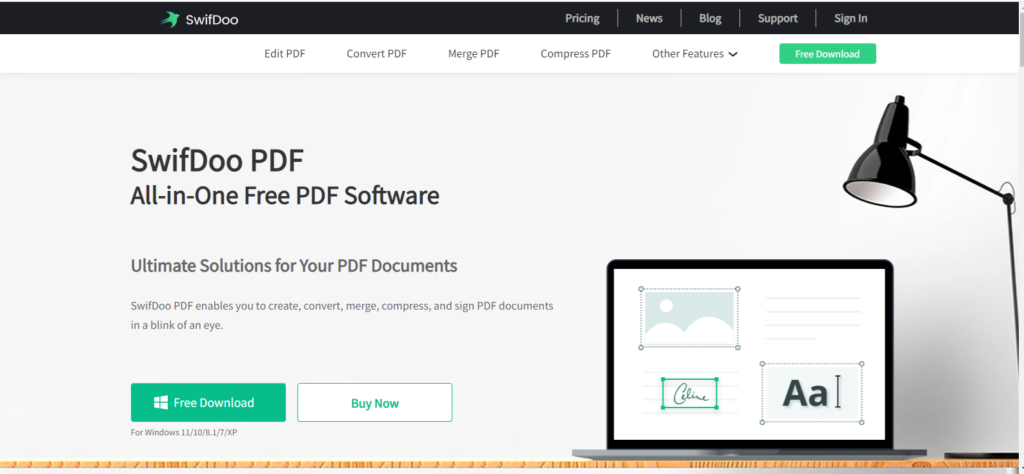 With Swifdoo, users can edit their PDF files quickly and easily. This comprehensive toolkit offers all of the necessary features for managing PDFs without any complicated or unnecessary extras. So if you're looking to make your life simpler while still maintaining complete control over your documents. Swifdoo is the ideal PDF editor for you. It offers a comprehensive range of editing tools, including text and image manipulation, annotations, form filling, and more. It also supports OCR so that you can quickly convert scanned documents into a text-based format. Furthermore, its user-friendly interface allows you to use the software with little effort. It offers a generous trial period, giving users the opportunity to test out the product before they make any financial commitment. Take advantage of this offer and see if Swifdoo meets your needs!
Pricing:
Swifdoo is free to use with the basic version and its Premium plan costs $20/month.
PDFelement: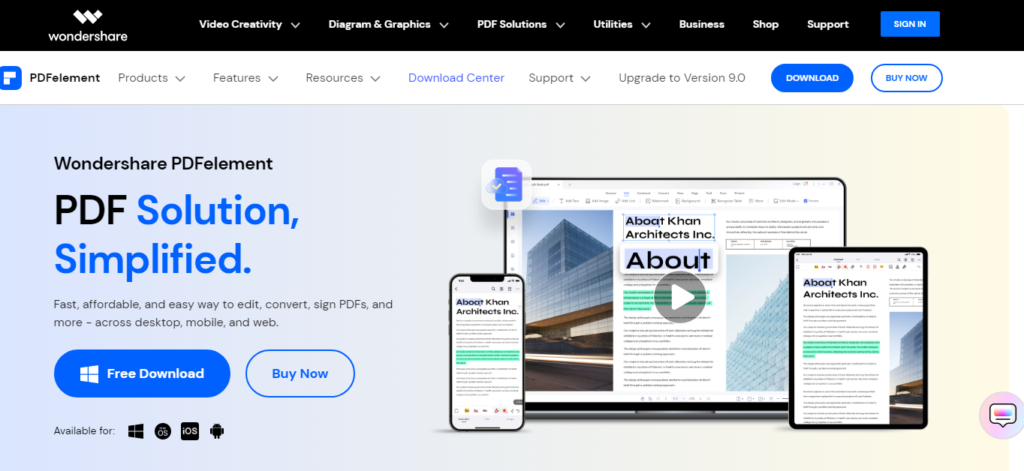 PDFelement is the ultimate tool for creating, editing, converting, and signing PDF documents with ease! Not to mention it's available on both Windows and Mac platforms. Make tasks such as merging multiple PDFs into one document or adding/changing information in any existing PDF file a breeze. With its user-friendly interface, PDFelement allows you to quickly and easily access the needed features. It offers numerous advanced features such as creating digital signatures, scanning documents into PDFs, and more. What's more, the software provides robust security with password protection and 256-bit AES encryption capabilities. You can be sure that your documents remain safe and secure.
Pricing:
PDFelement has both a standard and professional version, with the standard plan starting from $79.95/year while the professional plan is available for $103.99.
Conclusion:
The various PDF editor software mentioned in this article can help you manage your PDF documents with ease. Each of them offers unique features and benefits to make the task of editing, converting, and protecting your PDF documents a lot easier. Depending on the level of features you need – such as form filling, secure encryption, and OCR capabilities – you can find the right tool for your specific needs. We hope this article has helped you make an informed decision on which PDF editor to go with.