Clients are the lifeblood of your business, and you need a strategy to continue bringing them on. Unfortunately, client acquisitionhas risen 60 percent in the past six years, according to research from ProfitWell.
With client acquisition costs rising, a defined client acquisition plan has never been more important. If you keep doing what you think works or throwing marketing spend at poorly performing channels, you could be missing out on potential clients and burning through your budget.
Client acquisition needs a clear strategy to succeed. Here's how you can generate demand, maximize marketing ROI, and convert leads into paying clients.
What is Client Acquisition?
Client acquisition includes any actions you take to bring on new clients, but the strategy is tailored to your organizational goals. Acquisition begins at the first contact with a prospect and extends to when they become a paying client, or in some cases, into client retention.
In this sense, client acquisition covers each aspect of the client journey, including lead generation to conversion to client loyalty. Clients won't always stay with you, even with an ironclad retention strategy, so it's important to have a repeatable and scalable client acquisition strategy to keep attracting new clients to your business.
Client Acquisition Strategy
Identify the Ideal Client
The first step in your client acquisition strategy is defining your target audiences. Depending on the nature of your business, you may have multiple niche audiences.
Here are some questions to ask:
What are clients looking for from my product or service?
What are my clients' pain points?
What are my clients' demographics?
What do I have to offer clients who purchase my product or service?
How do my clients search for information?
These client profiles give you a starting point to get inside your prospects' heads and understand the best messaging and channels to reach them. As you grow, keep these ideal client profiles on file to reference.
Define Your Client Acquisition Funnel
Creating a client acquisition funnel is about more than defining the client journey. Each type of lead or audience defines its unique client acquisition funnel.
For example, does the journey begin with an organic search for prenuptial agreement attorneys in Orange County? Or does it come from a social media platform after liking the business page?
Once you know that, dig deeper and map out the funnel. This may look something like:
How many people like the business page on Facebook or Instagram? What audience do they fit into? What type of content will take them from liking the page to clicking through to the website?
Clients are on the website. What would it take to get them to subscribe to our email list?
Clients are subscribed to the email list. What can we promote to convert them? Would they want a promotional offer, such as a discount or free case consultation?
Every funnel is different, so it's important to consider where clients fall off. What are they encountering that knocks them out of the funnel?
For example, maybe you're not addressing the right pain points in your content. Maybe your call-to-action isn't effective. Is the copy or layout confusing and they don't know what action to complete next?
If another area performs better, see if there are elements you can bring into the underperforming funnel and improve its conversion rate.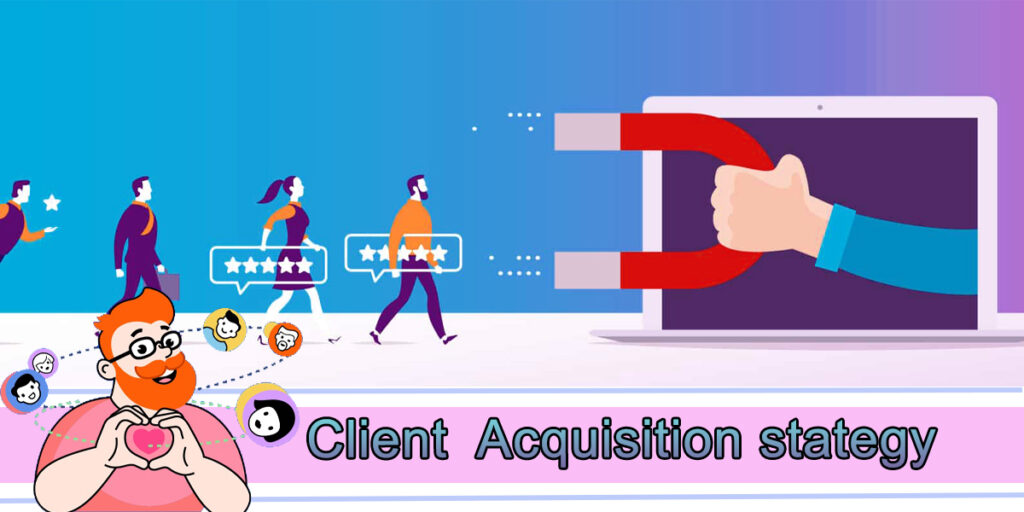 Develop SMART Goals
All strategies need goals and objectives to measure progress and inform efforts. Organizational goals can include everything from brand awareness to increasing revenue, but with client acquisition, the overarching goal is to bring on more clients.
Always set SMART (Specific, Measurable, Achievable, Relevant, Time-Bound) goals.
Instead of saying "My goal is to increase my client base by next year," say "I want to sign on 20 new clients by the end of quarter three."
See the difference? The first goal has no specificity and too broad of a time frame to accomplish it. The SMART goal defines how many clients are available, in what time frame, and it's both relevant to the overarching goal (client acquisition) and can be tracked and measured.
You can set multiple SMART goals, such as individual goals for specific channels or short-term goals, as long as they relate to the main goal of client acquisition. Some client acquisition metrics to consider include client acquisition costs, client lifetime value, and monthly recurring revenue.
Determine Your Ideal Channels
As mentioned, client acquisition is getting more expensive, so you have to narrow your focus to maximize your marketing spend and efforts. If you're trying to market on too many channels, you could be missing out on opportunities on high-value channels.
You want to focus your efforts on the channels that have your ideal clients. Based on your research, determine which channels have the bulk of your audience and what types of content performs best.
The channel can be any channel that introduces your business to your potential clients for the first time. This could be a paid ad, organic search, social media, or business pages.
Here are some of the best content types for common channels:
SEO: Long-form, optimized content
YouTube: Longer informative or entertaining video content or video series
Facebook: Paid advertising, live video, messaging
Instagram: Visual content, such as images and short-form videos
Develop a Tailored Strategy for Each Channel
When you're creating a marketing strategy for each channel, consider:
The best content for that channel
The content your audience interacts with
Your competitors' activity
With this research, you should be able to find the best channels for your clients and the best content to promote your business.
Get Client Feedback
Often, business owners are "too close" to their business and can't get in the mind of the client. Direct feedback solves this problem by giving you valuable insights from the perspective of the client that you can use to refine your strategy.
There are numerous ways to collect feedback, including email contact forms, client interviews, client surveys, and social media polls. In exchange for feedback, you can offer an exclusive deal or other incentive.
Of course, many clients want to feel heard and enjoy providing feedback with nothing in return. You can create open communication to keep the feedback coming.
Refine Your Efforts
Analytics are vital to your client acquisition strategy. If you cannot analyze and determine what is working and what is not, how your content is performing, where your clients are interacting with your business, and other details, you are just spinning your wheels.
Many different details can impact client acquisition, so it is important to measure your results and gain insights like:
Where your clients live
Where they bought products or services
How they heard about your business
Some of the valuable client acquisition metrics include:
Client acquisition costs
Client lifetime value
New client growth
Ratio of lifetime value to client acquisition costs
Churn rate
Develop a Sustainable Strategy for the Future
Remember, client acquisition never stops, so you need a strategy that can keep attracting clients into the future. Don't give up on marketing to new prospects and converting them into paying clients.
Client acquisition may seem overwhelming, but with the right strategy, you can attract high-value clients, keep them loyal, and grow your business with lower client acquisition costs.