Businesses now rely heavily on content marketing to find and connect with their ideal customers. With the increasing significance of content marketing, it is more important than ever to have a well-managed content marketing staff. Content marketing is used by both startups and companies with well-established marketing departments. Several well-known companies on a global scale also employ content marketing. In addition, it is created and executed by independent entrepreneurs. This all-inclusive manual will teach you the ins and outs of content marketing team management and provide you the tools you need to succeed.
What is Content Marketing?
Content marketing is the process of planning, producing, developing, sharing, and promoting content through platforms like social media, blog posts, websites, applications, press releases, print materials, and many more to stimulate interest in a brand's goods or services. The objective of content marketing is to generate and share useful, current and constant material to create and keep the attention of a target audience and, finally, to promote successful buyer engagement.
Content Marketing Management:
Several digital marketing campaigns like, content creation, email marketing, content marketing strategy, social network management, and additional digital materials could support a business's inbound marketing strategy. With useful information, content marketing covers written and illustrated material on different platforms. A content marketing team controls creating, organizing, and sharing useful information with engaged customers.
Content creation requires different marketing tools and hard skills such as writing and editing skills with experience for blogs, articles, whitepapers, emails, and other media with soft skills including strong capacity to identify small mistakes and pay close attention to details, ability to manage creative teams, possibility of balancing essential, imaginative, and strategic ideas.
Tips to Manage a Content Marketing Team:
You must consider the following five queries while creating a high-performance content team.
Select the Team Structure
Selecting a team structure is one of the initial steps you have to take to manage your content marketing team successfully. By doing this, you can ensure that each person on your team has been provided with several targets, which will assist them in identifying their duties and responsibilities. You must establish who on the team is responding to which management or director. The organizational framework of your team must be recognizable. To find out the right path of action for carrying out, the team participants should gather collectively. Furthermore, you should avoid having tasks duplicate because this may confuse the workers.
Establish Your Marketing Goals
You must first figure out the marketing objectives your customer's desire. These objectives could be extremely particular or highly general, according to the size and maturity level of your consumers, and it's not uncommon to have to lead the client to a better goal than they previously had. There could be different ways to develop these objectives, no matter which approach you select. You should only proceed once you and the customer agree on various objectives. It is important, because if you fail to do the most significant work for your customer, all your great victories will be for nothing.
Set up a Simple Content Format Guidelines
The personality of your company is significantly affected by your content regulations. It works as a guide for your content marketing staff to ensure that the vocabulary used in all elements of your organization is uniform. If you set up a simple content format guidelines to your team members it enables them in representing your brand more effectively. You must define your sentence structure while gaining inspiration from developed formats and guidelines. When you provide your team with an example of your style in action, it will assist them in understanding your brand's distinctive features and the phrases that best describe it.
Take Note of Every Member's Opinion
You must appreciate your content marketing team member both professionally and individually. Every member has a distinctive combination of skills, and management needs to recognize what every member of the team can contribute to the board. Suppose a team member is working on one project while also retaining an interest in something another, such as someone who specializes in designing websites but has a passion for writing. In that case, they might help the content creation department by doing minor tasks. Knowing each member of your team's distinct passions will help you manage a much stronger team, simultaneously keeping everyone satisfied.
Regular Feedback
While managing a content marketing team, giving feedback to your staff is the most essential component. This can assist the team to feel better informed, concerned, and in interaction with regular feedback. You may set up regular meetings as these are crucial for giving feedback regularly and effectively. Regular reviews at frequent intervals are able to make sure that everyone is on the exact same track. Employees, as well as managers, have the ability to keep concerns and find answers, frequently avoiding bigger challenges in the future. Remember, workers love getting quick and regular input and teamwork appreciation.
Supporting the Well-being of Your Team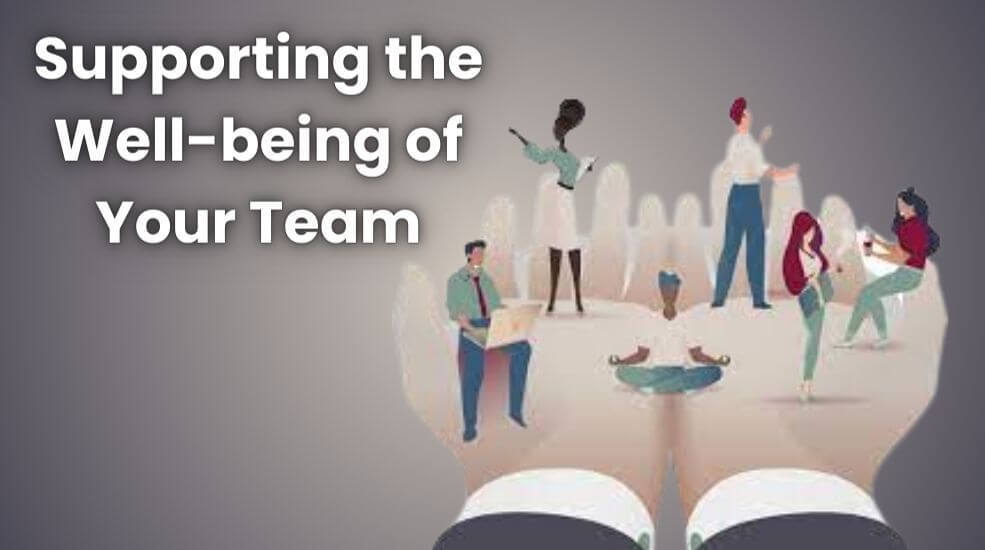 A happy and motivated team is crucial for long-term success. Foster a positive work environment by acknowledging and appreciating your team members' contributions. Encourage work-life balance, provide opportunities for personal growth, and support their well-being. Show empathy and be responsive to their needs and concerns.
Conclusion
Around the world, a content-based marketing approach is growing more and more common. Buyers want more information and useful material. With content marketing, you are giving helpful and important material to your target audience in order to support them in overcoming their current issues. Creating the right basis for success is the first step in managing a content team. It is important for you to know how and where your team will work, as well as the value of equality and inclusion. You should also specify the functions and organizational responsibilities of your staff. If you want to manage a content marketing team, the appropriate Team, clear business regulations, tactics, and analysis are needed in order to generate content that matters and converts.