Agile methodologies have transformed teamwork in several ways, offering unique benefits that traditional methods often lack. Agile methodologies are an approach to project management and software development that prioritize flexibility, and collaboration. They focus on breaking large projects into smaller tasks or "sprints" and emphasize continuous improvement through regular reviews and feedback. There are several popular agile methodologies, including Scrum, Kanban, and Lean. In each of these methodologies, the team works in short cycles, typically lasting from one to four weeks, to deliver usable increments of the project. The team collaborates closely and self-organizes to achieve the project goals. In this blog, we will discuss how agile mythologies improve team efficiency.
How Agile Methodologies Improve Team Efficiency?
Agile methodologies contribute to team efficiency in various ways:
Continuous Feedback and Flexibility
Agile methodologies encourage frequent feedback loops, enabling teams to identify and address any issues or roadblocks quickly. This helps in making necessary adjustments and improvements during the project. Agile approaches prioritize flexibility in responding to changing requirements or external factors. This allows teams to adapt their plans and priorities without disrupting the overall project progress.
Collaboration And Ownership
Agile methodologies promote collaboration and shared ownership within the team. Each team member is responsible for their individual tasks and actively contributes to the project's success, promoting a sense of accountability and motivation.
Faster Delivery of Value
By breaking the project into smaller increments and delivering usable software at the end of every sprint, agile methodologies enable teams to provide value to investors more frequently. This helps in the early validation of requirements and ensures that the project is on track.
Enhanced Visibility and Transparency
Agile methodologies emphasize transparency, with regular progress reviews, open communication, and clear visibility into the work being done. This shared understanding helps keep everyone aligned and reduces misunderstandings or duplications of effort.
Enhanced Communication
Agile methodologies prioritize frequent and open communication within teams. Regular stand-up meetings, sprint planning, and daily updates ensure that team members are always informed about project progress, challenges, and upcoming tasks. This transparency leads to better collaboration, improved trust, and empowered decision-making.
Cross-Functional Collaboration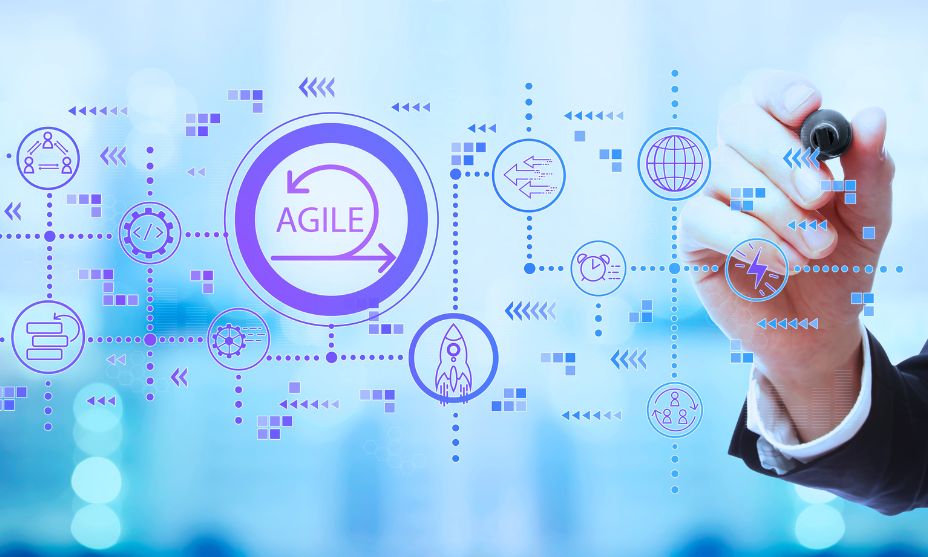 Agile places a strong emphasis on the value of having a team with a variety of skill sets. Each team member brings their own knowledge to the table while working cross-functionally, allowing them to collaborate more successfully. This strategy promotes a culture of learning where people can develop their skills and knowledge by learning from others.
Iterative Approach
Agile methodologies promote an iterative approach to work, breaking down projects into smaller increments or sprints. Team members can focus on achieving smaller goals within shorter time frames, allowing for quicker feedback and adjustment. This iterative process encourages continuous improvement, as teams can adapt and respond to changing requirements or market demands more efficiently.
Continuous Learning
Agile methodologies prioritize reflection and improvement. After each sprint, teams conduct retrospectives, where they reflect on their performance and identify areas for improvement. This culture of continuous learning and adaptation allows teams to evolve and refine their processes, resulting in increased efficiency and higher-quality outputs over time.
Empowered Decision-Making
Agile methodologies distribute decision-making authority to the team rather than solely relying on management. Team members experience a greater sense of ownership and accountability for their work when given the freedom to make decisions. The ability to experiment, take chances, and come up with novel ideas encourages a more proactive and engaged team.
Agile Tools and Technologies
Agile methodologies often leverage various tools and technologies that enhance teamwork. These project management tools, such as Jira or Trello, provide visibility into tasks, timelines, and progress, ensuring everyone is on the same page. Collaboration platforms like Slack or Microsoft Teams enable instant communication, reducing dependency on emails or meetings. These agile-centric tools streamline workflows, facilitate real-time collaboration, and increase overall team productivity.
More Effective Use of Time
The tendency of Agile project development teams to closely coordinate has been mentioned multiple times. At every level of the project development process, everyone is free to communicate with one another. This overall accountability and open communication aid in accelerating the development process in addition to increasing product analysis and evaluation.
Conclusion
Agile methodologies improve teamwork by promoting effective communication, enabling cross-functional collaboration, embracing iterative processes, encouraging continuous learning, empowering decision-making, and leveraging agile tools. These unique benefits contribute to higher team productivity, increased satisfaction, and superior project outcomes and make our team stronger and more efficient. Continuous improvement: Agile methodologies promote a culture of continuous improvement. After each sprint, the team reflects on what went well and what needs improvement, thus fostering a learning mindset and driving efficiency gains over time. Overall, agile methodologies provide a framework that encourages collaboration, adaptability, and continuous improvement, leading to better team efficiency and higher project success rates.