The trend of remote work has transformed the way businesses work in which they offer their employees the flexibility to work from the comfort of their homes. While this shift has brought numerous advantages, it has also shown team growth and development challenges. Human Resources (HR) plays a vital role in ensuring that teams continue to grow and grow while working remotely.
In this article, we'll explore strategies to explain to you how HR helps teams grow while they are working from home.
1. Foster Communication and Collaboration
Effective communication and collaboration are the cornerstones of team growth in the office or remote setting. HR can promote these essential elements by:
Implementing robust communication tools: HR can provide teams access to video conferencing, instant messaging, and project management platforms to facilitate effortless communication and collaboration.
Encouraging regular meetings: HR can enable teams to schedule regular virtual meetings, ensuring team members stay connected and aligned on goals and projects.
Promoting open dialogue: HR should create an environment where team members feel comfortable sharing ideas, feedback, and concerns, fostering a culture of transparency and trust.
2. Provide Training and Development Opportunities:
HR can help teams to grow by investing in their professional development. They can provide their teams with training through virtual programs, skill-building rewards, mentorship programs, and many other ways. Now, let's discuss these in detail.
Virtual training programs: HR can arrange online training courses and workshops designed to meet the employees' needs, allowing them to acquire new skills and knowledge.
Skill-building initiatives: They can encourage team members to take ownership of their growth by offering resources for skill development, such as access to e-learning platforms or support for relevant courses.
Mentorship programs: HR can facilitate virtual mentorship programs that connect experienced team members with those seeking guidance and support in their career development.
3. Maintain a Strong Company Culture:
Remote work can sometimes lead to feeling alone and disconnected from the company's culture. HR can struggle to manage this by:
Reinforcing company values: They regularly communicate with the organization's values and mission to remind employees of their shared purpose.
Virtual team-building activities: They organize virtual team-building events and activities to promote a sense of bonding among team members.
Recognize and reward: HR should acknowledge and reward outstanding performance and contributions, even working remotely, to motivate and engage employees.
4. Support Well-being and Work-Life Balance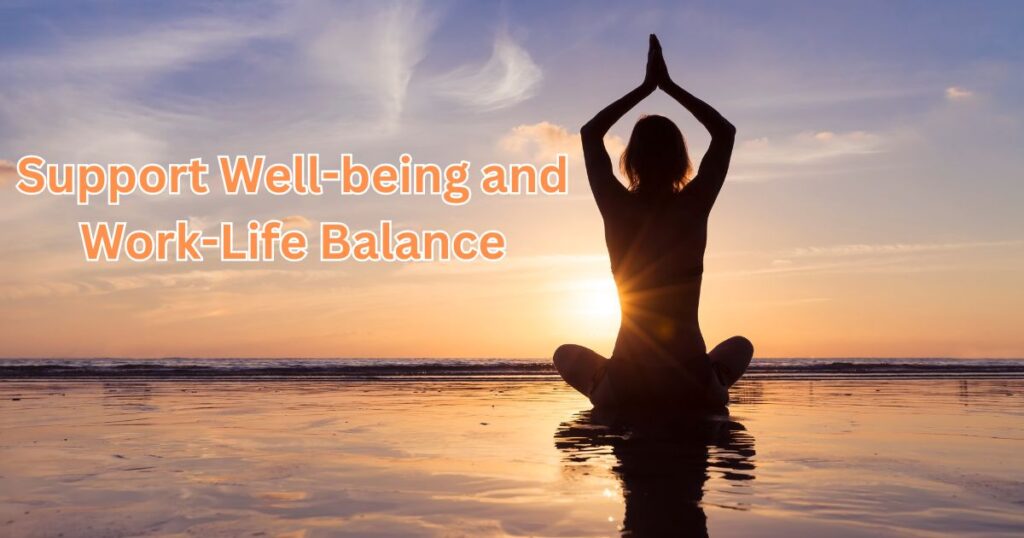 HR's role extends beyond professional growth to the well-being of employees. It is essential to ensure the balance of work life through:
Flexible work arrangements: HR can offer flexible schedules to accommodate employees' personal needs and responsibilities.
Mental health support: They provide access to mental health resources, counseling, and wellness programs to help employees manage stress and maintain good mental health.
Encourage breaks and downtime: They remind employees of the importance of regular intervals to prevent stress and promote productivity.
5. Building a Supportive Remote Work Culture
In the place of remote work, HR professionals must take the lead in fostering a supportive remote work culture. This section explores strategies and initiatives that can be implemented in HR to create an environment where teams can succeed while working from home. They can build a supportive remote work culture through remote integrations and onboarding, communication and collaboration tools, mental health programs, and incentives and rewards.
Remote orientation and Integration: HR can develop a comprehensive remote orientation process to integrate new hires into the team, even when they're not physically present. This includes virtual orientations, mentorship programs, and regular check-ins.
Communication and Collaboration Tools: HR should facilitate selecting and implementing effective communication and collaboration tools that enable seamless interaction among remote team members. This involves training employees on using these tools to enhance productivity and connectivity.
Wellness and Mental Health Programs: The remote work environment can sometimes lead to exclusion and increased stress. HR can promote employee well-being by offering virtual fitness classes, mental health support, and stress management workshops.
Recognition and Rewards: Implementing remote-friendly recognition and rewards programs is essential for motivating and acknowledging employees' contributions. HR can design creative virtual recognition events and distribute digital awards to maintain a sense of appreciation.
6. Skill Development and Remote Learning Initiatives
To help teams grow while working from home, HR can focus on skill development and remote learning initiatives. This section discusses how HR professionals can facilitate continuous learning and personal growth among employees in remote settings.
Skills Assessments and Gap Analysis: HR can conduct skills assessments to identify employee knowledge and abilities gaps. This information can be used to tailor remote learning programs to address specific skill deficiencies.
Virtual Training and Development Programs: HR should collaborate with managers and subject matter experts to create virtual training programs that cover relevant topics. These programs can include webinars, e-learning modules, and virtual workshops.
Mentorship and Coaching: Establishing virtual mentorship and coaching programs can facilitate professional growth. HR can pair experienced employees with those seeking mentorship and provide a structured framework for these relationships to grow.
Online Learning Resources: HR can manage a library of online learning resources. This includes industry-specific courses, webinars, and articles to encourage employee self-directed learning. They can provide access to educational platforms and subscriptions that can also be beneficial.
Conclusion:
HR plays a pivotal role in helping teams grow while working from home. By fostering a supportive remote work culture, implementing effective communication strategies, offering professional development opportunities, and addressing the unique challenges of remote work, HR professionals can empower employees to grow in virtual environments. They can contribute to team growth and enhance organizational success in an increasingly remote and digital world. As remote work develops, HR's adaptability and commitment to supporting remote teams will remain essential to maintain growth and productivity.