Generating every high-quality social media report is essential for any business in today's connected world. They provide insights about your content performance and help you identify areas for improvement. In this blog post, we will explore what makes up a successful social media report and outline the steps in creating one. Craft detailed metrics that enable data-driven decisions within your company.
It serves as a vital tool for businesses to assess their social media performance and track key metrics. By analyzing data and trends, companies can gain valuable insights into their audience's preferences, engagement patterns, and overall campaign effectiveness. These reports help understand the impact of social media efforts and assist in making data-driven decisions to improve future strategies. Moreover, it is required to demonstrate ROI (Return on Investment) to stakeholders and clients, making them an essential component of any comprehensive marketing plan.
Setting Clear Objectives
You begin creating process a social media report. It is important to set clear objectives. Are you aiming to increase brand awareness, generate leads, drive website traffic, or boost customer engagement? Clearly defining your objectives will help you focus your reporting efforts on the metrics that matter most to your business.
Defining Key Performance Indicators (KPIs)
Once you have established your objectives, it is time to define key performance indicators (KPIs) to align with your goals. KPIs are measurable metrics that indicate the success or progress of your social media campaigns. They can include metrics such as reach, impressions, engagement rate, click-through rate (CTR), conversions, and more. Selecting the right KPIs will allow you to track your progress accurately and measure the effectiveness of your social media strategy.
Gathering Data from Social Media Platforms
With your objectives and KPIs in place, gathering the data necessary for your comprehensive social media report is time. Social media platforms provide built-in analytics tools that offer valuable insights into your performance. These tools enable you to extract data related to your followers, engagement, reach, impressions, and other relevant metrics. Collecting data consistently over a specific period is important to identify trends and patterns in your social media performance.
Analyzing and Interpreting the Data
Once you have gathered the data, it is time to analyze and interpret it to derive meaningful insights. Look for patterns, trends, and correlations within the data to understand the factors driving your social media performance. Identify the content types that resonate most with your audience, which platforms deliver the highest engagement, and any significant changes in your metrics over time. Analysis helps you make informed decisions and optimize your social media strategy.
Creating Visual Reports and Dashboards
Creating visual reports and dashboards is essential to present your social media findings effectively. Visual representations, such as graphs, charts, and infographics, make it easier for stakeholders to grasp the information quickly and understand the impact of your social media efforts. Utilize tools like Google Data Studio, Microsoft Power BI, or spreadsheet software to create visually appealing reports highlighting key findings and recommendations.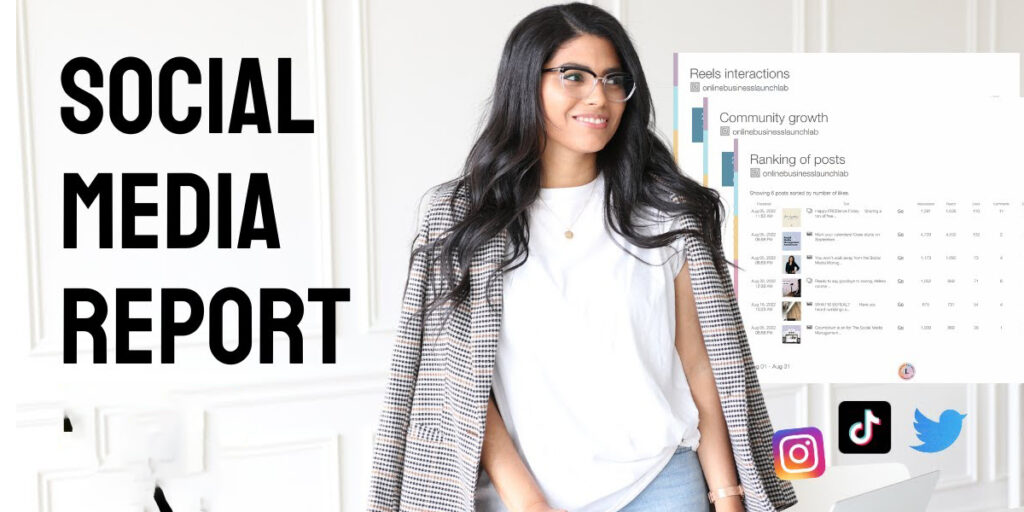 Reporting Frequency and Audience
Your social media reporting frequency depends on your business and social media activities. Monthly reports provide a comprehensive overview of your social media performance, allowing you to track progress and adjust. However, if you are running specific campaigns or require real-time monitoring, weekly or daily reports might be necessary. Tailor the reporting frequency to suit your business needs.
Consider your audience when preparing the report. Are you reporting to internal stakeholders, clients, or executives? Customize the report's level of detail and language to resonate with the intended audience. Focus on the key metrics that align with your objectives and provide actionable insights that drive decision-making.
Actionable Insights and Recommendations
A comprehensive social media report is not just about presenting data; it should also provide actionable insights and recommendations. Identify areas where improvement is required and suggest strategies to optimize your social media performance. For example, if video content receives higher engagement, consider incorporating more video content into your system. Use the data to identify growth opportunities and provide clear recommendations to enhance your social media presence.
Ongoing Monitoring and Optimization
Creating a social media report is a task that takes time to complete. It is important to establish a system for ongoing monitoring and optimization. Regularly track my social media metrics, assess the impact of your implemented recommendations, and adjust accordingly. Social media is a dynamic landscape, and staying agile will help you stay ahead of the competition and maximize your results.