How to fix Duplicate Meta Description in Webmaster tool For Blogger using Robots.txt
Recently I encountered duplicate "Meta Description" in webmaster tool for my blog. At first sight I thought it was a common mistake but later I searched for this error on internet and came to know the fact this it may harm your SEO rank in SERP. Well, i invested some time on net to fix the error. Most of solution was based on Meta tag insertion in html code to sort out the problem. I used that trick but could not resolve the issue. I used "rel=canonical" Meta tag to solve out the problem. After waiting for two days, what I seen that it was still there in webmaster tool.
This looks like as given in screen shot below:

It's showing two same URL, one with extra suffix "?m=0" . How to fix this?
After a short research, I solve out this error using robots.txt file presents in Blogspot blog. This is very simple trick.
Full Steps to Solve Meta Error:
1.Log in to your Blogspot blog.
2.After successful log in, Go to setting tab.
3.Click on "Search Preference" under setting sub menu.
4. Now come to the "Crawlers and indexing" option. There are two option in which one is custom robots.txt .This is disabled by default.
5. Click on edit text in front of "custom robots.txt" . Add below two line in text area as shown in pic.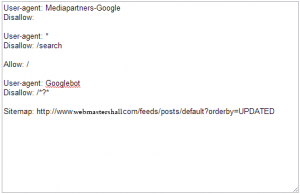 User-agent:  Googlebot
Disallow: /*?m*
6. Save changes. Done
In this way, all URL containing   "?m=0 " will not index in search engine. Only single original URL will index. Thus you can optimize your site in efficiently.
An alternate way to solve duplicate Meta content is disable the mobile view option.
1.Go to blogger dashboard.
2.Select Template customization option.
3.Disable mobile view option from setting.
Thanks,