A well-known social networking app called TikTok enables users to watch, record, and share few-second clips made with their mobile devices or other gadgets. Many users of the app are attempting to become famous online by posting videos, even though not everyone uses the service for that purpose. Hundreds of millions of videos are available on this massive site. Access to video editing while recording and before posting is one of TikTok's incredible features. However, you won't be able to alter your video after you've posted it.
Save TikTok to Camera Roll
It's simple to save a video using the app, and there are several ways you can do so that it appears in your phone's gallery. It is feasible to take a TikTok video and remove the watermark while doing so, whether you are downloading your videos or the openly shared content of other TikTokers. You'll find how to download TikTok videos to a camera roll after reading this article. Additionally, you'll be aware of the various techniques you can employ to save TikTok videos.
Most Famous, Authentic, Proven, and Easy Methods
Tiktok is the most common app where you may not only produce your videos but also find a tonne of content in a variety of categories for entertainment. What will you do if you wish to download a video or save one to your camera roll? The three most common techniques are as follows:
Using Tiktok to Save Videos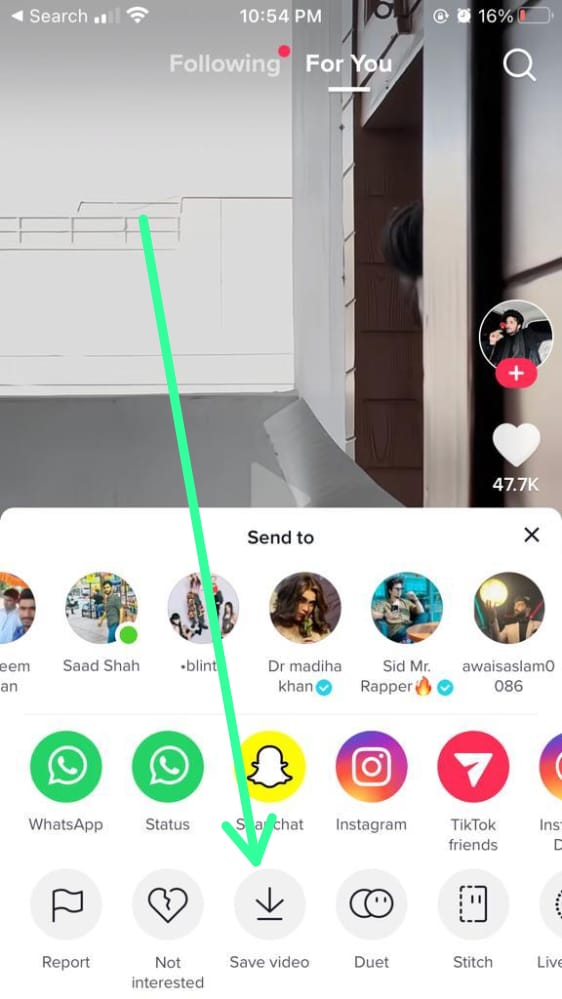 You can save TikTok to the camera roll directly by using the app itself. We youths are the passionate type; therefore we enjoy repeatedly watching our favorite videos till we get bored or go on to the next. If your video has a download option, things can be simple. Although the TikTok app includes a native option for downloading your videos, it occasionally disallows saving other people's videos. Use the links provided to download or update the app to its most recent version. It's the easiest way to download a TikTok without any trouble. But here you need to follow a few steps to download the video which is given below as
Open TikTok on your mobile phone or device where you want to enjoy TikTok.
Find it in the search bar and play it if you wish to download a video made by you or by someone else.
Visit your profile page and play the short clip if you wish to download it.
Following that, touch the Share icon located in the bottom right corner of your screen.
Next, select the Save Video which is a download icon.
Now, you can watch the video in your device's Camera Roll in your phone gallery after the download is finished.
It is listed in your Camera Roll under the produced TikTok album name.
Using Online Tools to Save Videos
You can save TikTok to camera roll through numerous online tools and websites. To download a TikTok video to your Android phone, open the TikTok application and look for the video you want to download. The share button is located on the right side of the screen while you are on the video page. This technique is as flexible as possible and works with all kinds of gadgets. The HD version of the video will be kept without any trademarks. Its best examples are Tikmate. Online, TTDL, Snap Tik, sss Tik, save tik.com etc. There are following steps which help you to download a video:
First of all, you need to copy the link to the TikTok video you want to download.
Open the website or tool where you want to download the required link.
Paste the link which you have copied from the TikTok app.
During this step, different sites have different options for processing that link for download.
The downloaded videos add to your camera roll video where you can watch your downloaded video and must enjoy.
It is not necessary to install or register the downloader. The downloads here are free and unlimited on the sites.
Save by TikTok Downloader (Other third-party Apps)
You can save TikTok to camera roll by several apps available on the Google play store and google.
These applications are free to download and here you can download unlimited TikTok videos. These well-known video downloaders can assist you in saving TikTok videos in MP4 or MP3 format. You can download TikTok videos to your iPhone using these mobile apps. These are well techniques used to use to download videos. Here, the procedures for downloading videos are simple. You may easily download the video by just pasting the video link into the search box. Here, are examples of a few well-known downloaders used for saving TikTok videos in your gallery.
MusicallyDown
ExpertsPHP
TTDown
TikTokDownloader
Tiktokfull
QLoad.info
TTDownloader
SSSTikTok
The Steps for Downloading Videos by TikTok Downloaders are Given Below:
First of all, download the TikTok video downloader app from the google play store.
Open the install application and paste the link which you want to download.
Some downloader logo directly comes in the TikTok share button option.
The different downloader has different procedure to save TikTok videos to the camera roll.
The video will begin downloading and will be saved to both the downloader library and your gallery.
Save TikTok to Camera Roll with Screen Recording 
You can also save TikTok videos to your camera roll by a simple screen recording feature on your mobile. TikTok recording is made simpler on any Android device, whether you're using a tablet or a smartphone. You can easily record a video by following the steps:
Just open the video you want to play and download it.
Press the screen recording button on your device.
Find the video you wish to capture in TikTok by opening it on your smartphone.
Tap the microphone after touching and holding the record button.
Wait for the three seconds to pass after tapping on Start Recording.
Your recording will be automatically saved to the gallery on your smartphone.