In this digital world, constant shifting in businesses has made it difficult to meet customers' expectations. Now, these consumers want personalized, convenient, and seamless interactions and communication across several platforms. They also like marketing materials & campaigns designed as per their interests and preferences. This is the reason brands need to be available across all popular digital channels and platforms that consumers often use for collecting information or making purchases.
Omnichannel marketing, in collaboration with marketing agency Detroit, has developed a potent method for meeting this requirement and delivering a consistent brand experience across numerous channels and devices.
This article explains omnichannel marketing and how it may help you develop long-term client relationships and expand your brand.
What is Omnichannel Marketing?
Omnichannel marketing is a complete and holistic strategy that offers a uniform and smooth consumer experience. Physical shops and websites, smartphone apps, social media, email, call centers, and other channels are examples of interactions.
The goal is to break down barriers between channels and allow customers to interact with the business consistently regardless of their chosen platform.
Omnichannel marketing integrates multiple channels, utilizing customer data and insights for personalized, contextually relevant messages, recommendations, and promotions.
Read Also: Ways Mobile Apps Can Boost Your Business Growth
The Significance of Omnichannel Marketing
Here are some important factors of omnichannel marketing that help foster your business in every aspect:
The Stability
Omnichannel marketing ensures communication and branding uniformity. Customers create a more powerful relationship with a brand when they meet the same voice, imagery, and principles across several platforms.
Focused Approach to Customer
Omnichannel marketing adapts experiences to individual needs by studying client behavior and choices, increasing customer happiness and commitment.
Enhanced Participation
Clients are more inclined to participate and connect with the brand across numerous channels when they have a consistent experience, leading to increased engagement metrics and higher conversion rates.
Advantage in the Marketplace
In an increasingly competitive marketplace, organizations that provide an omnichannel experience have a distinct edge over those that do not. It distinguishes a brand and aids in consumer retention over time.
Making Decisions Based on Data
Data from multiple sources is collected by omnichannel marketing, offering significant insights into how consumers behave. Businesses may make informed decisions and optimize their marketing efforts with this data-driven approach.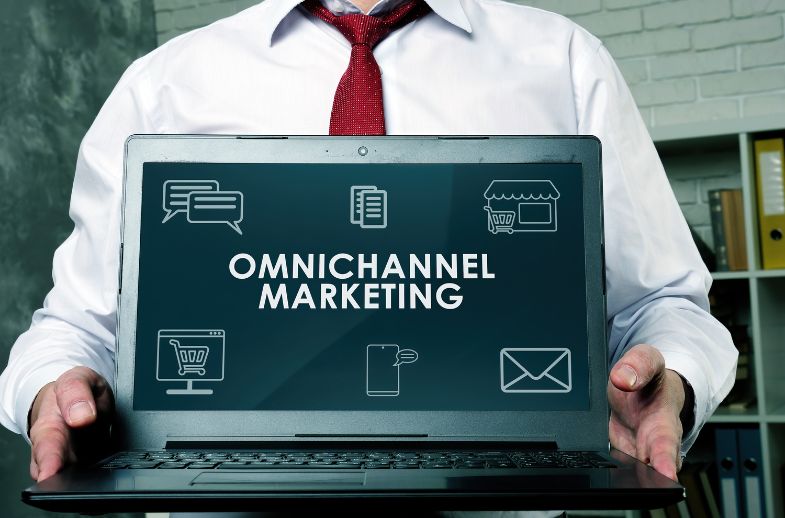 Stages for Developing Omnichannel Approach
Here are some important stages upon which you will be able to create flawless client experiences in terms of omnichannel marketing:
Recognize your Client
Small firms often have subjective and historical information about their consumers' behaviors and preferences.
Online surveys, data analytics programs, and social media listening software can provide more customer insights by identifying sales patterns, flagging customer complaints, and sharing consumer trends.
It's recommended to use survey platforms like Google Surveys or Survey Monkey to collect feedback from your current or potential consumers. These platforms can provide information on your website's traffic and search engine performance.
Adopt a Customer-Focused Mindset
Clients are becoming more active participants in marketing campaigns by choosing how, when, and where they can view communications. Start with your customer and move backward to determine the communication strategies and tools to attract and motivate them to buy.
Make Use of Relevant Communication Tools
Be available when your consumer needs you. Understanding your customers' behavior and preferences lets you choose the best channels and touchpoints for engaging with them.
Small businesses cannot advertise across numerous marketing channels or be active on all social media platforms. Small firms can maximize their marketing impact for their budget by organizing their communications around customer demands.
Speak with a Single Voice
Creating a strong and consistent brand image requires coordinating your communications across channels and media. Your marketing materials should all have the same look and feel to them.
Your internet channels should have the same tone and effect as your offline channels (for example, your store or trade show stand). Your customer support representatives and sales representatives should be communicating the same messages.
Develop Strong Connections
Instead of focusing on short-term sales, a well-executed omnichannel marketing strategy takes a long-term view of your clients. You want to establish long-term partnerships between your company and its consumers.
Customer loyalty and repeat purchases are increased through forming and promoting relationships. Implementing a VIP or loyalty program for your most profitable customers is one method to accomplish this.
You can also provide personalized services and products depending on individual client behavior to demonstrate that you know and value them.
Advantages of Omnichannel Marketing
Besides connecting numerous channels to deliver a smooth experience, an omnichannel approach can have the following effects on your business:
Client's Flawless Journey
Interrupted client shifts cause friction, annoy customers, and hinder user experience. Customers can effortlessly transition between channels and enjoy continuity in an omnichannel experience, resulting in a more delightful journey.
Customer's Commitment
Omnichannel experiences provide a holistic image of the customer across numerous channels, allowing marketers to see their interactions and history in a unified manner. Use this information to segment clients and provide a personalized experience based on their specific needs, preferences, and behaviors.
Enables multi-Channel Engagement in a Single Interaction
Almost 51% of businesses utilize at least eight channels to engage with customers, including emails, social media, websites, phones, live chat, and in-store. An omnichannel experience enables customers to contact businesses via their chosen channels and receive a rapid and useful response from a customer care specialist.
Ensure Consistent Customer Experience across Channels to Reduce Effort
Adopting an omnichannel strategy results in a consistent experience across channels. This means that customers may expect the same level of service, quality, convenience, and information regardless of the channel they utilize.
This simplifies eliminating variances in the customer journey, resulting in a smooth and seamless experience.
Increased Revenue from Increased Customer Engagement
When buyers have a good experience, they interact and engage with the company. This gives marketers additional possibilities to cultivate stronger customer interactions and product loyalty.
Conclusion
Omnichannel marketing is a strategic imperative for businesses to thrive in the digital age. By creating seamless customer experiences, businesses can increase satisfaction, loyalty, and bottom line.
A customer-centric approach is crucial, integrating data, personalized content, and real-time communication. Investing in technology and resources is essential for effective implementation.