In today's digital world, collaboration and teamwork are essential for businesses of all sizes. Keeping your teams connected and able to be in touch effectively is a clue to operating efficiently. If you want your business to thrive in 2023, then having the best possible online tools on hand can make a huge difference. Whether it's designing graphics together, editing copy in real-time, or meeting virtually – there is an abundance of options that can help your project teams stay connected while staying safe.
We are about to share the best online collaboration tools available now that could help level up your team's productivity in 2023.
What is Collaboration Software?
Collaboration software is a web app or software that helps people collaborate more effectively by providing features such as file sharing, document storage, task management, and communication tools. It enables teams to share information securely and work together from separate locations. With collaboration software, businesses can reduce expenses with face-to-face meetings and travel. Collaboration software can also increase productivity by providing users with access to real-time updates, the ability to quickly share files, and a centralized location for team communication. It can exploit in many different applications, from small businesses to enterprise solutions. Whether it's used internally or externally, collaboration software is a dominant tool for organizations of any size.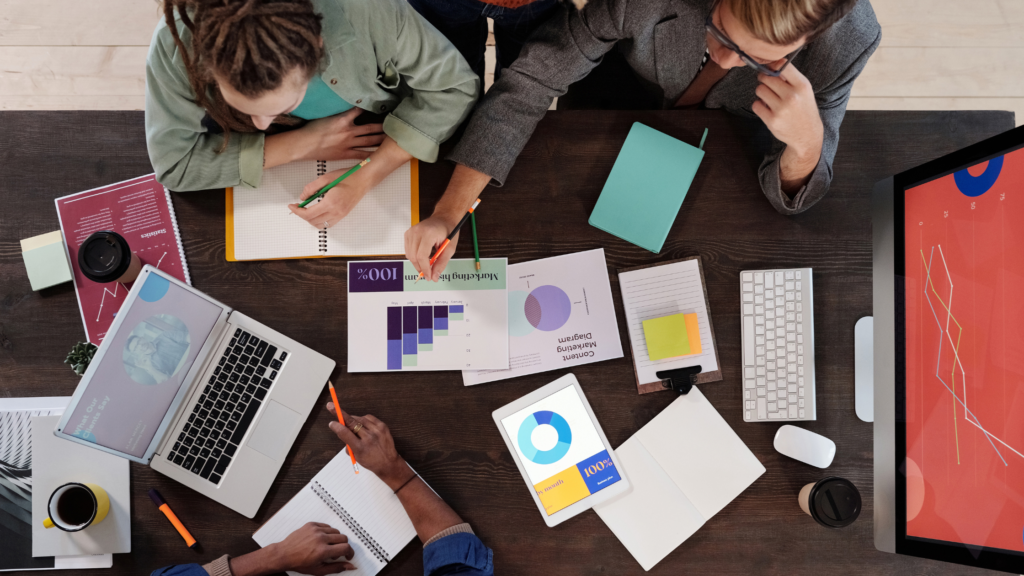 Best Online Collaboration Software and Tools for Teams
1. Microsoft Office 365 Apps
Microsoft Office 365 apps offer a suite of collaboration tools designed to make it easier for teams to work together on projects – no matter where they're located. Some of the most commonly used collaboration tools within Office 365 include OneDrive, Teams, SharePoint, and Outlook. With OneDrive, users can store and share files with colleagues in real time from any device, including laptops and mobile phones. Teams combine chat, online meetings, video calls, and file sharing in one secure hub. SharePoint enables teams to share documents, tasks, and calendars in an organized fashion. And Outlook helps team members stay connected via email, calendar events, and reminders. With Office 365 collaboration tools, teams can work together efficiently and securely – no matter where they are. 
By leveraging the tools available within Office 365 apps, teams can collaborate on projects more effectively than ever before. For example, users can easily share files across all devices with OneDrive. They can keep track of tasks and deadlines using SharePoint task management functionality.
2. Google Workspace
Google Workspace offers a variety of collaboration tools that can help your team stay productive. From messaging and video calls to document-sharing and file storage, Google Workspace has the tools you need to get work done faster and smarter. With a range of features like real-time collaboration, task management, analytics, and more, Google Workspace is a powerful platform for teams of all sizes. Whether you're a small business or an enterprise organization, Google Workspace has the tools to help you and your team stay connected, organized, and productive. Get started today and experience collaborative teamwork at its best.
3. Slack
Slack is an efficient and effective collaboration tool for teams that need to stay connected and productive. With Slack, teams can easily communicate with one another, share files and documents, manage tasks, assign deadlines, create polls and surveys, schedule meetings, track project progress, collaborate in real time on projects, and much more. Slack simplifies team collaboration, allowing teams to get more done in less time. With built-in security measures, reporting capabilities, and customizable options, Slack provides a safe and secure platform for team collaboration. Slack has helped countless teams increase productivity and efficiency while reducing the need for costly additional software tools. Whether you're managing projects or simply staying connected with coworkers, Slack has the tools and features you need to get the job done quickly and efficiently. With Slack, teams can collaborate with confidence knowing their data is secure, their conversations are private, and everyone is working towards a common goal.
4. Google Meet
Google Meet is an ideal collaboration tool for teams of all sizes. It allows team members to easily connect and share information, documents, and ideas in real time. With the added security features included in Google Meet, teams can have peace of mind knowing that their conversations are safe from prying eyes.
From a management standpoint, Google Meet also offers a range of features to make it easy for teams to stay on top of their work. As well as video and audio conference calls, managers can share documents quickly and easily with the rest of the team, giving everyone access to the same information. That makes it easier than ever before to collaborate and get things done faster and more efficiently.
5. Zoom
Zoom collaboration tools enable teams to communicate effectively and efficiently. With cutting-edge communication solutions, users can easily connect with colleagues, share files and documents, conduct online meetings, and more. To maximize team productivity, Zoom offers many features such as cloud storage integration, instant messaging capabilities, virtual whiteboards, recording options for meetings or calls, and real-time audio and video conferencing. With these tools, teams can accomplish more in less time while staying connected and doing their work.
6. Monday
Modern teams need modern collaboration solutions. Monday provides a comprehensive suite of tools designed to help teams work together efficiently and seamlessly. From task management to communication, team members can collaborate in real time with up-to-date information and visibility into the progress of the project. With an intuitive interface that is both easy to use and visually appealing, Monday helps teams increase their productivity and streamline their workflow. With features such as project management, resource scheduling, task tracking, and collaboration, Monday is the perfect tool for teams that must stay on track with their projects.
7. Smartsheets
Smartsheet collaboration tools are the perfect solution for teams that must stay productive and organized. Its intuitive interface makes it easy for team members to keep track of tasks, projects, and deadlines. It allows users to store, share, and collaborate on documents, and also communicate with each other in real time. With Smartsheets collaboration tools, teams can stay connected no matter where they are working, allowing teams to work collaboratively and efficiently. 
Conclusion
By using these collaboration tools, you and your team will manage work together more efficiently and get more done in a shorter amount of time. Not only that, but you'll also be able to enjoy the process of collaborating with others and build stronger relationships with your teammates. So what are you waiting for? Give some of these online collaboration tools an attempt today and see how they can help your team become more productive.