Local SEO is becoming increasingly important as more and more people use their smartphones to search for businesses and services in their area. If you have a local business, it's important to make sure your local SEO efforts are up to par. Why? Because if your website doesn't show up in local search results, you're missing out on a lot of potential customers. In fact, 46% of all Google searches are for local businesses.
That's why optimizing your website for local SEO is so important. If you're not optimizing your website and local listings for local search, you're missing out on a lot of potential customers. Luckily, there are a few simple things you can do to improve your local SEO and get more visibility for your business. Keep reading to learn what they are!
What is Local SEO?
Local SEO is the process of optimizing your online presence to rank higher in local search results. This is important because people who are searching for businesses like yours are often looking for something nearby.
If you want to attract more local customers, you need to make sure that your website and other online listings are optimized for local search. That way, when people in your area are searching for businesses like yours, they're more likely to find you. 
And when they do find you, it's important that they see accurate, up-to-date information about your business. That way, they know that they can trust you and are more likely to become customers or clients.
Ways to Optimize Your Local SEO:
Include Keywords in Your Title Tags and Meta Descriptions:
When people search for businesses in their local area, they often use keywords that are related to their location. For example, someone looking for a restaurant in Chicago might search for "restaurants in Chicago." If you own a bakery in Los Angeles, some keywords you might want to include are "bakery," "Los Angeles," and "cakes."
To make sure your business is appearing in local search results, include keywords related to your area in your title tags and meta descriptions. This will help search engines understand what kind of business you are, and where you're located.
Optimize Your Google My Business Listing:
Another important part of local SEO is optimizing your Google My Business (GMB) listing. GMB is a free tool that allows businesses to manage their visibility in Google search and Maps.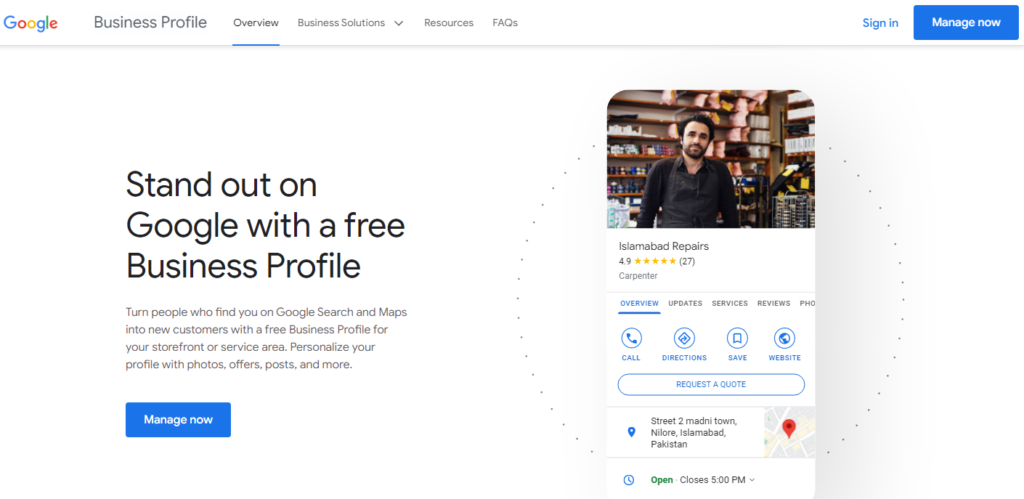 By optimizing your GMB listing, you can help ensure that your business is appearing in local search results. This includes providing information about your business (such as an address, hours of operation, etc.), adding photos and videos, creating posts to engage with customers, and more.
Make sure all the information on your GMB listing is accurate and up-to-date, including your business name, address, phone number, website URL, hours of operation, etc. You should also take advantage of GMB's features by adding photos, videos, and posts about your business. The more information you can provide potential customers with, the better.
Get Reviews From Your Customers:
Another way to improve your local SEO is by getting reviews from customers. Customer reviews are important for these reasons:
They show potential customers that real people have had positive experiences with your business, which helps build trust; and
They help improve your ranking in search results. That's because online reviews are considered one of the top 5 most important factors when it comes to local SEO.
Reviews are an important part of how search engines determine which businesses should appear in local search results.
To get more reviews from your customers, you can add links to review sites like Google My Business or Yelp on your website or send follow-up emails after someone makes a purchase from you asking them to leave a review. You could even offer incentives like discounts or coupons in exchange for reviews. Just be sure not to pay for fake reviews—that will only hurt your business in the long run.
Make Social Listening:
Social listening is the process of monitoring social media for conversations about your business, brand, products, services, competitors, and industry. It's an important part of local SEO because it helps you understand what people are saying about your business, and how they feel about it.
By listening to what people are saying about your business, you can get an idea of what customers like and don't like, and make improvements to better meet their needs. You can also use the insights you gather from social listening to create content and campaigns that will better reach your target audience.
Make sure to set up alerts on platforms like Twitter, Instagram, Facebook, and Yelp so you're notified whenever your business is mentioned online. This will help you stay on top of any conversations about your business and respond quickly and appropriately.
Do Local influencers Marketing:
It's beneficial to find individuals with a lot of social media following when you're trying to get your content seen by the right people. This is because they have expertise in areas that are essential to your company.
For example, if you own a restaurant in Seattle, it would be helpful to find local food bloggers who have large followings and can promote your business to the right audience. By working with local influencers, you can build relationships with people in your industry who already have an established following. This can be beneficial for both parties, as influencers get exposure for their work and businesses to get more visibility in their local market.
These are just a few tips to help you optimize your local SEO efforts for greater visibility and results. As you can see, there are many different ways to make sure your business is appearing in local search results.
Conclusion:
Local SEO is important for any business that wants to be visible in search results and attract new customers. There are a few easy steps you can take to improve your local SEO. Just make sure to include keywords in your title tags and meta descriptions, optimize your GMB listing and get more customer reviews, and you'll be well on your way to increasing visibility and business growth. By taking the time to implement these strategies, you'll be able to reach more potential customers and increase your business's visibility.