Like any other organization, churches still find effective ways to boost their engagement with members.  Engagement is one of the many ways you can be assured of the continuity of your church.  
One of the ways to build a robust relationship with your followers is by utilizing church streaming software. That's where podcast marketing comes in. This guide walks you through podcast marketing for churches. You'll learn what it means, its benefits, and how to find suitable software in the market. Read on to be enlightened.  
What Is Podcast Marketing 
Podcast marketing is the practice of creating and delivering unique content to members of your church or audience in general. It allows you to record audio on scriptures and pass them to your followers. You can also use podcasts to inform your church members about essential updates.  
Steps On How To Start Up A Church Podcast 
Starting a church podcast is easier than you ever thought. Besides, it doesn't require a lot of investment.  That said, here are some steps you can follow. 
Determine The Type Of Content You Want To Record
The first step in creating a podcast is determining the type of content you want to deliver to your audience. Some of these include bible study and sermons. The length of your podcasts will be determined by the messages you want to pass.  
The next step is to record your content. You can achieve this using a high-quality microphone plugged into a recording gadget. This can be your phone, tablet, laptop, desktop, or other recording-enabled devices.  
After recording your content, you now need to publish it. This involves uploading it to your host service provider. However, you must ensure you edit your content where necessary.  
The last step is to market your podcast. This involves promoting your podcasts to your target audience. It's one of the best ways to increase its visibility. Without marketing, no one will come to know about your new church podcast.   
Benefits Of Podcasts For Churches
There are two major benefits of creating podcasts for your church. These include:  
Every pastor will want to reach more people worldwide and teach them about the gospel. However, connecting with vast audiences isn't easy, especially for local churches. The good news is that any church, whether local or international, can connect with a larger audience through podcasts.  
With the right system, you can record your scriptures and release them to people through the internet. If the content is valuable, members of your church will be willing to share your podcasts on their social media accounts and other online platforms. Therefore, this enhances and widens your reach.  
If you're looking to remain engaged with your target audience, you must start utilizing podcasts. You should do this because it enables members to listen to your message even after the service is over. 
As mentioned earlier, podcasting involves recording and sharing audio messages with church members. Hence, your congregation can listen to them at their convenience. For instance, they can listen to your podcast on any day of the week. This enhances your church engagement, as it also promotes a sense of connection with your followers throughout the week.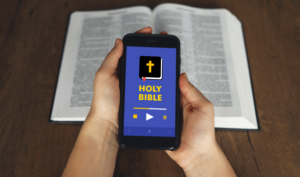 Finding The Right Podcast Software For Your Church
Having a podcast is not enough. You need to ensure it's of good quality content and the platform allows you to gain a wider reach. That said, here are important factors to consider when selecting podcast software for your church needs.  
Cost:

This is one of the most crucial factors to consider when purchasing a podcast system. This includes the purchase price, installation fee, and other associated fees like maintenance. If you're on a limited budget, choose a tool within your budget.  
Quality:

The quality of your podcasts will greatly depend on the software you're using. A high-quality system will allow you to

produce better podcasts

. For that reason, you might want to spot quality podcast software in the market.  
Scalability:

Today you might be managing a small church. However, it might attract more followers and expand in the future. When that happens, you'll be forced to replace your current podcast system. This attracts extra costs to your church. You can avoid this by finding a scalable solution from the start.  
Scalability is the ability of your current podcast software to grow with your church. It ensures that you're not buying another system in the future to accommodate an increasing number of members in your church. You'll still use the current software even when your church grows.  
Takeaway
Podcast marketing is the way to go if you want to promote engagement in your church and connect with a large audience. It allows you to record audio messages and release them to your target audience. However, you must ensure you're finding the right software. At the same time, make sure you're working with a reputable podcast service provider.