Maintaining a high-performance website is necessary for businesses to succeed online. A website audit is an essential process that helps identify website areas of improvement and ensure maximum performance optimization.
We have mentioned a list of ten powerful website audit tools you should check out in 2023. These tools offer comprehensive features to analyze and optimize your website's various aspects, providing valuable insights and actionable recommendations.
Majestic
The Majestic Website Audit Tool is a comprehensive and powerful solution designed to analyze and evaluate the performance and effectiveness of websites. This tool has features and functionalities that allow users to conduct thorough assessments of various aspects of a website, including its structure, content, SEO optimization, user experience, and overall functionality. With its interface and advanced algorithms, the Majestic Website Audit Tool provides detailed facts and actionable recommendations for improving the performance and visibility of websites in search engine rankings.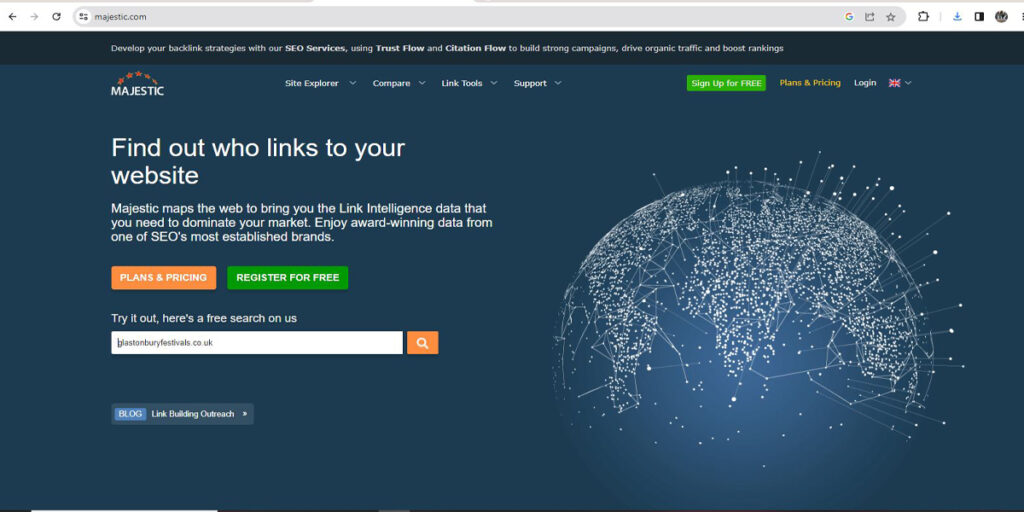 SEO Profiler
SEO Profiler is a tool that optimizes your website for search engines. This all-in-one SEO solution offers many features to improve your website's visibility and rankings. With SEO Profiler, you can research keywords, analyze backlinks, track rankings, monitor social media metrics, and more. It has interface and comprehensive reporting make it a choice for businesses wanting their SEO efforts in 2023.
SEMrush Site Audit
SEMrush Site Audit is a powerful website auditing tool that analyzes your website's health. It helps you identify technical issues, crawlability errors, broken links, and other factors impacting your website's performance. With SEMrush Site Audit, you can gain valuable knowledge into your website's on-page and off-page SEO, backlink profile, and content optimization. The tool offers actionable recommendations to fix any identified issues, allow you to improve your website's overall visibility and organic traffic.
Moz Pro
Moz Pro is a comprehensive SEO software suite that offers a range of tools to optimize your website. With its Site Crawl feature, Moz Pro performs an in-depth analysis of your website, identifying issues such as duplicate content, missing meta tags, slow page speed, and more. Moz Pro provides keyword research, link-building opportunities, rank tracking, and competitive analysis tools to help you stay ahead in the consistent changing digital landscape.
Google Search Console
As the leading search engine, Google offers a powerful website auditing tool called Google Search Console. It notifies you of indexing issues, security threats, and mobile usability concerns. Google Search Console also offers performance reports, allowing you to track your website's search visibility, click-through rates, and keyword rankings. You can optimize your website according to Google's best practices by leveraging Google Search Console.
Ahrefs Site Audit
Ahrefs Site Audit is a comprehensive website analysis tool that helps you identify and fix SEO issues. It performs an in-depth crawl of your website, checking for broken links, duplicate content, and other technical problems. Ahrefs Site Audit also offers facts into your website's backlink profile, allowing you to analyz link-building efforts and identify potential opportunities. With its interface and detailed reports, Ahrefs Site Audit is a must-have tool for businesses aiming to improve their website's performance in 2023.
Screaming Frog SEO Spider
Screaming Frog SEO Spider is a popular desktop program that crawls websites and provides valuable data about SEO elements. Screaming Frog SEO Spider uncovers issues affecting your website's search engine rankings by analyzing your website's URLs, metadata, headings, and more. The tool also assists in identifying broken links, duplicate content, and missing tags. With its comprehensive analysis and detailed reports, Screaming Frog SEO Spider is essential for website auditing and optimization.
GTmetrix
Website speed is a critical factor that impacts user experience and search engine rankings. GTmetrix is a powerful tool that analyzes the performance of your website and provides actionable recommendations for improvement. It measures performance metrics, including page load time, page size, and requests. GTmetrix also offers facts about how your website performs on different devices and provides suggestions to optimize its speed and overall performance.
Pingdom
Pingdom is a website monitoring tool that helps you track your website's uptime, performance, and user experience. It monitors your website and sends alerts for downtime or performance issues. Pingdom provides detailed reports on your website's response time, uptime, and page speed, allowing you to identify and resolve any issues. By utilizing Pingdom, you can ensure that your website remains accessible and performs well for your users.
Web.dev
Web.dev, developed by Google, is a comprehensive tool that assesses your website's performance and provides the best practical facts. It evaluates various aspects, including performance, SEO, accessibility, and more. Web. dev offers detailed reports with actionable recommendations to enhance your website's quality and user experience. By following the suggestions provided by Web.dev, you ensure that the website meets the highest standards and delivers exceptional browsing experience.
Conclusion
In today's competitive digital landscape, conducting regular website audits is necessary for maintaining a high-performing online presence. The ten powerful website audit tools mentioned in this article provide comprehensive features and facts to help you optimize your website for success. Whether you need to improve your SEO, enhance website speed, or fix technical issues, these tools offer valuable assistance to know about your website's performance.
Keoyword: Website Audit Tools
Description: Powerful Website Audit Tools to Check Out in 2023 includes Majestic, SEO Profiler, SEMrush Site Audit, Moz Pro, Google Search Console, Ahrefs Site Audit, Screaming Frog SEO Spider and GTmetrix.