In today's fast time world, technology has made our lives easier and reliable in many ways. Among its numerous services, automatic bill payments stand out as a time-saving method of managing monthly expenses. However, like any other innovation, automatic bill payments have their share of pros and cons. A bill payment that is automated is precisely what it sounds like. It's a prearranged electronic transfer of funds from your bank or credit card account to a supplier, biller, or merchant in order to pay a bill. The biller automatically collects the amount owed by the predetermined payment schedule. In this article, we will discuss the pros and cons of automatic bill payments.
Pros of Automatic Bill Payments
Automatic bill payments are new technology and give so many benefits such as:
Settle At Many Different Cards
Your credit card, debit card, savings account, or checking account can be used to make automated payments with your permission. The benefit of automatic payments is that they can be used to settle many different kinds of debts, including:
Electricity
Phone charger
subscriptions for streaming
Bills for credit cards
Insurance (auto/home)
It's Convenient
You can automate the bill-paying procedure so you don't have to go to numerous websites or deal with sent invoices at various points during the month. You may arrange and view all of your bills in one location if you do this through your bank. Additionally, some businesses will inform you when they prepare to collect money. In a sense, they come to you rather than the other way around.
Beneficial To the Environment
Consumers won't experience additional expenses like buying checks and mailing due to automatic payment. Businesses, customers, and the environment as a whole will benefit from the removal of printing expenses related to paper billing. People don't need to make queues and block roads.
No Postage Is Required
You won't ever have to mail a payment using a stamped envelope. Postage won't be needed because your money will be taken directly from your account. When you can sign up for autopay or use electronic bill payment for nothing, why would you pay for the payment?
Secure
Data breaches generate news, but online banking is as safe as putting your check in an unattended mailbox. In reality, the encryption methods banks employ online to secure client information may make your accounts more secure.
Time-Saving
Automated bill payments eliminate the need for manual tracking and payment initiation each month. Your bills will be paid automatically once you've set up automatic payments, saving you important time that can be used for other things.
Avoid Late Fees
Automating bill payments reduces the probability of missing due dates, thereby preventing late fees or penalties. People with busy schedules or frequently failing to pay their bills on time may particularly benefit from this.
Improved Credit Score
Consistently making on-time payments can positively impact your credit score. By automating bill payments, you can maintain a solid payment history, which is vital in determining creditworthiness.
Peace of Mind
With automatic bill payments, you no longer need to worry about missing a payment or dealing with past-due notices. Knowing that your bills will be promptly resolved provides peace of mind and reduces stress.
Cons of Automatic Bill Payments: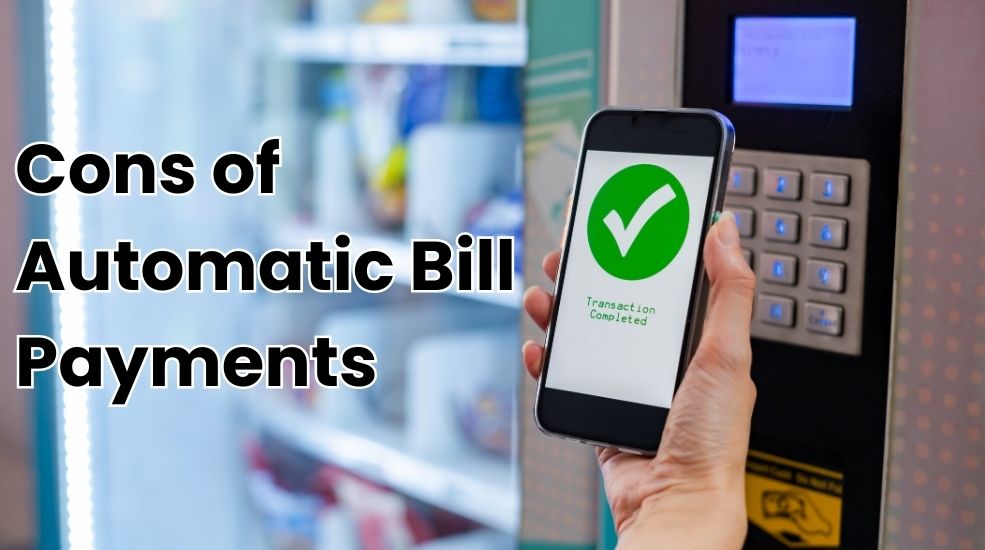 Everything has good and bad points the cons or drawbacks of automatic bill payments are:
Insufficient Funds
Automatic bill payments can be problematic when your account needs more funds. If overlooked, this could lead to overdraft fees or failed payments. Maintaining a sound financial plan and monitoring your accounts regularly can help you avoid this drawback.
Difficulty in Adjustments
Sometimes, fluctuations in monthly bills or payment amounts require adjustments. Automatic payments can make modifying bill payments on time challenging, as it usually involves communicating with the service provider or navigating through online systems.
Loss of Control
Automating your bill payments means trusting your financial responsibilities to technology. While this can be convenient, it removes some of your hands-on control over your finances. This loss of personal involvement could make it harder to stay aware of your spending habits.
Undetected Errors
Although rare, billing errors can occur. When you automate payments, you might overlook billing variations or faulty charges, as you may need to inspect each bill thoroughly. Your biller may unintentionally charge you twice or withdraw the incorrect amount. Sometimes businesses keep taking money out even after you've stopped using their services. You need to check your account to avoid missing an improper charge.
Final Thought
In terms of convenience, time savings, and financial management, automatic bill payments have much to offer. While reaping the rewards of this useful innovation, you may avoid potential hazards by balancing automation and manual oversight. Knowing the benefits and drawbacks helps you to decide in a way that aligns with your tastes and financial circumstances. One automated bill payment at a time allows you to make payments consistently, have peace of mind that you haven't missed anything, and help the environment.