Modern-day robots are engineered to minimize energy consumption to result in reduced operational expenses. Automation has become a cornerstone of efficiency and innovation across various industries in today's fast-paced world. Robotics has played a pivotal role in automating processes to improve productivity and drive technological advancements. As we move forward, the field of robotics hardware is witnessing a fascinating evolution characterized by emerging trends shaping the future of automation. In this blog post, we will explore basic emerging hardware trends that are shaping the future of automation. 
Robotics Hardware Trends for Automation:
The industrial robotics sector has been significantly affected by external factors, like the pandemic, geopolitical uncertainties, and supply chain disruptions. Simultaneously, internal factors such as technological advancements and improvements in usability have played a crucial role in shaping the development and adoption of industrial robots. The abundance of information to navigate makes pinpointing the most impactful trends quite a challenging task. Nevertheless, industry experts closely monitor some specific trends of particular significance:
Soft Robotics
Traditional robotics systems are often made of rigid materials, limiting their applications in specific environments. However, soft robotics is changing the game by introducing more flexible and adaptable machines. These robots are constructed from materials that mimic natural organisms, like soft silicone and elastomers. This trend is particularly beneficial in applications that require robots to interact with delicate or irregularly shaped objects, such as medical procedures or food handling.
For example, soft robots can be used in minimally invasive surgeries, where they can navigate the body with ease and precision, reducing patient trauma. The ability to conform to various shapes also makes them ideal for tasks like pick-and-place operations in warehouses, reducing the need for precise alignment.
Bio-Inspired Robotics
Nature has frequently acted as a wellspring of creativity for robotics. The drive to improve robotic capabilities has led to a growing interest in the development of bio-inspired robots, as engineers and scientists draw inspiration from biological systems. A standout illustration of this trend is biomimetic drones, which emulate birds' and insects' flight patterns and characteristics.
These bio-inspired robots can achieve superior agility and maneuverability, rendering them exceptionally well-suited for search and rescue missions, environmental monitoring, and surveillance. These robots can effectively operate in demanding and ever-changing environments, all while conserving energy.
Advanced Sensing Technologies
The ability to perceive the environment accurately is critical for robots to perform tasks safely and effectively. Emerging trends in advanced sensing technologies are empowering robots with enhanced perception capabilities. These include:
LiDAR (Light Detection and Ranging)
LiDAR technology is making significant strides in the field of robotics. Miniaturized and cost-effective LiDAR sensors enable robots to create detailed 3D maps of their surroundings. This is especially useful in autonomous navigation for robots in industries like agriculture, logistics, and autonomous vehicles.
Human-Robot Collaboration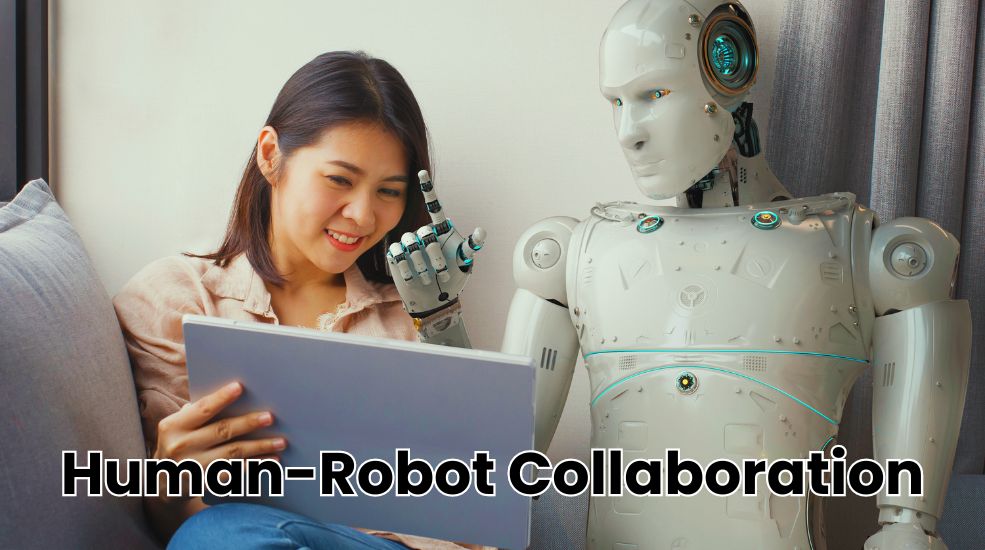 Human-robot collaboration is a growing trend in automation, and hardware plays a crucial role in making these interactions safe and efficient. Advanced sensors and algorithms enable robots to work alongside humans, enhancing productivity and safety in various industries.
For example, robots with advanced hardware in healthcare can assist with patient care, reducing the physical strain on healthcare workers and providing constant monitoring. In manufacturing, collaborative robots or cobots can work alongside human employees on the factory floor, handling repetitive and physically demanding tasks, while humans focus on complex problem-solving.
Multi-Spectral and Hyperspectral Imaging
These advanced imaging technologies allow robots to see beyond the visible spectrum. People can use them in precision agriculture to monitor crop health, in manufacturing to inspect products for defects, and in environmental monitoring to detect pollutants and assess vegetation health.
Tactile Sensing
Tactile sensors designed to replicate the human sense of touch are becoming more sophisticated. This allows robots to interact with objects more delicately, enhancing their capabilities in sorting, assembly, and even medical procedures.
Edge Computing and AI
The combination of edge computing and artificial intelligence (AI) transforms how robots function. Edge computing empowers robots to handle data near its origin, minimizing delays and facilitating instantaneous decision-making. On the other hand, AI amplifies robots' capacity to interpret and react to intricate and ever-changing surroundings. Robots can now acquire new skills and adjust to shifting conditions to render them more adaptable and robust. This evolution is especially pronounced in autonomous vehicles, where AI-powered systems process extensive data to make rapid decisions and navigate securely.
Energy-Efficient Actuators
Efficient actuators are the muscles of robots. Traditional robots have relied on energy-intensive actuators, but emerging trends are shifting towards more energy-efficient alternatives. These actuators reduce power consumption and increase the lifespan of robots, making them more sustainable and cost-effective. One promising development is the use of dielectric elastomer actuators, which can produce large deformations with low power requirements. Another trend is shape memory alloys, which change shape in response to temperature changes, reducing the need for power-hungry motors.
Reshoring Initiatives
Overseas labor expenses are on the rise, and automation costs are witnessing a substantial decline. These are just a couple of the factors propelling the resurgence of domestic manufacturing in the United States and other leading economies, as highlighted by Masic. Today, we face many additional challenges that range from intellectual property concerns and tariffs to geopolitics and supply chain complexities. Automation is the most viable solution to revitalize domestic manufacturing, especially during a labor crisis swiftly. Reshoring, by shortening supply chains, mitigates emissions and generates environmental benefits to a more sustainable manufacturing landscape.
To Sum Up
The robotics hardware trends mentioned above are driving automation to new heights. These innovations make robots more adaptable and versatile, from soft robotics that can handle delicate objects to bio-inspired robots that mimic nature's efficiency. Advanced sensing technologies improve robots' perception capabilities, while edge computing and AI enable real-time decision-making. Energy-efficient actuators and modular designs make robots more sustainable and cost-effective. Finally, human-robot collaboration is transforming industries by enhancing productivity and safety.