Gallery submission is one of the oldest and methods of the old webmaster bible. It has been since the rise of the online adult business and even today it's still generating a wave of target visitors to your website (read: paying customers).
The down side of it all? Gallery submission takes tons of time. Time that you could better spend on working on your website… Gallery submission has to be done manually. In most cases you have to create an account first on each of these gallery submission websites separately before you can use their submission service (and don't forget about the required backlink).
With the new awesome service for adult webmasters called www.b.eave.rs, manually submitting galleries to all sites one by one is a thing from the past! And even better, b.eave.rs pays you for every visitor that clicks on your link! Ka-ching!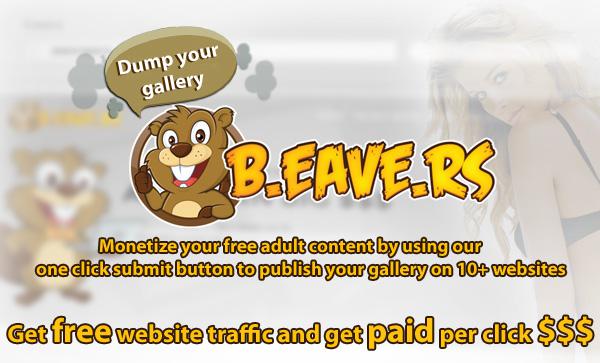 B.eave.rs provides a simple to use url shortening and bulk gallery submission form. With just a single click you can submit your gallery link to over 10+ high traffic adult websites. That makes b.eave.rs the new cash cow in town! You'll receive clicks immediately from our websites to yours. And yes, you'll get paid for it, even without having to promote your shortened links on web forums, social media websites or your own website. Spamming shortened links is so 1999. Besides gallery links we also accept links to adult tube videos (as long as the content is free for the visitor).
Unlike other url shorteners like Adf.ly or Linkbucks, we help you save a lot of time by not having to spam or manually submit (shortened) gallery links to external websites because we already did all that promotion for you.
Every visitor equals cash $$$! And every targeted visitor equals a potential customer. Either way, by using our new service b.eave.rs, you'll always win because you'll get free website visitors and make an extra buck.
B.eave.rs can multiply your daily traffic and even better; lower your conversion ratio drastically since we deliver high targeted traffic to your website.
Can I still earn without having my own adult website?
Yes!. The b.eave.rs website might suggest that our link shortening and bulk adult gallery dump service is only for webmasters… Yes, webmasters are our target audience, but that is certainly not the case! Our service can be used for any (free) adult content links. You don't have to be the owner of the submitted link.
How do I start?
Basically it's really easy to start making some extra lunch money by simply searching for some sexy free web content, copy and paste that link into the b.eave.rs form, upload a seductive gallery preview image (read: click bait!), write a good title and description (even better if you use some popular terms or keywords) and wait until you've reached minimal payout and cash in. After submitting your links to all our adult websites and you'll be generating clicks and earnings right away.
The last option is to sign up with affiliate sponsor programs that offer hosted galleries as promo tool. Affiliate programs pay you per sale or on revenue base. It's a great way to make an extra buck on top of the b.eave.rs service.
What are you waiting for? submit your galleries and start cashing in $$$