Every social media platform is distinct. Many people make the mistake of developing a one-size-fits-all strategy for their social media campaigns, unaware that they're actually alienating some potential markets. 
Indeed, social media has become the number one venue to launch your brand, reach as many people as possible, and grow your business. Social media should be at the forefront of everything you do as a marketer to better establish your brand identity.
According to HubSpot, over 53% of the world's population is on social media. Facebook and Instagram have billions of active users every month, and these platforms have made it possible for strategists to target specific types of audiences by using artificial intelligence (AI). 
If you have a small business and want to expand your reach and grow your audience, you can hire a digital marketing agency to do the job for you flawlessly. Social media strategists, such as Caffeine Marketing, can help you reach your target market effectively. 
Aside from that, these agencies specialize in search engine optimization (SEO), pay-per-click (PPC), web design, content writing, copywriting, and branding. They'll provide an invaluable host of tools, so you can start building your empire. 
If you can't hire an agency for now, here are some top social media targeting tips you can utilize for your brand:
Identify Your Buyer Persona
You can only strategize well if you know who you're targeting. Before launching a campaign, you have to ask yourself: 'Who's my buyer?' and take it from there.
Even if your products are aimed at kids, you have to know who buys them. So, targeting their moms would be best because, even if dads have the money, only a few of them go out and buy something in the store. It's the moms who do that.
On the other hand, if you have a skincare product, would it benefit you to target only women? Men now are pretty particular about their skincare routines, so not including them in your buyer persona would limit your reach.
Create A Specific Strategy For Each Platform
Today, over 20 social media platforms are available on the world wide web. Each of these platforms caters to different audiences. But even though there are a lot of them, it doesn't mean that you have to be in all of them. 
You may choose at least three and focus your attention on those. You have to choose which social media platform will be best suited for your strategy. Here's a list:
 Social networking: Facebook, LinkedIn

Image sharing: Instagram, Snapchat, Pinterest 

Video hosting: YouTube, TikTok

Social messaging: WhatsApp, Messenger, Viber, Telegram, Skype

Microblogging site: Twitter

Discussion sites: Reddit, Tumblr, Quora

Social review sites: Goodreads, Yelp, Foursquare

Community blogs
Please keep in mind that many of these platforms have improved their services over time, so an image-sharing site like Instagram now has Reels, and Facebook has adopted it. 
Also, as previously mentioned, they cater to specific types of audiences, so your approach must be tailored to the platform—more on that in the next point. 
Focus On Your Approach
If your product is created for kids, your target should be their parents. And these parents are most likely on Facebook and Instagram. There are parents on LinkedIn too, but the approach should be more professional and not casual. 
The approach should be altered a little since most LinkedIn users are executives and business professionals who are busy with their lives and don't have time to browse their feeds. 
Invest In Video Content
The latest trend on social media advises strategists to focus on creating video content, since it's more likely to attract users' attention. Posts with video get 10 times more engagement. 
And this could not be truer now. Because of the effects of the pandemic and the systemic lockdowns to prevent the spread of the virus, people have spent more time at home and on their mobile devices. 
This has resulted in a surge in the video consumption habits of users. In 2019, users spent six hours and 48 minutes watching online videos. However, in 2020, the hours spent climbed higher.  And to make it more interesting, video content is now being used to influence buying decisions.  
Communicate With Your Audience
Consumers value the attention granted to them by brands they patronize, and having their comments on social media ignored by the brand is quite snobbish. For companies, having a distinct voice is a huge benefit. However, the tone you use to communicate with your customers is just as crucial to your brand.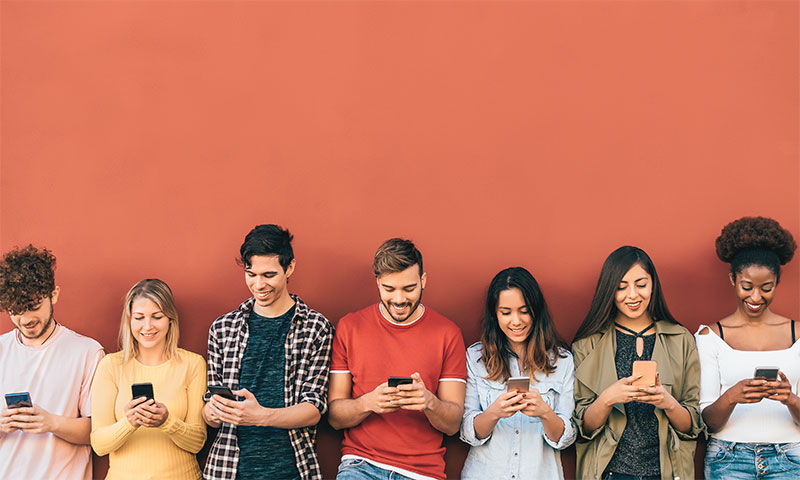 Invest In User-Generated Content
The influence of prominent personalities in your product niche will be a valuable targeting strategy. Micro- as well as nano-influencers, can lend a voice to your brand. They can help you add hype to your engagement, especially for flash sales or live podcasts. 
The difference between the two is their number of followers. Micro-influencers have 10,000 to 200,000 followers, while nano-influencers have a following of under 10,000. 
Still, their influence on this dedicated niche is immense, and most of them don't charge for posting. Unlike micro-influencers who charge a fee for posts ranging from USD100 to USD300 per static post. This fee increases if you're going to use their influence for short videos. 
Conclusion
Your presence on social media will dictate the trajectory of your brand. Investing in a digital marketing agency to execute the task for you will be money well spent. 
These people have an arsenal of skills and tools to carry your objective forward. And more importantly, they'll let you know the outcome of your strategies through reporting, so you'll know what to do next.