VoIP (Voice over Internet Protocol) is a newer technology that allows you to make and receive calls using your existing internet connection. This is the most affordable and reliable telephone solution for your business, if you want your business to grow greatly you should consider VoIP services. In most cases, VoIP services are much cheaper than traditional phone services. They offer features that can be very beneficial for businesses, such as call forwarding and voicemail. In this blog, you will take a closer look at VoIP services and what things to consider while choosing VoIP services.
What is VoIP and how Does it work?
VoIP, or voice-over-internet protocol, is a technology that allows users to make voice and video calls over an internet connection. By utilizing the same protocols used to transfer data across the web. VoIP systems convert spoken words into packets of network data that can send over long distances. In addition to more quickly connecting people, this method of communication has several advantages compared to traditional telephone service.
VoIP eliminates costly roaming fees for international calling, permits multiple people to join a conversation from any location, and allows users to record calls for playback at a later time. Despite these advantages, traditional landline phones still offer more reliable connections with better call quality. It is for those who are not yet ready to switch completely away from landlines.
Benefits of VoIP for Businesses:
With the rise in technological advances, Voice over Internet Protocol (VoIP) has become increasingly beneficial for businesses and organizations of all sizes.
VoIP offers many advantages that can not find with traditional phone systems. Utilizing the internet to make calls, can reduce the cost of communication, which can expand a small business' budget allowing it to invest more capital in growing the business.
It allows businesses to utilize unified communications and collaboration tools such as video conferencing or instant messaging from anywhere in the world with an internet connection.
Companies taking advantage of these technologies can gain an edge by being available everywhere at once and quickly dispatching critical information to customers and employees.
Finally, it helps reduce clutter by providing remote access options for individuals who work from home or often travel for work. With this, businesses can stay connected anytime, anywhere helping increase productivity while reducing costs.
Different types of VoIP Services: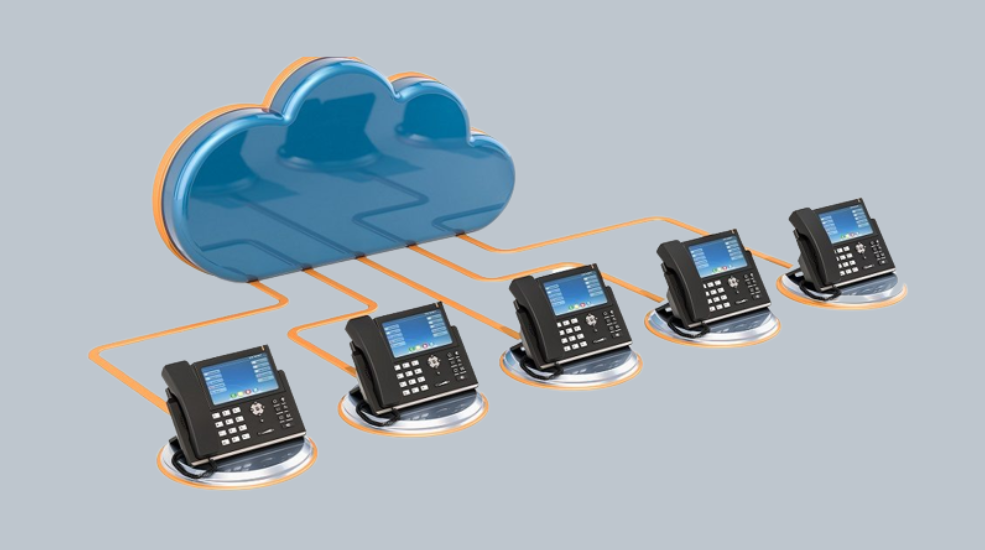 There are several types of VoIP services available. Here are the most common types:
Residential VoIP: This type of VoIP service is designed for individual users or households. It offers features such as unlimited calling, voicemail, and call waiting.
Business VoIP: Business VoIP services are designed for companies of all sizes. They offer features such as conference calling, virtual attendants, and call routing to different departments.
Mobile VoIP: Mobile VoIP services are designed for mobile devices, such as smartphones and tablets. They use mobile data networks to make and receive calls, and they offer features such as video calling and instant messaging.
Cloud-based VoIP: Cloud-based VoIP services are hosted in the cloud, and they are accessible from any location with an internet connection. They offer features such as call recording, call forwarding, and automated attendants.
Integrated VoIP: Integrated VoIP services are integrated with other software tools, such as CRM (Customer Relationship Management) and helpdesk software. This integration enables businesses to streamline their communications and customer service processes.
SIP Trunking: SIP (Session Initiation Protocol) trunking is a type of VoIP service that enables businesses to use their existing phone system with VoIP technology. It offers features such as low-cost long-distance calling and scalability.
Things Which You have to Consider before Choosing VOIP Services:
This is very important you have to keep in mind while you are going to choose VOIP services some of the important things are here to consider:
Call quality:
The quality of the call is crucial. You want to make sure the VoIP service you choose is offering high-quality, reliable connections that support your needs. This is the first thing that is having great importance when a person chooses the services of VOIP. The service which you ensures is having a good call quality can be chosen to get the benefit.
Features:
This is another important factor to consider as the different VoIP services offer different features, such as voicemail, call forwarding, conference calling, and mobile integration. You can see the features you need and compare the offerings of different providers.
Cost:
It all depends on the service that you are going to choose but the foremost thing is that you should consider the total cost of the service, including monthly fees, setup costs, and any additional charges. You may spend a bit of your time checking the price that suits you.
Customer support:
Make ensure the service has reliable customer support, including phone and email support, online resources, and customer service hours that suit your business needs. If the service that you have chosen is not having customer support it will not be so valuable.
Compatibility:
Ensure the provider is compatible with your existing hardware and software systems, including your phone system, network infrastructure, and other software tools. Compatibility makes you more reliable when choosing VOIP services.
Security:
No doubt, security is a very important factor. You should see the security features offered by the provider, such as encryption, firewall protection, and secure data storage. It provides you with a kind of satisfaction that your VOIP is having all the believing qualities.
Research:
Research is another very important component that helps in the whole trip. If you are having great research about the different services and you choose the best, ensure to fulfill your requirement and demands. Remarkably, look for a provider with a proven track record of reliability, with minimal downtime or service interruptions.
Conclusion:
Voice over Internet Protocol (VoIP) services offer numerous advantages over traditional phone systems, such as cost savings and enhanced features. However, before choosing a VoIP service provider, there are several factors to consider, including the quality and reliability of the service, the pricing structure and available plans, customer support, security measures, and compatibility with existing hardware and software. By carefully considering these factors, you can select a VoIP service that provides a high-quality, reliable, and cost-effective communication solution for your personal or business needs.