These days, teenagers are more dependent than ever on the internet. As we know, the internet provides many opportunities for learning and social interaction, but it can be risky for the teen's safety and privacy. To ensure your teen uses the internet safely, you must actively monitor their online behavior as a parent or guardian. Monitoring your adolescent's online activities will help you protect them from online predators, cyberbullying, and exposure to inappropriate content. Your teen can make responsible decisions while exploring the digital world when they have honest and open discussions about internet safety.
This article will explore different strategies to help you to protect your teen's privacy and safety online.
Tips to Manage Teen's Privacy and Safety Online
Here, we explain some ways to manage your teen's privacy and safety when they use the internet.
Open Communication
Open and honest communication is one of the most efficient ways to manage your teen's online safety. Encourage your teenager to discuss their online experiences with you, including any concerns or uncomfortable encounters. Establishing trust will make them more likely to seek your guidance when they face challenges or threats online. It would be best to inform your teen about the possible online world risks and dangers. Educate them regarding the privacy settings, the chances of sharing private information, and how they can identify and report suspicious or harmful behavior.
Promote Healthy Screen Time Habits
Helping teens establish healthy screen time habits is necessary in the modern digital age. Please encourage them to maintain a healthy balance between online and offline by getting them involved in hobbies, physical activity, and face-to-face contact. Discuss the value of setting time limits on screens and the benefits of taking breaks from gadgets to reduce eye fatigue and maintain a healthy lifestyle. Teenagers must know the possible dangers of too much screen usage, such as a shorter attention span and restless sleep. You can lessen these negative impacts by encouraging teens to engage in activities that promote cognitive growth, like reading or games that demand problem-solving.
Foster Empathy and Online Kindness
Protecting their safety and privacy online is as necessary as teaching your teen to be kind and empathic online. Discuss the unethical things that can cause damage, like negative comments, cyberbullying, and online harassment. It would be beneficial if you could kindly remind them to consider the feelings of those they communicate with online and to use the Internet as a platform for communication. Encourage your teen to consider their words carefully before posting or leaving a comment on the other post. To promote a positive online environment, teaching the value of treating others with respect and empathy is essential.
Set Clear Boundaries
Establishing clear boundaries for your teen's online activities is essential. Create guidelines for screen time, appropriate websites and apps, and social media usage. Ensure your teen understands the rules and the consequences of breaking them. Setting limits can help prevent excessive internet use and exposure to harmful content. It's necessary to regularly discuss your concerns about your teen's online behavior with them. Discuss freely the possible risks and dangers of the internet, such as cyberbullying and online predators. You can support your teen using the internet safely and responsibly during regular conversations with them.
Use Parental Control Software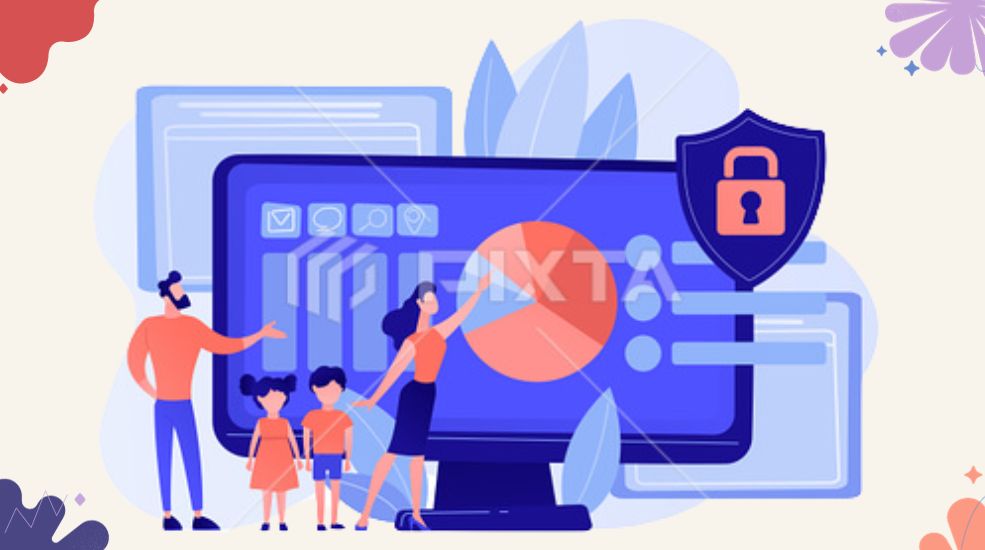 Parental control software allows you to monitor and manage your teen's online activities effectively. These tools enable you to block inappropriate content, track their internet usage, and set time limits on specific apps or websites. Some parental control software also provides real-time monitoring and alerts for concerning behavior. Help your teenager understand how to use privacy settings on social media platforms and other online accounts. Show them how to adjust settings to limit the visibility of their personal information and posts to a select group of friends or contacts.
Please encourage them to review and update these settings as needed regularly.
Encourage Responsible Social Media Use
Teenagers use the social media widely. Teach your teen about using social media responsibly, emphasizing the need to consider posts before making them, to avoid cyberbullying, and to report inappropriate content errors easily. Teenagers must be aware of the possible effects of their online behavior, including how it may affect their reputation and future opportunities. Teach them to be mindful of the digital footprints they leave.
Foster Digital Literacy
Encourage your teen to develop digital reading skills to evaluate online information carefully and differentiate between reliable and unreliable sources. Teach them to verify facts, avoid clickbait, and doubt the reliability of websites and sources. Tell your teen to explore different perspectives and discuss recent events and controversial topics. Reinforce the value of protecting private information online and being aware of privacy settings on social media platforms.
Monitor Online Friendships
Awareness of your teen's online friendships and connections is essential. Please encourage them only to accept friend requests or connect with people they know personally. Explain the risks of disclosing personal information to online strangers and advise them to avoid meeting online buddies in person without your knowledge or permission. Your teen needs to be informed about the dangers of using the internet.
Be a Role Model
Set a positive example for your teen by consistently acting responsibly and safely online. Demonstrate the value of responsibly protecting others' privacy and using social media and the internet. Encourage your teen to be open about their experiences and actions online. This will make them more at ease when they ask for your advice and support in response to possible risks or difficulties they may encounter online. Your behavior might have a significant impact on how your teen behaves online.
Conclusion
Managing your teen's privacy and safety online requires open communication, education, and technology. You can teach your teen the healthy way to use the internet. Also, teach them how to manage their physical and online lives. Regularly engage with them in their online activity and frequently tell them in a friendly way the positive and negative impacts of using the internet. Remember that your advice and encouragement are crucial to helping your teen make wise decisions in the digital age. Inspire your teenagers to engage thoughtfully with the material they access, share, and interact with online.