Cloud Gaming is a new viral technology mainly based on optimizing the users' gaming experience. It lets users stream video games online instead of downloading them on the required devices. Xbox Cloud Gaming is the way of playing famous Xbox games on multiple devices like Smartphones, tablets, laptops and PCs instead of purchasing an Xbox Console. Thus, Cloud Gaming Xbox has reduced the expense of many users and provides a great way to enjoy famous Xbox games. But how does it work and provides access to your favorite Xbox games? We have created a complete guide regarding the Cloud Gaming Xbox.
Why Do We Need Cloud Gaming Xbox Technology?
The real fun of Xbox indeed associated with the console. However, many things highlight the importance of Cloud Gaming. Imagine you are playing a game on an Xbox console, and suddenly electricity issues occur. Or the alarm rings, indicating your time to go to educational institutes? The genuine charm will get affected.
On the other side, what is your reaction if you find the facility to play any of your favorite games while sitting anywhere and at any time on your mobile device or laptop? Surely unexplainable. Providing a seamless gaming experience is the primary concern of Cloud Gaming Xbox. You can play the most popular console games without interruption with just an internet connection.
Basic Requirements For Cloud Gaming Xbox Technology
Cloud Gaming Xbox is a lot easier today as Microsoft's Azure cloud computing platform powers it. Whenever you start playing a game, Microsoft bears the whole load. It provides you with the best gaming experience as much as possible. Azure delivers the basic infrastructure as data centers host the games and run them remotely over the internet in real-time. In this way, gamers can easily access their favorite games directly on their devices.
To make Cloud Gaming Xbox service work on your devices, follow the following steps and requirements.
1 – Compatible Devices
Microsoft has worked extremely hard to deliver the Xbox cloud gaming to devices as much as possible. So that a maximum number of individuals will be able to enjoy the experience on their devices effortlessly, that's why an extensive collection of devices, including iOS, Androids, PCs, Laptops and MAC Books, are supporting this latest technology. To enhance your gaming experience, you must possess the latest device to help such heavy games flawlessly.
2 – Install The Official App
In the previous section, we talk about device compatibility with Xbox games. However, the main concern is matching the compatibility of your device with the official Xbox application, Xbox Game Pass. You can download the official app on your iOS and Android devices from AppStore and PlayStore. Moreover, you can also enjoy the gaming experience by installing the desktop application on your laptop/PC or accessing it through the official web.
3 – Game Pass Subscription
The official application needs a subscription to authorize access to the Xbox games. You can get more than hundreds of games to stream, including some of the most famous ones and direct access to cloud gaming, which helps you play them on your device. Xbox Game Pass Ultimate is available for the monthly subscription cost of $14.99 globally and includes Xbox Live Gold, Xbox Games Pass for PC and EA Play.
4 – Seamless Internet Connection
As mentioned before, Cloud Gaming is the online streaming of games over the internet on different devices besides the basic ones. Therefore, you must have a fast internet connection to enjoy seamless connectivity with Azure for great fun and enjoyment. This will ultimately boost your gaming experience. Although, Azure has used low-latency network connection by considering this general problem. Still, you must accomplish all the basic requirements for the unstoppable thrill.
How Does Cloud Gaming Xbox Works?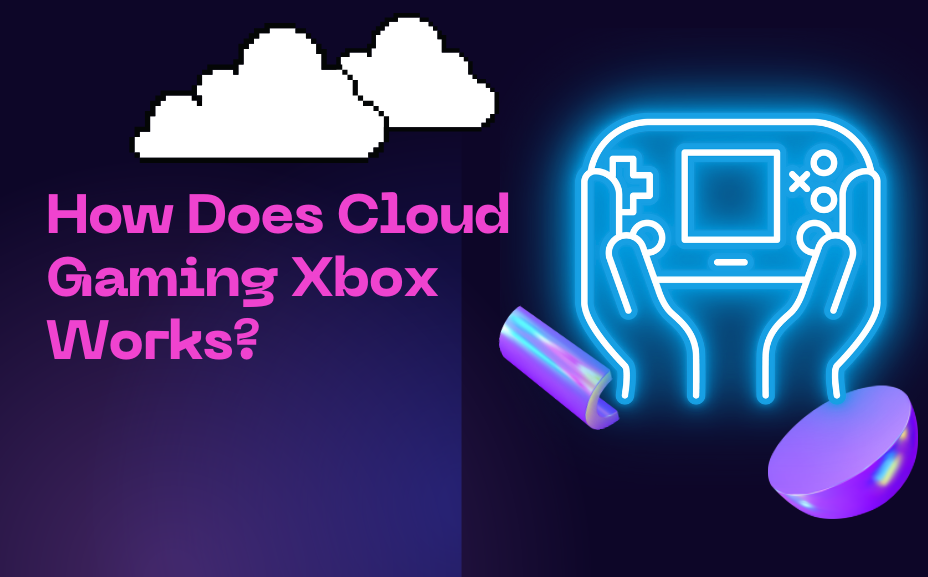 Considering you have downloaded the official app on your compatible devices, have seamless internet connectivity, and have purchased the subscription, we should move toward the next step. Once you have subscribed to Xbox Game Pass Ultimate by entering the subscription details, you can access cloud gaming by logging into your account on the application.
The app allows users to browse the available games, which are more than a hundred in number and include some of the most popular ones. You can launch them directly from the app. When a game is established, the app connects to the Azure data center, which hosts the game and streams the match in real-time to the user's device.
The user's device acts as a controller. All input commands are sent to the Azure data center in real-time. This data is processed and returned to the user's device to display on the screen. This process happens almost instantly, thanks to the low-latency network connections used by the Azure data centers, providing a seamless gaming experience.
Benefits Of Cloud Gaming Xbox
There is a large number of advantages associated with Cloud Gaming Xbox. The following are some of this technology's most critical and general benefits.
No Need For A Console
Gaming lovers can play their favorite Xbox games on their compatible devices without needing a console. This allows them to stream popular games on the go or on devices generally unsuitable for gaming.
Wide Collection Of Games
The official application, Xbox Game Pass Ultimate, provides access to over a hundred Xbox games, including many famous ones, providing users with a wide variety of games to choose from.
No Need To Download Or Install The Games
As cloud gaming is the streaming of games online, the requirement of downloading heavy games on your device is diminished, which conserves the player's time.
Conserve The Storage
As the downloading or installing requirement of games reduces, you can easily conserve your device's storage.
Compatible To A Wide Range Of Devices
Microsoft has made Xbox cloud gaming compatible with devices as much as possible, including smartphones, tablets, laptops, and desktops, enhancing users' gaming experience.
Final Verdict
These are the details about cloud gaming Xbox and how it works. Overall, Xbox cloud gaming is a simple and easy way to play your favorite Xbox games on multiple devices of daily use without needing an Xbox console. With Xbox Game Pass Ultimate, you can access various popular games and enjoy a seamless experience. I hope this guide works best for you. Stay tuned for more information!