Do you want to take your SEO game up a notch? Are you looking for tools that can help make the whole search engine optimization process faster and easier? Google Chrome is an invaluable asset to have in any online marketer's toolkit. With the availability of its extensions, there are endless possibilities when it comes to optimizing content for better search engine visibility.
In this blog post, I will be listing some of the best Google Chrome extensions out there designed specifically with SEO in mind – perfect for those hoping to get ahead in the ever-changing SEO landscape.
Why Are Chrome Extensions Great for SEO?
Chrome extensions are a great tool for SEO experts and digital marketers. They provide tools that allow users to quickly optimize their websites and content, as well as track progress over time. Utilizing SEO professionals can save time and get better insights into their strategies. If you're new to Chrome extensions or need an extra boost for your SEO strategies, here are some of the most popular Chrome extensions currently available.
10+ SEO Extensions for Google Chrome
Here are some best Google Chrome Extension for SEO:
1. MozBar
MozBar provides a quick and easy way to check the current SEO score of any website and quickly uncover potential issues. It also allows webmasters to compare their site's performance with that of their competitors, which can be invaluable for staying ahead of the competition. Additionally, it provides insights into the keyword density of any page, social metrics such as shares and likes, as well as page and domain authority scores.
2. Ubersuggest
Ubersuggest gives you a comprehensive set of tools to analyze and optimize your website and search engine rankings, so you can get the most out of your SEO efforts. With Ubersuggest, you can analyze keywords and track their performance, as well as monitor your competitor's rankings. This helps you to create a strong SEO strategy and maximize the potential of your website.
3. Similar Web
The Similar Web is an essential tool for any modern search engine optimization practitioner. This extension provides users with a quick and easy way to gain insights into the performance of any website. With this information, practitioners can better inform their SEO strategies and optimize websites accordingly. The extension captures key data points such as rankings, traffic sources, estimated visits, and more.
4. Redirect Path
The Redirect Path is an invaluable tool for website owners, developers, and SEO professionals. It helps you detect 301 and 302 redirects, view server responses, analyze the HTTP header of a page and check for HTTPS secure connections. With this extension, you can easily determine whether or not your website's redirects are set up correctly. It also lets you view server responses and the HTTP header of a page, giving you an insight into how your website is configured. Additionally, it allows you to check for secure HTTPS connections, ensuring that your website is safe and secure for all visitors.
5. Meta SEO Inspector
Meta SEO Inspector provides users with an in-depth analysis of their website's performance, allowing them to identify any potential issues that may be preventing them from achieving higher rankings and better visibility on search engine result pages. For any website or online store wanting to make the most of its SEO efforts, Meta SEO Inspector is an indispensable tool. The extension provides users with a detailed analysis of all the Meta elements on their website, including page titles, descriptions, and headings.
6. Check My Links
The Check My Links is a must-have tool for any digital marketer or website owner, as it helps to improve SEO by identifying broken links on the page. This extension quickly scans the page and highlights any links that are not working correctly, making it easy to identify and fix them. It also provides detailed information about each link, including the source and destination URLs, as well as other important SEO data. With this information, website owners can make more informed decisions about their link-building strategies and ensure that all links point to valid pages.
7. Pagespeed Insights
Pagespeed Insights is a must-have tool for webmasters and marketers who want to ensure their websites are optimized for search engine rankings. This extension helps webmasters quickly and easily analyze the performance of their web pages, allowing them to identify issues related to page speed, and make changes to improve it. With the Pagespeed Insights Google Chrome Extension, webmasters can quickly identify areas of improvement and make changes to ensure their pages are optimized for search engine rankings. This extension is available for free from the Chrome Web Store and can be installed with a single click. Once installed, users can instantly see how their website performs in terms of page speed, helping them to identify issues and make changes to improve their results. With the Pagespeed Insights Google Chrome Extension, webmasters can ensure their websites are optimized for search engine rankings, enabling them to get more traffic and better search engine visibility.
8. SEO Minion
The SEO Minion is a must-have tool for any web developer or digital marketer. It offers a variety of tools to help with basic website optimization tasks, such as checking broken links, finding image alt tags and Meta descriptions, verifying redirects and hreflang tags, and much more.
9. SEOquake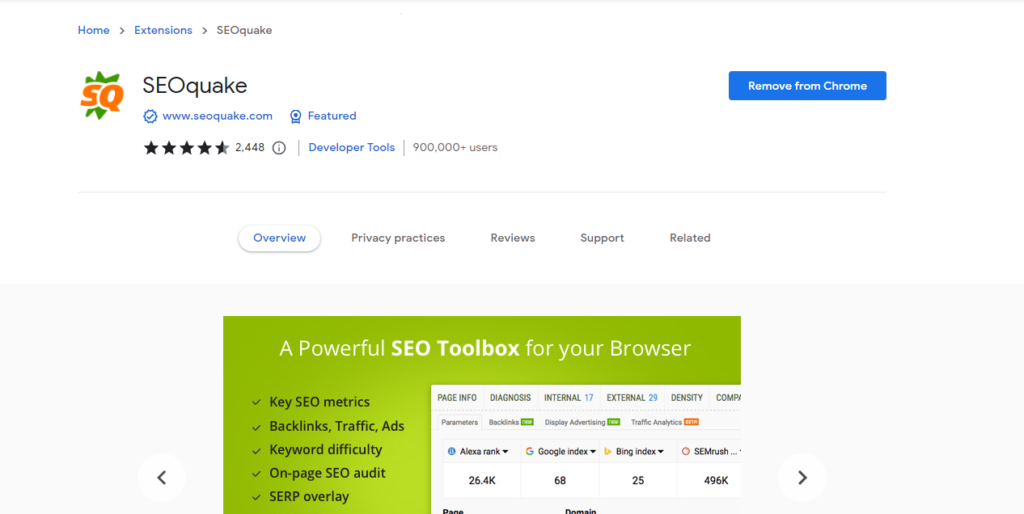 The SEOquake Google Chrome Extension is a powerful tool to help webmasters and digital marketers optimize their websites. With its comprehensive range of features, it provides invaluable insights into a website's performance, both on-page and off-page. It can be used to track keyword rankings, analyze SERP data, assess domain authority and trustworthiness, and review backlinks. The extension gives users the ability to quickly and easily compare how their websites measure up against competitors in terms of SEO performance.
10. Ninja Outreach
Ninja Outreach is a powerful tool that can help you increase your reach and maximize the efficiency of your SEO campaigns. The extension allows you to quickly search for relevant keywords, find influencers in your niche, and even track keyword performance. With this extension, you can efficiently manage all of your SEO efforts while optimizing your content for the best possible results.
11. Keywords Everywhere
Keywords everywhere are a must-have tool for anyone involved in search engine optimization (SEO). It allows users to quickly identify the most popular, relevant keywords and phrases that people are searching for on the web. By seeing this data, SEO professionals can then optimize their content around these topics to better target their desired audience.
12. Fatrank
Fatrank provides an extensive suite of features designed to monitor, analyze, optimize, and track organic search rankings for any website or domain. The platform offers detailed keyword tracking for all major search engines, including Google, Bing, and Yahoo.
Google Chrome is the most popular browser for a reason: it's fast, efficient, and comes with a ton of great built-in features. And when it comes to SEO, there are even more ways to optimize your experience and boost your productivity. With the right Google Chrome extensions, you can do everything from automatically generating sitemaps to checking competitor backlinks. The best part? They're all free! Here are our favorite SEO-related Google Chrome extensions that every digital marketer should have in their toolkit.