Have you ever observed the immense influence a recommendation from a family or friend member holds when making a purchase? The same principle applies to customer testimonials. Potential customers are inundated with advertisements and sales pitches to make it increasingly vital for businesses to demonstrate their value and distinguish themselves in this digital age. This is where the testimonials page steps in. These positive reviews from contented customers serve as a potent instrument for enhancing conversions and establishing trust with potential customers. In this blog post, we will explore effective tips to create a testimonials page that showcases your customers' positive experiences and convinces prospects to take action.
What is Testimonial?
A testimonial serves as an endorsement from a third party to affirm the excellence of a person or something. To establish trust and credibility, strategically incorporate these testimonials on various parts of your website, like a dedicated Testimonials page, product pages, the About Us page, and more. Reinforcing the value of your product or business is a fundamental technique in sales psychology. Whether you're launching an eCommerce store, promoting an event, or developing a construction website, testimonials have the potential to convey a compelling message.
Create a Testimonials Page that Increases Conversions:
Testimonials are a powerful tool in your digital marketing arsenal. They serve as social proof, assuring potential customers that your product or service is trustworthy and effective. A well-crafted testimonials page can significantly boost your conversion rates. However, creating such a page requires careful planning and execution. Below, we define the tips to create a testimonials page that increases conversions:
Gather Diverse Testimonials
The effectiveness of a testimonials page largely depends on the variety and authenticity of the testimonials it features. Different customers will have different experiences and perspectives. You can address a broader audience and resonate with more potential customers by showcasing a range of testimonials. Consider gathering testimonials from customers with varying backgrounds, needs, and satisfaction levels. For instance, include testimonials from first-time buyers, repeat customers, and even those who initially faced challenges but were satisfied with your resolution. Diversity in testimonials builds credibility and helps visitors relate to different aspects of your products or services.
Highlight Specific Benefits and Results
One common mistake in creating a testimonials page is featuring generic or vague testimonials. While a testimonial says a great product is better than none, it doesn't give potential customers the information they need to decide. To increase conversions, highlight specific benefits and results your product or service delivered. Encourage your satisfied customers to provide detailed testimonials that showcase the specific problems they faced, how your offering solved those problems, and the results they achieved. For example, if you're selling a fitness product, a powerful testimonial might read, I lost 20 pounds in just three months using this product. Specific testimonials like this offer tangible evidence of the value you provide.
Incorporate Visual Elements
Humans are naturally drawn to visual elements. Incorporating visual elements into your testimonials page can make it more engaging and memorable. Consider adding photographs of the customers providing the testimonials or even short video clips. Visual content makes your testimonials more relatable and authentic. When using visuals to confirm they are of high quality and relevant to the testimonials. A well-captured image of a smiling customer or a brief video of them sharing their experience can go a long way in building trust and increasing conversions. These visuals must appear genuine and not overly staged or edited.
Use Real Names and Faces
Transparency is key when it comes to testimonials. Use the real names and faces of the customers who have provided the testimonials. Anonymity or pseudonyms can undermine the credibility of your testimonials, as visitors may doubt their authenticity. When customers see real names and faces associated with testimonials, it humanizes your brand and reinforces trust. It's a powerful way to show that there are real people behind your product or service who are satisfied with their experiences. Additionally, consider including the customer's location or business, if relevant, to add further authenticity to the testimonial.
Organize Testimonials Strategically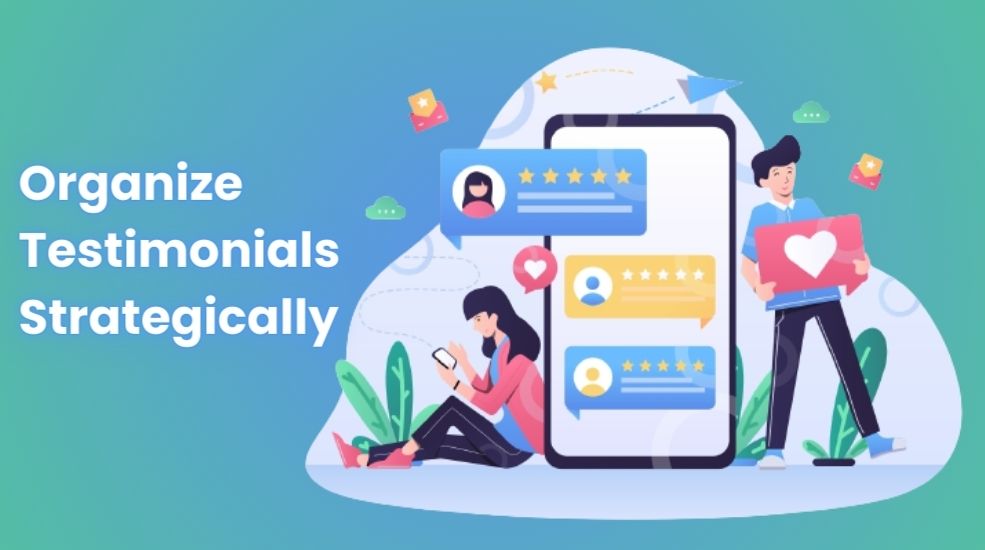 The placement and organization of your testimonials on your website can significantly impact their effectiveness. Consider strategically placing testimonials on key pages, like your homepage, product pages, and checkout pages. Visitors are more likely to notice and be influenced by testimonials when they are presented at crucial decision points in their journey. You can also organize testimonials by theme or category. For instance, create sections on your testimonials page that relate to specific benefits or features of your product or service. This allows visitors to find testimonials that align with their needs and concerns easily. Moreover, consider using visually appealing elements, like call-out boxes or star ratings to make testimonials stand out.
Update Regularly
An outdated testimonials page can be counterproductive. To maintain its relevance and effectiveness, it's crucial to update your testimonials regularly. Adding new testimonials from recent customers not only keeps your content fresh but also shows that your business consistently delivers value. Encourage customers to provide feedback and testimonials, and make it a part of your post-purchase communication strategy. Highlighting recent testimonials helps potential customers see that your product or service is still relevant and trusted by others. Be sure to remove any outdated or irrelevant testimonials to maintain the quality and accuracy of your page.
Provide a Call to Action
To maximize the impact of your testimonials, use them as a stepping stone for your visitors to take action. After reading a compelling testimonial, guide your visitors on what to do next. This could be an explicit call to action (CTA), such as "Buy Now" or "Sign Up Today," strategically placed near the testimonials. Confirm that the CTA aligns with the content of the testimonial. For example, if a testimonial highlights the ease of your online booking system, the corresponding CTA could be "Book Now." This reinforces the positive experience shared by the customer and encourages immediate action.
Conclusion
Creating a testimonials page that boosts conversions is not just about collecting positive comments from your customers it's about presenting them strategically and authentically. By collecting various testimonials to emphasize specific advantages, integrating visual elements, featuring real individuals with their names and faces, arranging testimonials strategically, maintaining up-to-date content, and offering a clear call to action, you can harness the influence of social proof to improve conversion rates. A thoughtfully designed testimonials page can significantly impact your online business, as it offers prospective customers the confidence they require to make informed purchase choices.