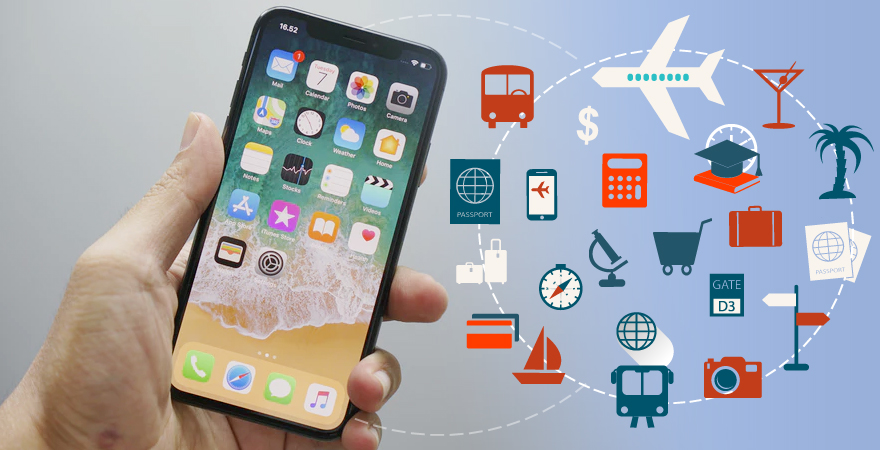 We all are aware that mobile app industry is a duopoly of Android and IOS. In 2017, more than 160 million iPhones were shipped worldwide and there is no surprise in it that Apple is breaking its own records every year.  With growing pace of iPhone app development, it's high time for the iOS developers to keep a tab on the new IOS Trends that would boom this industry in 2018.  Let's have a look at the trends that will rule in 2018 and beyond.
•  Apple Payments – We all know that digital payments are the future of transactions and the introduction of Apple pay has proved to be the more efficient mobile payment method ever.  Apple has made it easier for the Apple users to make purchases for food, shopping online transfer of money, booking movie tickets etc., with the use of this apple wallet.  In the coming years with the help of Apple pay iOS users can do the cashless transactions very easily. In 2018 we will see apple payment users will increase enormously for making E-Commerce transactions on IOS applications.  This digital online mobile wallet will support all the iOS devices like iPad, iPhone, Mac laptops, iOS watches and much more.  Apple pay has become one of the most supported contactless Payment Technology all over the world. Wallet also ensures top-notch robustness of security.
•  Apple Home Kit – A great enthusiasm has been seen in developers and designers for Apple home kit.  This is basically an Apple system created for home automation that will help the smart gadgets to have a communication with each other.  Apple home kit is in the eye of engineers and it will definitely replace all other automation applications in 2018. This is a one-stop app for all the home accessories which you can use like to turn off your AC, lights etc. from your iPhone itself. This futuristic technology is motivating the iOS developers to create remarkable apps that can connect Apple home kit to your home appliances.
•  Augmented Reality and Virtual Reality – If you are in touch with the mobile Development Industry, then you might be aware of these two terms.  If we go back to the launch of iOS 11 then we can clearly remember that the most talked feature was its support to augmented reality applications.  Also, we can see that IOS applications are more based on the idea of augmented reality and Virtual reality.  If you missed out, most of the Tech companies are talking about AR and VR to rule in 2018 and, IOS is taking the lead because iOS developers are abreast of the technological advancements and they have all the necessary tools to make most out of this new technology.  Developers are building AR, VR and other 3D applications that are compatible with the iPhone and iPad. Therefore we can expect something big from the iOS developer in the form of AR and VR apps in 2018.
•  Swift4 Language – In June 2016 Apple launched Swift 3.0 which was the first step towards this direction and now Apple has launched Swift 4 mature programming language which is the predecessor to its older version for the development of apps for iOS, watchOS etc. It is very popular among the designers and developers as it is highly robust and adaptable language which can help the developers to build apps steadily without compromising the security parameters. The best feature of Swift language is that it consumes less memory as compared to the other versions or objective C language.
•  Cloud-based Applications – Integrating the cloud-based Technologies into your apps is something that can give wings to your application and this is the reason iOS developers are more focusing on cloud-based applications.  The advantage of cloud-based applications is its enhanced storage feature which won't waste the internal memory of a device.  Apart from this cloud-based apps resolve the problem of data security as well.
•  Internet of Things – IOT is a Buzz world that is gaining immense eminence with each passing day.  The revenues and profits from IOT are growing at a very fast rate. The growth of IoT is directly impacting the smartphone applications and this is the reason that developers are building applications that can communicate well with the internet-enabled devices.  IOS app developers are getting aspired to create robust, sophisticated and value-adding apps for the users to help them to get most out of their IOT products. The key areas of focus will be the recognition of digital signals and insecure exchange of information over the Wi-Fi networks.  An Apple watch 2 is the perfect example to show the future of IOT.
•  AI and Contextual Learning for Siri – I believe Siri needs no introduction, we are already well aware of Siri. However, with the help of AI and contextual learning, Siri can act as a task manager and will use a GPS code or QR code. This will help Siri in understanding what people are searching and speaking in a better way.
Incentivize innovation in the iOS development field has helped Apple win all volume battles with higher revenues and better margins. Apple has a lot to offer to its iOS developers and IOS users in coming 2019.  To avail all these advancements one need to stay connected with the upcoming trends in the market.