Digital commerce is constantly changing, so firms are looking for new methods to engage customers and drive sales. Social commerce combines social networking and e-commerce to build a powerful growth platform. It leverages the power of popular social networks like Facebook, Instagram, and TikTok to facilitate seamless shopping experiences, enticing users to discover, explore, and purchase products without ever leaving their favorite platforms. This blog delves into the world of social commerce, exploring its key concepts, benefits, and strategies, equipping businesses with the knowledge to harness this exciting new avenue for revenue generation.
What is Social Commerce?
Social commerce is the marriage of social media and online shopping. This practice involves using various social media sites, such as Facebook, Instagram, Pinterest, and TikTok, to effectively speed up and enhance the experience of online purchasing. In contrast to conventional e-commerce platforms, it introduces a merging of boundaries, enabling individuals to peruse and acquire merchandise without having to navigate away from their preferred social media networks.
How Does Social Commerce Work?
Social commerce is a flexible online purchasing method that uses social media to make buying and selling easier. The working functions of the system are as follows:
Seamless Integration: The platforms integrate product listings, payment gateways, and shopping carts directly into social media apps. Users can discover, view, and purchase products within the same platform, simplifying the shopping process.
User-Generated Content (UGC): Brands encourage customers to create and share content related to their products. UGC serves as authentic endorsements and product reviews, building trust and increasing conversions.
Shoppable Posts: Businesses can create shoppable posts, where users can click on products within images or videos to learn more and make a purchase. This feature eliminates friction in the buying process.
Personalized Recommendations: Social commerce algorithms analyze user data and behavior to offer personalized product recommendations, increasing the chances of upselling and cross-selling.
Strategies for Successful Social Commerce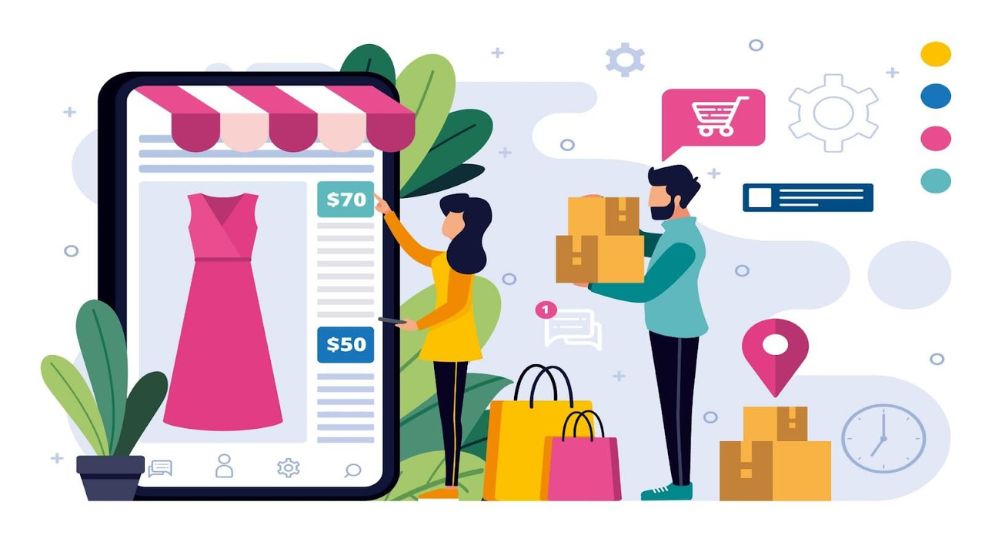 Now that you understand the concept and benefits of social commerce let's explore some strategies to help you maximize your sales through this exciting channel.
Choose the Right Platforms
There exists variability among social media platforms in terms of their efficacy for facilitating. Determine the primary locations where your target audience allocates the majority of their time and concentrate your endeavors in those areas. For instance:
Instagram: Ideal for visually appealing products.
Facebook: A versatile platform suitable for various product types.
Pinterest: Great for DIY, fashion, and home decor.
TikTok: Perfect for short, engaging product demos and tutorials.
Optimize Your Profiles
Develop social media profiles that accurately represent your organization and its offerings. In order to generate interest among potential consumers, it is advisable to furnish them with visually appealing photographs of superior quality, comprehensive and informative descriptions, as well as a prominently displayed call to action (CTA).
Create Shoppable Content
Developing user-friendly content that facilitate seamless shopping experiences for users. Please ensure that your online store incorporates explicit product tags, comprehensive descriptions, and hyperlinks for easy access. Utilize visually captivating elements and accompanying captions to effectively capture the audience's attention.a
Leverage User-Generated Content (UGC)
It is highly recommended to motivate customers to openly communicate and share their experiences regarding the usage of your items. One effective strategy to establish trust and authenticity is to repost user-generated content (UGC) on your profile.
Invest in Paid Advertising
One potential strategy to expand the reach of a message is choose sponsored social media advertising. Social media platforms such as Facebook and Instagram provide robust targeting capabilities in order to effectively reach the desired audience with advertisements.
Monitor Analytics
It is imperative to do regular analysis of the performance of your social commerce efforts. Monitor key performance indicators such as click-through rates, conversion rates, and sales figures. Utilize these discernments to enhance and optimize your strategic approach.
Benefits of Social Commerce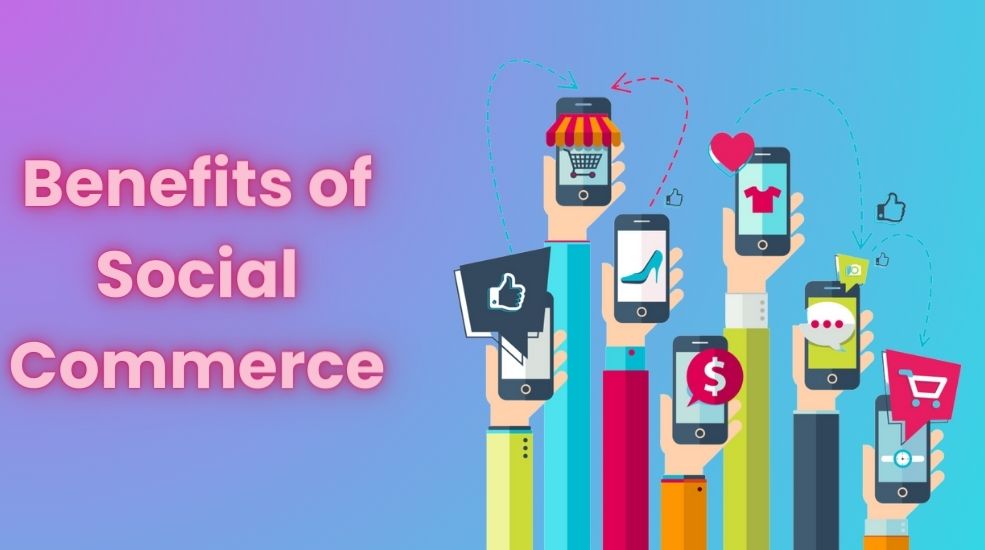 The adoption of social commerce offers numerous advantages for businesses. Here we discuss five benefits:
Enhanced User Experience
Enhanced user experience is a cornerstone of social commerce. By integrating shopping seamlessly into social media platforms, businesses simplify the buying journey for customers. Users can explore, evaluate, and purchase products without leaving their favorite social networks, making shopping more convenient and enjoyable. This streamlined experience fosters customer satisfaction and encourages repeat purchases, driving sales growth in the world of social commerce.
Increased Brand Exposure
Having your brand seen by more people in social commerce can change the game. More people will be exposed to a company's products and services if they take use of shoppable user-generated content and social media platforms. If consumers engage with your content, their followers will see it. This can lead to a snowball effect of new people being exposed to your company. This increased exposure is crucial to its tactics since it increases sales and improves brand awareness and trust.
Improved Trust and Credibility
Improved trust and credibility in social commerce are invaluable. When customers see real people sharing positive experiences and reviews about a product or brand, they are more likely to trust it. User-generated content serves as a powerful form of social proof, reassuring potential buyers and making them more confident in their purchasing decisions, ultimately boosting sales and brand loyalty.
Data-Driven Insights
Data-driven insights are the lifeblood of success in social commerce. They provide invaluable information about customer behavior, preferences, and trends. By analyzing this data, businesses can make informed decisions, refine marketing strategies, and offer personalized recommendations. This not only improves user experience but also drives higher conversion rates and increased sales, making data-driven insights a cornerstone of effective strategies.
Better Conversion Rates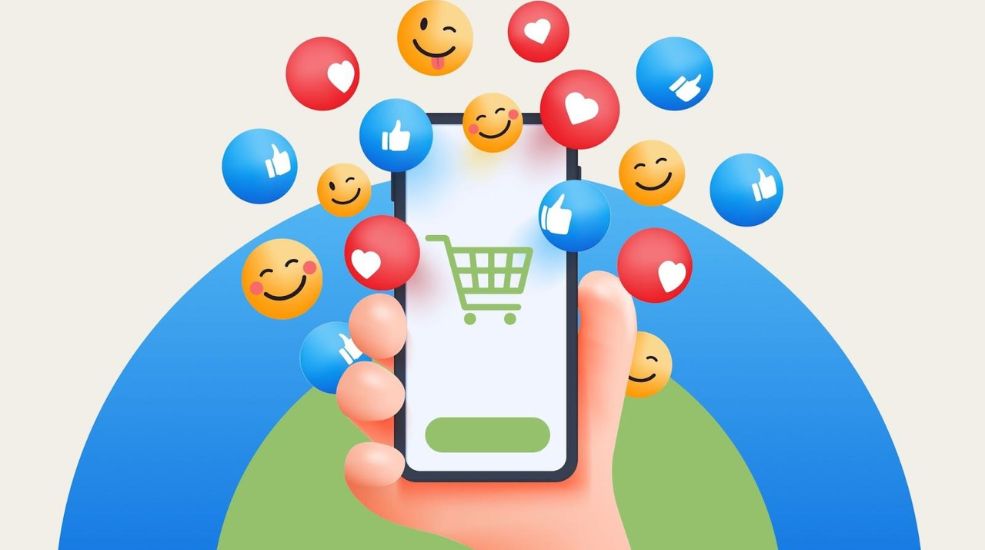 Better conversion rates are the holy grail of social commerce. It's been shown that businesses may greatly increase their conversion rates by providing a seamless buying experience within social media sites. Users are more likely to make quick and frequent purchases because of the streamlined integration of product search and purchase options, as well as personalized suggestions. Because of this, firms who are trying to maximize their online sales funnel will find social commerce to be a game-changer.
Conclusion
Social commerce is transforming online retail. Not only a trend, it may change your business. Integrating social networking and e-commerce may make shopping easy, engaging, and successful. Improvements include user experience, brand visibility, trust, and data-driven insights. Use the right networks, optimize your profiles, create shoppable content, use UGC, and consider paid advertising. Monitoring and analyzing performance helps improve your plan. Stay flexible, study trends, and alter your plan to position your company for growth and success in this exciting new era of commerce.