In today's digital age, businesses of all sizes need to have a strong online presence to remain competitive. While large companies can afford to invest heavily in their marketing efforts, small businesses may not have the same budget. However, there are many affordable and effective digital marketing strategies that can help boost your small business. By creating a well-rounded online marketing plan, you can reach new customers and grow your business. Here are some best digital marketing ways to improve your small Business.
Create a Social Media Profile
Creating a social media profile for your small business can be a great way to reach out to potential customers and gain more awareness. Consistently populating it with posts, updates, and other information about your business and products is key to staying visible online. Not only will this give you opportunities to connect directly with followers, but it also gives you the chance to show off your unique, creative personality. Keep in mind that successful engagement on social media requires regularity and good content, make sure whatever you post is tailored towards the interests of your target audience and resonates well with them. This would be an appreciated step to help in growing your business.
Use Targeted Keywords in Your Website Content:
Incorporating relevant keywords into your website content is an important strategy in attracting potential customers, who may already be searching for the products and services you offer. Relevant keywords will make it easier for search engines like Google to bring up your page higher in search results, thus increasing traffic to your website. Keywords should match what those customers would likely enter into the search box when looking for the type of product or service you offer. When executed properly, using targeted keywords in your website content can greatly improve the discoverability of your business online, thereby leading to more conversions from interested consumers.
Google AdWords or Other Paid Advertising Platforms:
Google AdWords and other paid advertising platforms can be great tools for helping businesses get their services in front of an even larger audience. Not only do these platforms make use of a powerful search engine, but they also target users based on their interests, location, and more. Employing the use of such services could potentially open up an entirely new demographic to your reach.
Additionally, budgeting capable minimizes risk as you can determine the amount you want to put in and take out at any given time. Paid advertisement can be a great way to expand your business's potential like never before. However, careful targeting should always be utilized if maximizing impact is your goal.
Email Marketing Campaign:
An effective email marketing campaign is a great way to keep in touch with customers and stay up-to-date with the latest news. It is important to collect subscribers from your website or social media pages, so you can quickly send them timely content and updates about your company. You can also use your mailing list for a variety of purposes such as product development, customer feedback surveys, or newsletters. Collecting subscribers on your website or social media pages ensures that the right potential customers see pertinent information and have a successful email marketing campaign.
Improve Your Local SEO for Your Small Business
Local SEO is becoming an increasingly important factor in the success of small businesses. It helps to bring your business to the top of local search results so that people in your area can find you quickly and easily. Improving your local SEO involves optimizing both on-page and off-page web content for relevant keywords, setting up a Google My Business page, creating reviews, and more. Furthermore, if your website is equipped with local business listing profiles it can also be helpful for enhancing visibility. Taking the time to properly improve your local SEO can increase foot traffic and help you gain more customers in the long run.
Create Interesting Blog Content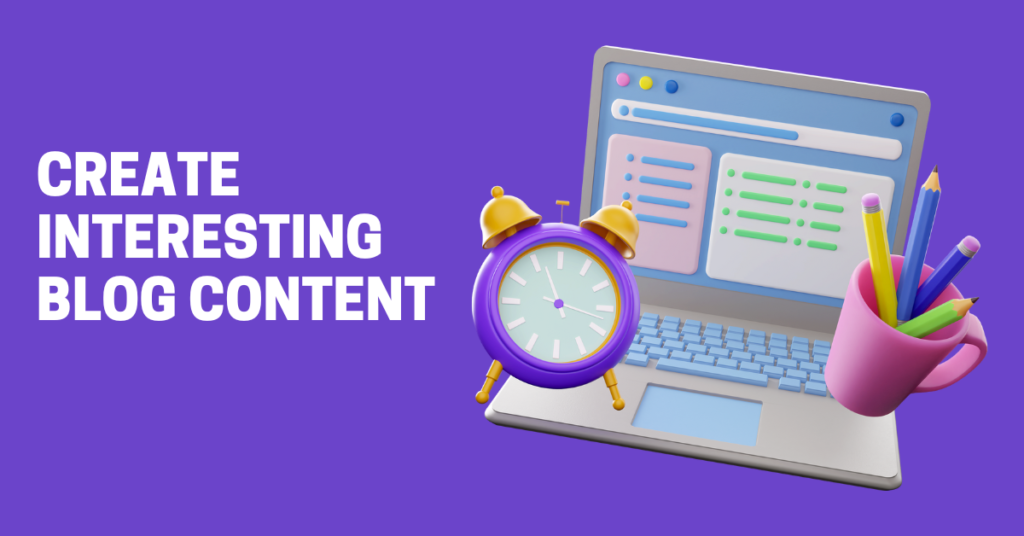 Creating engaging content for a small business blog can be an enjoyable challenge. Finding the right topics that interest your target customers while staying within the parameters of your business' offerings is essential. Researching current news and trends related to your company or industry can uncover innovative content ideas, and taking the time to create original and creative posts will help readers stay engaged over time.
Remarkably, utilizing visuals in your blog posts such as photos, graphics, or videos can break up text-heavy posts and draw readers in further. With a bit of creativity, small businesses can craft engaging content for their blogs that keep readers coming back for more.
Using Different Digital Marketing Strategies to Know About Your Competitors
Knowing your competition is a key factor in running a successful small business and digital marketing can make it easier. By creating an effective strategy for monitoring your competitors, you can gain valuable market insights to help you get an edge over them. With the right tools, such as competitor tracking software, you can quickly learn about their strengths and weaknesses, uncovering opportunities for exploiting their vulnerabilities. Optimizing your own website content with information gathered by monitoring competitors will ensure maximum visibility to potential customers on search engines like Google and Bing. Furthermore, you can contact with USA's best marketing agency for the growth of your small business with competitive strategies.
Focus on a Primary Social Media Channel to Boost Your Small Business
For small businesses, it's important to focus your social media efforts on one or two channels to maximize success. With so many options for reaching more customers these days, it can be easy for small businesses to become overwhelmed. Choosing to concentrate on one primary social media channel allows business owners to spend the time and energy necessary to utilize that platform and build relationships with their followers fully. Not only this will create brand awareness and drive more organic traffic, but also focusing on a single platform also ensures a clear message is being sent out into the world streamlining content creation, managing customer engagement, and refining targeted campaigns. By honing in on one particular social media channel, small business owners can truly experience the full potency of its reach as they look towards growing their venture into something bigger and better.
Conclusion:
Successfully managing a small business requires dedication and focus, as well as an understanding of the right digital marketing strategies to use. From optimizing local SEO to creating engaging blog content, utilizing competitor research, and focusing on a primary social media channel there are many ways small businesses can use digital marketing to drive organic traffic and boost their presence in today's competitive market. You may get more understanding to improve the value of your small business by looking at the above effective ways.