A blog is essentially an online journal. The definition of a blog is a regularly updated website or web page, typically one run by an individual or small group, that is written in an informal or conversational style. A blog is one of the most affordable ways to share your ideas and build a business. But the word "blog" can be off-putting to some people. For example, one person might think a blog is a place where they could share their love of hiking, while another might think it's a diary that's posted online for everyone to read.
In fact, blogging has become a popular way for businesses to reach out to customers, generate new leads and establish credibility. Blogs are used for business, marketing, and personal purposes. Almost everyone has a blog these days, with different reasons and uses. In this brief note, We will discuss how to start a blog and the reasons that demand the business to start a blog.
How to Start A Blog For Your Business
It will be a long debate to discuss the way to start a blog, hence, I will mention some of the unique steps that you should follow while starting your blog.
Pick a domain for your business. (Domain name should be like your business name)
Register your blog name on any hosting platform like Namecheap, or Bluehost.
Pick a template for your blog that accurately matches and covers all your products and services.
Customize your template with your services
Write your first post and publish it on your blog.
This will allow the customers to get in touch and know about the services you provide in detail.
Starting a blog does not cost too much, the only expense is the hosting plan your buy for your blog to make it active. Some hosting sites come with free service but they don't provide you with a customized domain name,
There are many good reasons why you should start a blog for your business:
Blogs help drive targeted traffic
Blogs are a great way to drive traffic, but not just any traffic – targeted traffic. By targeting your audience, you will get more qualified leads. When you blog about something that is useful to your audience and posts it to social media sites, you are increasing the chances of attracting subscribers. You can also use Twitter as a means to share updates from your blog.
Blogs give you the opportunity to target your audience. For example, if a visitor is looking for a specific product, you can create a blog post about that product and include links to your product pages. This helps you get visitors who are actually interested in purchasing your products.
Blogs provide a platform for better communication with your customers. You can publish posts that address your customers' concerns. The comments section on blogs gives customers the opportunity to raise their concerns or ask questions. This gives you a chance to address these issues and make the customer feel appreciated.
Blogs help drive targeted traffic. If you are selling products or services related to fashion, then posting content related to fashion will help attract visitors who are interested in fashion-related products or services.
There are a number of reasons why blogs should be used as part of your content marketing strategy and each will help to bring positive results through increased awareness, improved search engine rankings, building links, and generating leads.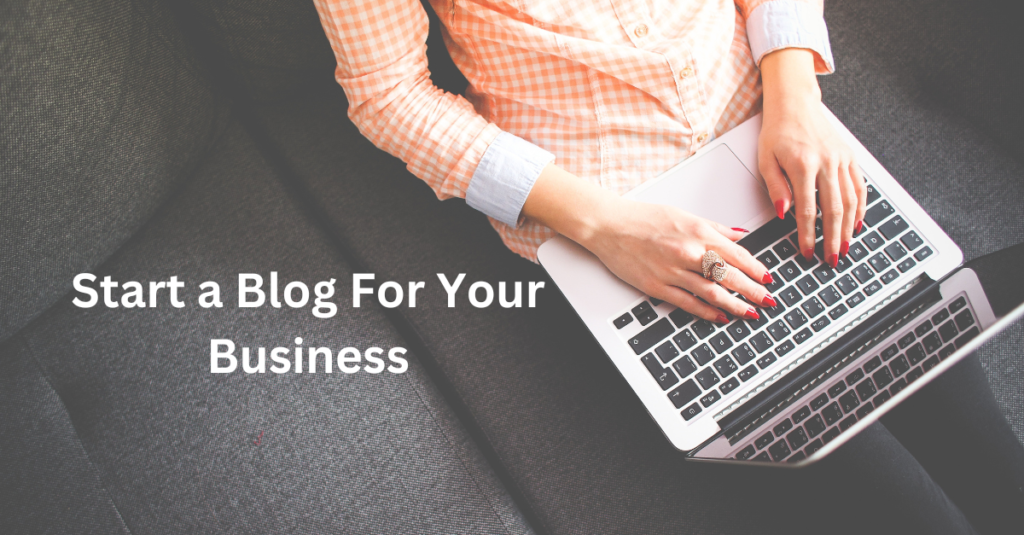 Blogs help you connect with readers and customers
Blogs are a great way to connect with your readers and customers. You can talk about the kinds of things you do, share news about your products, and even tell people about the people who work for you.
You can also use blogs to help build loyalty among existing customers, and even offer discounts or other perks to those who read regularly. If you have a business blog, but don't have time to write new posts on a regular basis, consider hiring a freelance writer to do it for you.
You may want to establish a blog so that you can:
Stay in touch with friends and family
Share photos, videos, and links to content you like
Give funny or interesting updates about your life
Reflect on your experiences, challenges, and triumphs
Provide information about yourself that might be helpful for job-seekers
Blogs can be public or private, as well as open or closed to comments. You can even password-protect your blog posts and make them available only to specific readers.
Blogs help you establish yourself as an expert in your field
Blogs demonstrate your knowledge and expertise in a given area, which helps to build your credibility with prospective customers. The more interesting and helpful your blog is, the more likely it is to be shared on social media by others who could become potential customers.
Here are four tips for getting started:
Identify your purpose. Determine why you're blogging and who your target audience is. What do you want to accomplish? If you aren't clear about this from the beginning, it will be difficult to develop a plan or know when you've achieved success.
Define your niche. Once you identify who your target audience is, try to tailor the content so that it addresses the needs and interests of that group. This helps establish trust with readers and helps them see you as an expert in your field.
Be consistent with topics. Try to stick with topics that are related to each other and/or your business objectives. For example, if you sell insurance, focus on insurance-related topics rather than on your daily activities or weekend plans.
Aim for quality over quantity. Less frequent posts are better than more frequent ones, as long as they're high quality and contribute value to readers' lives.
Whatever direction you take with your blog posts, be sure they're relevant to your audience. That'll help keep them coming back for more!
Blogs give you a reason to network
Being a blogger means you'll have to talk to other people. I know, I know. You're an introvert. You hate networking. You hate talking to new people. But it's essential if you want your blog to grow.
When you're not blogging, you have to look for opportunities to connect with other people in your field. That can be difficult if you don't have much common ground, but it's much easier when you have something to talk about.
Here are a few reasons why blogs give you a reason to network:
Blogs are great conversation starters. If you're looking for an excuse to reach out to someone and strike up a conversation, a blog post is a perfect reason. You can email them asking them their opinion on something you read, or suggest that they write a response blog post, or just ask if they want to meet for coffee (or beer). It's such an easy way to start talking with new people who could help your career.
Blogs demonstrate credibility. In today's world, it's not enough to just say that you're qualified — you have to prove it. A blog gives you the opportunity to demonstrate your expertise in specific areas that might not be covered by your resume alone. By sharing what you know, people will begin recognizing you as an expert in your own right.
When you ask people to check out your latest post or share it with their audience, they will be more willing to do so because there's a benefit for them too: if people love the content, they will remember them as the person who shared it with them.
Blogs help you monitor what others are saying about your company
Blogs help you monitor what others are saying about your company. You can use them to see what people's concerns and questions are, as well as how they're reacting to your marketing efforts. By keeping an eye on what others are writing, you'll get a better sense of who the key influencers in your field are and where the important conversations are happening.
Blogs give you an easy way to engage with customers and prospects. Instead of just passively waiting for people to visit your site, you can use blogs to attract their attention. If readers like what you're writing, they may share it with their own social networks. That will help increase brand awareness, drive new traffic to your site and generate new leads.
You can also use blogs to monitor what competitors are doing. You might want to know if your competitor is about to launch a new product or a new marketing campaign. By reading their blogs, you may find out about these things way before they become public knowledge.
Another benefit of blogs is that they're inexpensive to create and easy to update, so they can be very effective at delivering up-to-date information to your clients and potential customers.
Blogs are good for SEO purposes
Blogs are good for SEO purposes. They help you rank higher in search engines and get more website traffic. But what is a blog, why should you start one, and how do you create a blog that people actually want to read?
A blog can also be known as a "weblog" or "internet log". It's a website where an individual or group posts articles on a regular basis. The articles usually include text, pictures, links to other sites and sometimes videos.
Blogs are great for SEO purposes. The more content you add to your site, the higher the chance of your website being found in search engines. It also increases your chances of being ranked as an authority site by Google.
The good thing about blogs is that you can add more than just text to them. You can also add videos and images, which will help increase the time people spend on your website, which is an important ranking factor for Google.
Every blog post that you create is another indexed page on your website, which means more opportunities for you to show up in search results and generate traffic to your site.
Blogs give you something to share on social media sites
Blogs give you something to share on social media sites. You need to do this because the more you can engage your followers and readers, the better your chances of them becoming customers.
Your blog is a place where you can talk about what's going on in your world. Whether it's new products, ideas, or just your thoughts on the latest industry trends, blogging is an outlet for keeping people in the know about who you are and what you're up to.
Once you have a blog set up, it becomes a key part of your online marketing strategy because it gives you something to share regularly on social media. That way, not only are you engaging with your followers but also attracting new ones by putting yourself out there.
When you're first starting out, it's important to have a presence on social media sites. In addition to being a way to attract visitors, they can help your search engine rankings if you do it correctly.
However, social media is not meant to be a place for promotions or sales. Instead, it's designed for engagement with the community. This makes blogging valuable because your blog gives you something to share on social media sites. When you publish a new blog post, you can share it and engage with people who comment on it.
Blogs can lead directly to sales
Blogs can lead directly to sales. We are using our blog to support our social media and email marketing efforts. In fact, our blog is the foundation of our social media strategy.
By blogging and sharing on social media, we are able to drive more traffic to our site, increase foot traffic in our stores, and provide great content for both customers and business owners who want to know more about how to run a successful bookstore and coffee shop.
Blogging also helps highlight areas of expertise and can lead directly to sales opportunities. Because we've been in business for so long, there are things that we take for granted that our customers often want to know more about. For example, they might want to know the best way to choose a coffee blend or how many books they will need at their annual book fair. These are questions that we get all the time and can easily address with a blog post.
We use the same approach when it comes to working with other businesses: We often hear from small-business owners who want advice about running a small business, or who need assistance with specific challenges like marketing or accounting, or customer service. Our blog is an opportunity for us to help them by providing free information via blog posts, photos, and infographics.
Advertisers also pay bloggers with a following through what is called "sponsored content." Bloggers write about a product in exchange for compensation. Companies value such posts because readers view them as recommendations from trusted sources rather than marketing copy.
The higher your blog ranks in search results, the more traffic it will get, and the closer you'll be to making those sales.
Conclusion
Ultimately, starting a blog requires that you have a confident and clear vision of what you hope to achieve through your writing and immersive content. If you can set out clear goals for yourself at the onset, you may be able to come away from the endeavor more positively than otherwise. Above all else, remember to have fun with it. If creating posts for your blog doesn't make you smile, then it probably isn't worth doing in the first place.
The benefits of blogging are indeed real. Blogs provide an avenue for increased exposure, brand visibility, and customer engagement. But is starting a blog right for you? Find out why it could be your best choice.