Startups have a lot of things to worry about – from developing a product that people want to acquire customers to building the right team. But one thing that is often overlooked is technology. Many startups view technology as something that they can't afford or something that isn't important. This could not be further from the truth! If you're a startup, you know that technology can be a huge help in getting your business off the ground. But with so many options out there, it can be tough to know where to start. Utilizing the below given 8 business technology strategies, startups have the opportunity to be established quickly and proficiently.
Define Your Business Goals and Objectives
Defining clearly-defined goals and objectives is a crucial part of managing a successful business. Establishing objectives helps to create focus and purpose within the organization, as well as creates an active blueprint for all employees to follow when making decisions or completing tasks. Setting measurable goals enables owners to track progress and shift strategies when necessary, leading to higher levels of success in the long term. While developing your objectives, it is important to prioritize the different strategies, create a timeline and understand how all pieces of the plan work together to meet desired outcomes. Companies should also be sure their goals are realistic and attainable; if they happen too quickly or easily, there won't be a sense of accomplishment or motivation to reach further successes down the road. All in all, having clear business goals and objectives provides accountability and structure from which any business can grow.
Research the Latest Technology Trends:
Technology is ever-changing, making it a challenge to stay ahead of the trends in today's world. It's important to keep researching and exploring new technologies, such as artificial intelligence (AI), 5G networks, and cloud computing, to ensure that you are utilizing the most effective and advanced technology available. Not only do these latest trends provide better functionality and stronger security, but they also open up exciting new opportunities for innovative growth. Researching the newest technologies can give businesses invaluable insight into how they can optimize their operations and stay competitive in their market. Keeping an eye out for emerging technology can often expose hidden dangers or risks that could affect your business down the road. Ultimately, researching the latest technology trends will help you make smarter decisions about when and how to implement them to maximize their potential impact on your organization.
Invest in Cloud Computing:
In the digital age, cloud computing is the backbone for any business to remain competitive and innovative. It allows businesses to store data, run applications, and access resources that were once only available on-premises. By using a cloud platform, startups can save money on infrastructure costs while still having access to highly powerful and secure systems.
Cloud Computing also helps to increase innovation, allowing businesses to quickly develop and deploy products. With cloud infrastructure, startups can get their product to market faster as well as scale applications as needed.
Leverage Artificial Intelligence:
Artificial intelligence (AI) can be used to automate mundane tasks and make data-driven decisions. AI can analyze customer data and predict customer behavior, helping startups to better understand their target audience and create targeted marketing campaigns. AI can also be used to automate processes, such as customer service or data entry. By removing these tedious tasks from the equation, startups will have more time to work on strategic initiatives, enabling them to develop their business faster.
Invest in Security: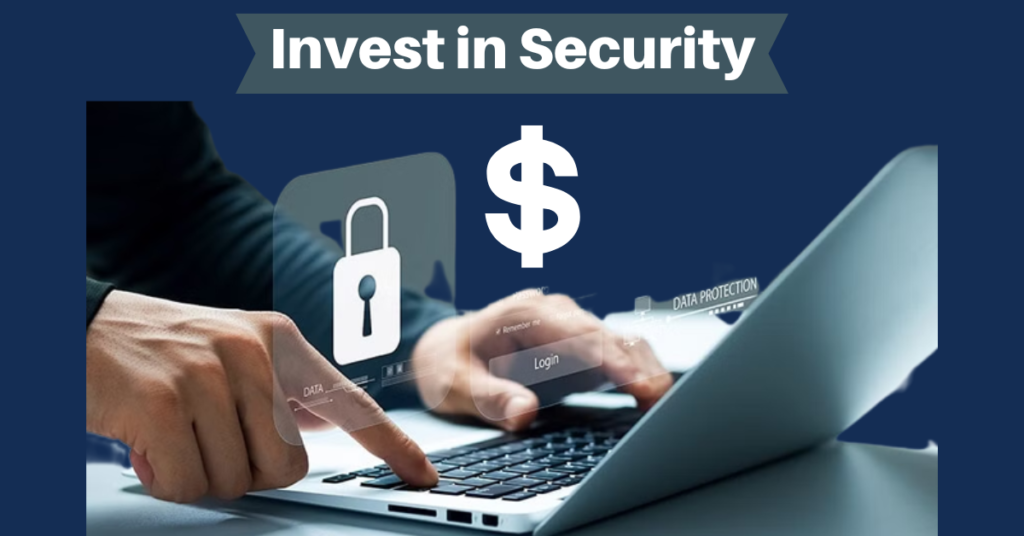 With the rise of cyber attacks, it's more important than ever for businesses to invest in security. Startups should ensure their systems are up-to-date with the latest security protocols, and that any data stored is encrypted to protect from unauthorized access. Additionally, startups should develop a comprehensive cybersecurity strategy which includes educating staff on online safety practices and setting up authentication measures. Taking these precautions will help to prevent data breaches and reduce the chance of any damaging security threats.
Develop a Mobile App:
Mobile app development is essential for startups to stay competitive and connect with customers in a convenient, effective way. A well-designed mobile app can provide users with an intuitive interface, enabling them to navigate your business quickly and easily. Mobile apps can be used to develop customer loyalty by providing exclusive content or discounts. By creating a mobile app that offers a superior user experience, startups can increase engagement and grow their brand.
Streamline Your Website:
An optimized website can help to create a great user experience, driving more traffic and sales. Startups should ensure that their web pages are designed to be responsive, meaning they look good on any device. They should also optimize the code on their pages for faster loading times and make sure that all the content is readable. To stay ahead of the curve, keep a close eye on website design trends that come and go. If you don't have access to professional help but still want stunning visuals, DIY tools like Square Space or Weebly offer templates with up-to-date designs right at your fingertips.
Focus on User Experience:
User experience (UX) is the key to any successful product. Startups should take time to understand their target audience and create products that are tailored to meet their needs. Development cycles should focus on creating user-friendly interfaces and optimized features, making sure that there is something for everyone. Providing a good user experience not only helps to increase user engagement but will also result in higher conversions and word-of-mouth marketing.
Develop Strategic Partnerships:
To drive growth, startups need to partner with the right companies. Strategic partnerships can help startups gain access to new resources and markets while providing an opportunity to learn from industry experts. Startups should search for partners that are a good fit and have complementary offerings, allowing them to leverage each other's strengths and create something bigger than what either could do alone.
Focus on Networking:
Building relationships with the right people is essential for any startup. Networking enables startups to access new opportunities and resources while allowing them to build their professional network. Startups should take advantage of industry events, meetups, or online forums to connect with other entrepreneurs and potential partners. Leveraging networking will help startups to expand their reach and grow quickly.
Conclusion:
For startups to succeed, they need to take certain steps to develop their business and stay ahead of the competition. Startups should invest in security, develop a mobile app, streamline their website, focus on user experience, develop strategic partnerships, and leverage networking opportunities. By executing these steps, startups can not only construct successful businesses but realize their aspirations as well.