Twitter Trending is a feature on the social media platform Twitter that highlights popular topics being discussed by users. It's a great way to stay up-to-date with the latest topics being discussed in real-time. Twitter trends can be used to identify emerging trends before they become mainstream. To make sure you're taking full advantage of this feature, there are a few things you need to know.
How are Twitter trending topics calculated?
First, Twitter Trending is based on an algorithm that takes into account the number of tweets and retweets about a particular topic over a given period. This means that topics with more engagement will appear more prominently on the list. The topics being displayed are tailored to the user's location and interests. If the same topic is trending in multiple locations, it will be more likely to show up higher on the list.
Finally, Twitter Trends also reflects what's happening in the world at large, as opposed to just a user's network. This means that topics related to current events, news articles, and other similar topics are more likely to appear on the list. All of these factors come together to create a reliable source for finding out what's currently trending on Twitter.
Ways to Get Access to Trending Topics on Twitter
Doing the given steps will help you stay up-to-date on the latest happenings in your industry or areas of interest and give you plenty of content ideas to work with when creating tweets or other posts on the platform.
Personalization
If you want to get access to trending topics on Twitter, it's important to personalize your trend page. This will help ensure that the most relevant topics show up in your feed. To do this, log into your account and click on the gear icon located near the top right corner of the page. From there, select Personalization &data and then Trends for You. You'll be able to customize your Trending Topics page by choosing topics related to what you're interested in or what kind of content you'd like to see more of.
Benefits Of Personalization
Once you've saved your selections, those topics should appear at the top of your Trends section when you visit Twitter from any device. You can follow other users who share similar interests to gain access to their Trending Topics. This is a great way to get an inside look at what topics are currently popular in certain niches or groups of people you may identify with. Following other users also helps to build your Twitter network and gives you more opportunities for engagement on the platform.
Searching For Keywords or Hashtags
One way to stay up-to-date with trending topics on Twitter is by searching for keywords or hashtags related to your industry. Searching for relevant keywords and hashtags can help you find conversations that are already happening, as well as help you discover new trends in the industry.
You can also narrow down the search results further by adding more detailed terms to your query. This will make sure you get the most relevant content related to your topic of interest. Additionally, using Twitter's Advanced Search options lets you refine searches even further and helps you source specific types of content from particular users or date ranges.
Subscribe To Twitter Topics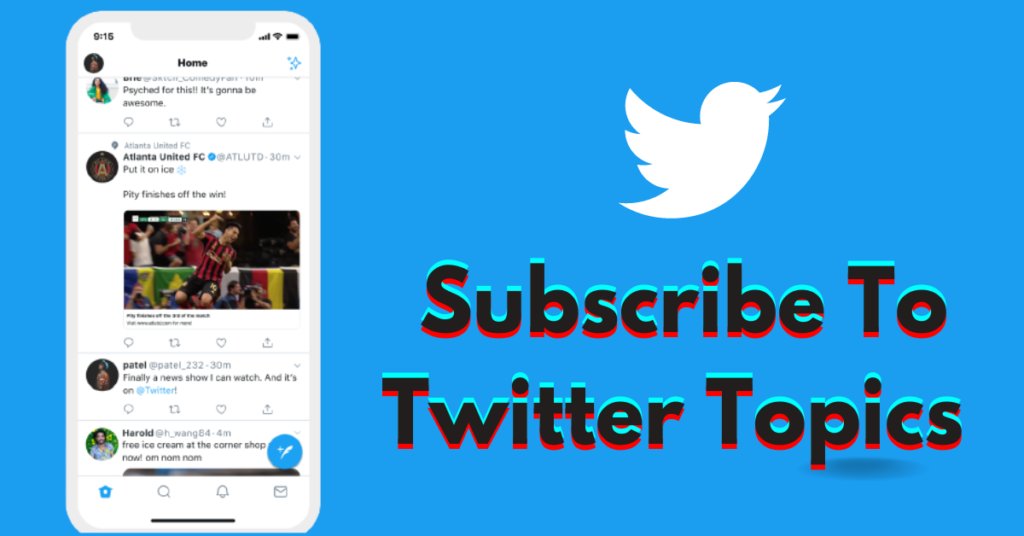 One way to keep up with the latest trends on Twitter is to subscribe to Twitter Topics. You can do this by going to the Explore tab and selecting "Topics" in the left navigation bar. Here you can browse through hundreds of topics ranging from celebrities, sports teams, music genres, TV shows, and more. Once you've selected your topics, you will be able to easily follow conversations related to that topic and join in on the conversation as well.
If you want to find out about even more trending topics or events taking place around the world, type a keyword into the search bar located at the top of your home page. This will show you various options related to your keyword search that are currently popular or having lots of conversations around them. This can be a great way to stay on top of the topics that interest you, as well as what is going on in the world.
Participating In Popular Conversations
An excellent way to get access to trending topics on Twitter is by joining existing conversations and engaging with other users. Participating in popular conversations helps you stay up-to-date on the latest news, events, and trends. It also makes it easier for you to create content related to those conversations. To join an ongoing discussion, simply find a relevant tweet or hashtag and take part in the conversation by responding to tweets or retweeting them.
Doing so will allow you to connect with people who have similar interests as you and gain more exposure. Another great way to increase your reach and discover new topics is by joining groups or communities that are devoted exclusively to particular topics of conversation. This will give you the chance to meet like-minded individuals and engage in meaningful conversations. Joining these groups may also give you access to special content that is exclusive to the group.
Keywords And Hashtags
Understanding trending topics on Twitter can help you make sure your content is seen by the right people. Keywords and hashtags are two types of words or phrases that help users discover relevant information on social media platforms like Twitter. Keywords are words or phrases that describe a topic, while hashtags are short phrases (usually with no spaces). These are used to create brand awareness and play a key role in the success of your business. 
The main aim of Twitter trending as described by its developers is to engage people in conversation. Along with this, marketers and businesses can succeed by using hashtags and trends as it will help them raise brand awareness. 
Conclusion
We can conclude the above discussion by making it clear that Twitter trending depicts the topics that are common in people in real-time. These topics vary from time to time and area to area. We have also described several ways through which you can access the trends. In order to get benefit from these trends, it is you to decide what to tweet and retweet.