The importance of digital tools and gadgets has increased in everyday life. Life has become challenging and impossible without using digital tools. Technology has become very powerful. People are widely using modern technology and gadgets. People can easily pay their bills, connect with family, learn to earn, and take help for education and business.
Through digital tools and technology, the life of people has become very comfortable. It helps in decision-making and opens a lot of career-building opportunities. Technology has inspired all businesses. It is very easy to run a business in this digital world. This technological advance includes a very wonderful gadget that is Vestaboard. This modern tool has become very famous among people all around the world. The method of displaying messages is very different and unique. In this article, we will give you detailed information regarding this gadget which is a modern technology for messaging display.
What is Vestaboard?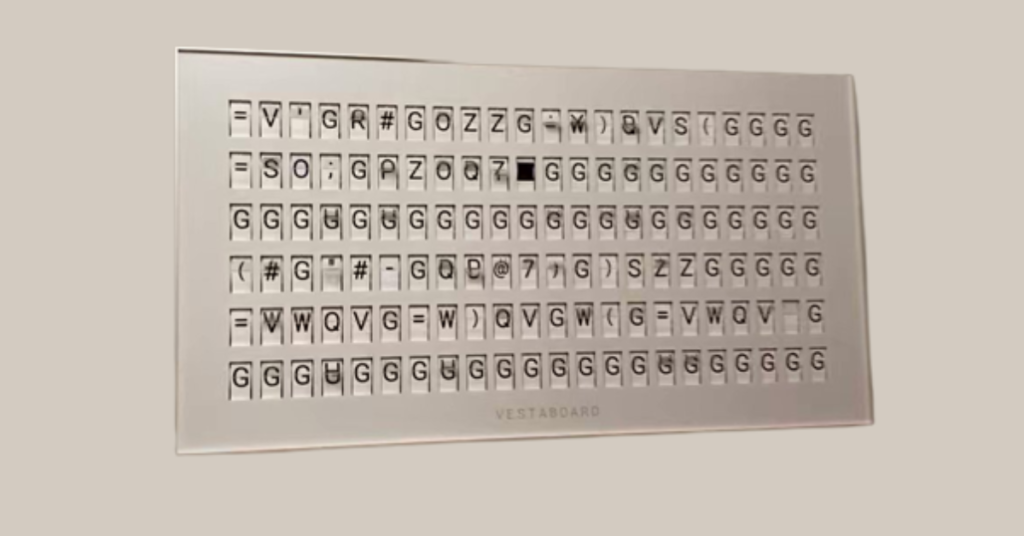 It is a modern and digital tool to stay connected with loved ones. This brilliant tool is developed and launched by Dorrian Porter in the market. This is a modern messaging display device. It is a digital device used to send messages and information to another person anywhere in the world. This digital device has a facility of internet connection.
This technology is similar to the old clacking boards that were widely utilized by all stations of the train. The technologists have taken ideas from these clacking train boards and introduced a new gadget for the convenience of people.
Vestaboard is a split-flap display for delivering information and text. This is tremendously designed with aluminum and plastic. The message displays through the spinning of flaps. When the text is delivering then, a fascinating and beautiful clacking sound produces which is liked by people.
The app of this gadget is available on the play store and the cloud app just downloads and installs it on the device to send messages. To operate this tool, download this device app on mobile and activate it. People should follow the guidelines to operate the device. To receive and deliver messages, you have to pair the device with the mobile application. You will receive the same code on the device and mobile just enter this code and connect both devices.
Unique Features
The specifications of the Vestaboard have influenced many people living in different areas of the world. The excellent features of this tool are described below:
It has a display of 42 inches which is enough to display information to its users.
Its size of it is equal to a television.
The weight of the device is 55 lbs. with a frame.
It can hang on the wall via its three plugs.
The facility of Wi-Fi is also available and delivers messages through the Wi-Fi connection.
The board can show one thirty-two characters (132) of messages on a grid.
The height of the device is 561 mm.
The grid size is 23 x 7 on which message is displays.
The width of this LCD television is about 1046 mm.
The depth of this device is 88 mm.
It uses the English language to display messages or information via this tool.
To display and deliver messages, seventy variety of options are present in the device.
Ten roman numbers are present in the tool.
Twenty-six alphabets of the English language are present in the device.
A large number of punctuation marks are also present.
Eight types of colors are available in this digital tool to make the message colorful and attractive.
At a time, people can display a message of about 132 characters.
It considers the best alternative source to the digital screen.
An option to update the device automatically is also available by using the mobile app.
An individual can access a lot of content such as Spotify, apps, and Outlook.
People can also check and review the history of their messages.
An Ethernet port is also available on the board.
Subscription
People should purchase subscription packages to operate and use this gadget. Without buying a subscription, you cannot use this great tool. The subscription amount is very reasonable. People can check out the subscription packages on the website of this device.
Why Vestaboard is the Smarter and More Intuitive Way to Stay Connected?
This is used to send not only messages and secret information to specific people but also used to share valuable business ideas and quotes. This smart tool uses by individuals to share private information anywhere in the world. Among the nicest characteristics is the capability to accept messages from other users, which display right on the panel.
You can also use it to check the Google calendar. You can display the list of your product sales and menu. This device is very suitable and useful for traveling. People are now exploring technology and utilizing it for their purpose.
People can connect apps with Vestaboard. This may show statistics at the workplace, inform kids in the classroom, inform clients of the most recent menu items at their favorite hotel, and a lot more.
There is no need for any circuit breaker to operate and run this device. To operate this tool, a voltage of a maximum of 240V is required.
People can also display shopping and grocery list on it. It can also be adjusted to connect, educate, and inspire people in different places. This allows you access to additional information, like current weather conditions, game scores, and much more.
This device is the aim of Porter's founder to assist several communities to connect. It has mounting hardware present in this device. You can also invite your other friends, siblings, students, fellows, and workers to this device.
People can set their important appointments and schedules on the boards. The sound produced due to the spinning of flaps is very decent.
Price of Vestaboard
It is reasonably priced according to its featured and wonderful services. This unique style of messaging device is assisting people to communicate different ideas with each other. The price of this fantastic digital device is between $2800-$2995.