Introduction
Split testing, often known as A/B testing Tool, is similar to running an online experiment. You simultaneously show multiple metrics to people to see which promotes the company's expansion the most. Businesses must continually optimize their online presence to stay ahead of the competition in the quickly changing digital market. With A/B testing tools, you can compare multiple versions of your website or app to see which generates the highest conversion and engagement levels. A/B testing tools can help you make data-driven decisions to achieve the finest outcomes.
The Top 5 A/B Testing Tools
Following are the top 5 A/B Testing Tools of 2023 that work amazingly and have different functionalities.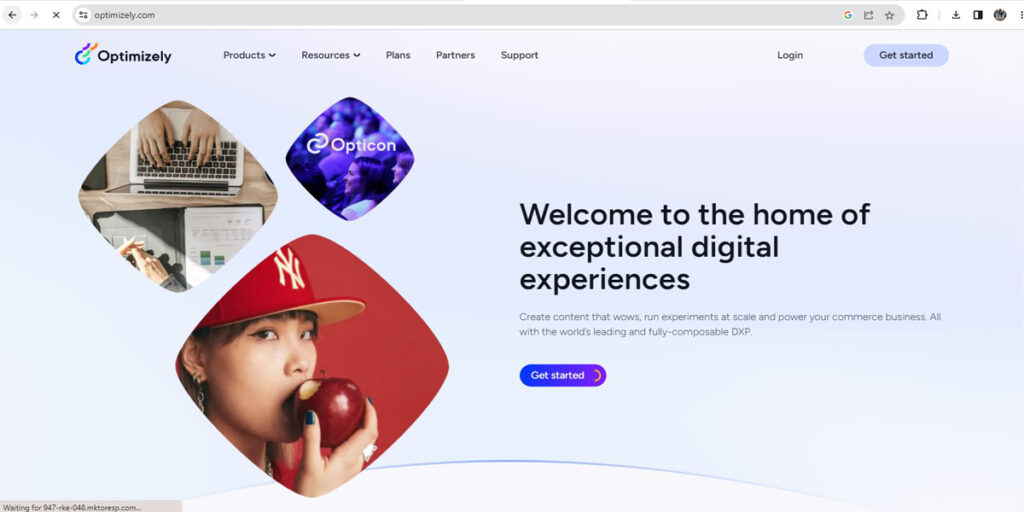 Leading A/B testing software Optimizely provides a comprehensive set of options for experimentation and customization. Comparing many websites or apps with A/B testing, sometimes called bucket testing, allows users to determine which performs best regarding conversions, engagement, or other key performance indicators. Even non-technical people can easily create and maintain experiments because of its user-friendly interface. Optimizely provides advanced targeting options, allowing you to segment your audience based on various standards such as location, device, or behavior.
Furthermore, Optimizely integrates seamlessly with popular marketing tools, content management systems, and e-commerce platforms. This allows easy implementation and integration into your existing tech stack, providing a streamlined workflow and ensuring a smooth optimization process. With the help of the effective A/B testing platform Optimizely, businesses may enhance their online interactions. You can improve user engagement, boost conversions, and maintain competitiveness in the digital environment by running tests, analyzing data, and making wise decisions.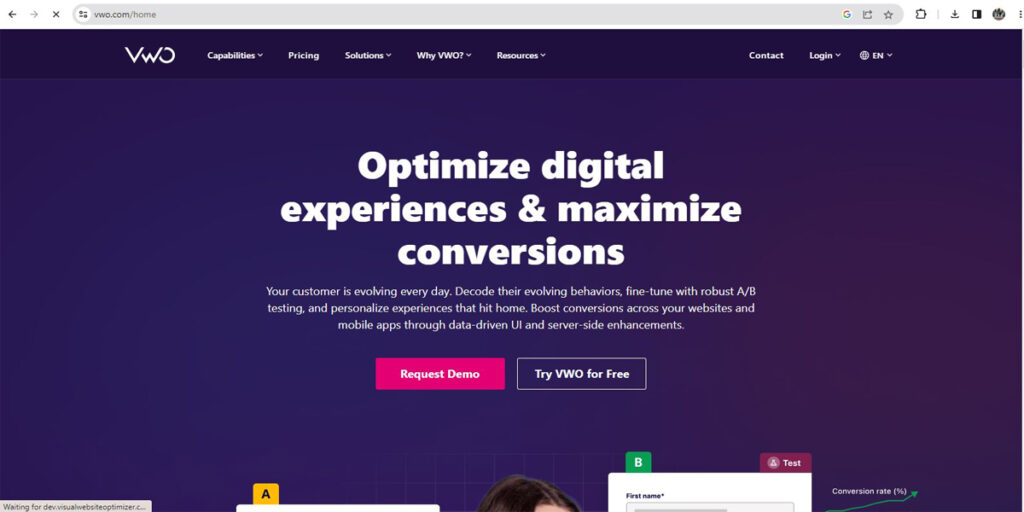 VWO, short for Visual Website Optimizer, is a versatile A/B testing and conversion optimization tool. Experimenting and personalizing enable businesses to optimize their websites and improve customer experiences. It is a flexible A/B testing solution that meets the requirements of product managers, marketers, and engineers. It offers a visual editor that simplifies creating and modifying experiments without requiring coding knowledge. VWO also provides advanced targeting options, allowing you to customize your website or app based on user behavior, demographics, or other parameters. With its built-in features and session recordings, VWO provides valuable insights into user interactions, enabling you to optimize the user experience effectively.
Everything you require to develop and expand your optimization program is available from VWO. With a simple UI, advanced functionality, solid connectors, and a data-driven strategy to increase conversions, the end-to-end platform offers experience optimization while protecting user data privacy.
As a part of the Google Marketing Platform, Google Optimize offers a powerful and free A/B testing solution. With its unified integration with Google Analytics, you can gain valuable outcomes into user behavior and create experiments based on real-time data. Google Optimize allows you to target specific user segments and customize the user experience to increase conversions. Its spontaneous visual editor makes it easy to create experiments, while its strong reporting capabilities provide actionable insights to optimize your digital campaigns.
The tool provides advanced targeting options, allowing you to maximize your audience based on different criteria, such as demographics, device type, or user behavior. You can deliver personalized experiences custom-made to their needs and preferences by targeting specific user sections. This customization can significantly enhance user engagement and drive higher conversion rates.
You can use it to test different web page versions and observe their performance on a given target. Optimize and keep track of your test's insights and notify you of the winning option.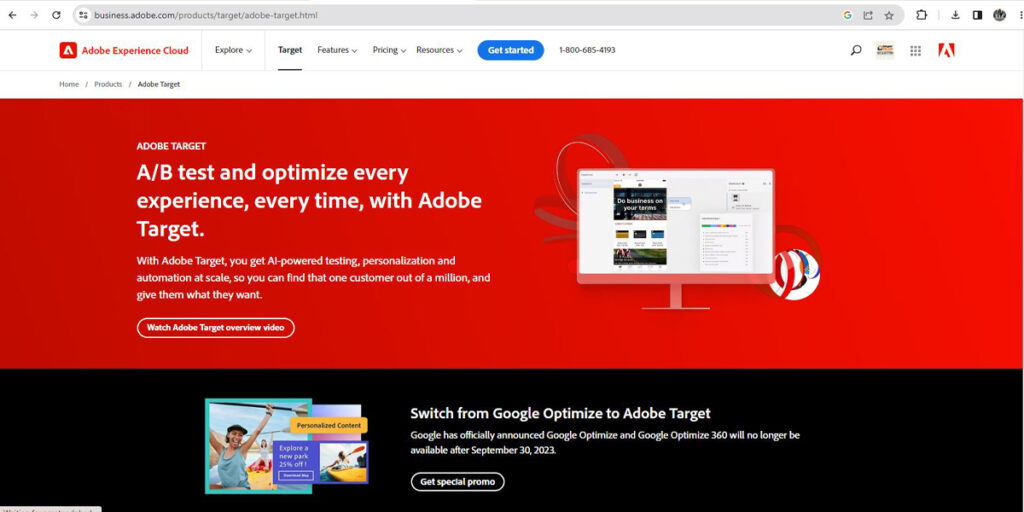 Adobe Target is a comprehensive optimization tool that combines A/B testing, personalization, and AI-powered automation. With its advanced machine learning algorithms, Adobe Target helps you deliver customized experiences at scale. The tool enables you to create complex and diverse tests and target specific audience sections based on various attributes. It also provides powerful analytics and reporting features to measure the impact of your experiments and drive continuous improvement.
Adobe Target offers many experimentation options, including A/B testing, diverse testing, and experience targeting. A/B testing allows you to contrast different variations of your digital properties to determine which performs best. Different testing enables you to test multiple combinations of elements simultaneously. Experience targeting allows you to dynamically deliver personalized content and experiences to specific user segments based on real-time data.
The platform provides robust reporting and analytics features, giving you valuable results in the performance of your experiments. You can track key metrics, measure the impact of your optimizations, and identify winning variations. These insights help you make data-driven decisions and continuously refine your digital experiences for optimal results.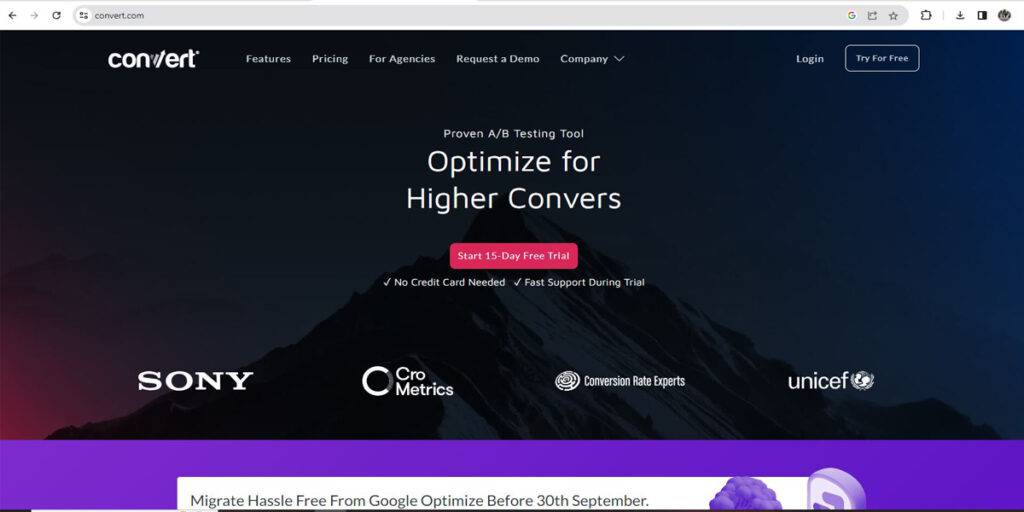 Conversion testing is carried out to confirm the conversion of one data type to another that the tested application can continually use. Any data type can be transformed between different formats. However, websites must be in HTML format for browsers to extract them quickly. A/B testing uses the traffic to your website as currency. It makes no sense to grow debt with each experiment you run. In other words, avoid wasting your traffic by making test variants available to ineffective users. You expose users to bad site experiences and receive crooked data. This is why each Convert plan has a debugging Chrome extension and Live Logs – a real-time stream of site events that help pinpoint what is incorrect in your experiments.
Convert is a feature-rich A/B testing and personalization tool that empowers businesses to optimize their digital experiences. It offers a spontaneous visual editor, making it easy to create experiments and variations without coding skills. Convert allows you to target specific user parts based on behavioral data, geolocation, or custom parameters. The tool provides real-time analytics, heatmaps, and session recordings to gain valuable user interactions and behavior insights.
Author Reviews
A/B testing is essential for businesses aiming to maximize conversions and enhance user experiences. Using the right A/B testing tool, you can efficiently conduct experiments, analyze results, and make data-driven decisions to optimize your website or app. The five tools mentioned above Optimizely, VWO, Google Optimize, Adobe Target, and Convert offer a wide range of features and capabilities to meet the diverse needs of businesses in 2023. Choose the one that aligns with your requirements and optimizes your digital presence to drive better results and beat your competition.