Visual search engines like Yandex Images play a significant role in the quest for information, object recognition, and creative inspiration. This is a well-known visual search engine created by the Russian multinational IT company. It empowers users to discover images using images as search queries, making it a versatile and potent tool for numerous applications. This guide will delve into optimizing your use of Yandex Images for visual searching.
What is Yandex Images?
Yandex Images is an image search engine developed by the Russian technology firm Yandex. While it bears similarities to renowned image search engines like Google Images and Bing Images, it distinguishes itself with unique features and capabilities. With this, users can initiate searches by using keywords or uploading images as search queries. When you provide an image as a query, it employs advanced algorithms to find visually similar images, making it a handy tool for various tasks, from identifying objects to finding related content.
Pros and Cons of Yandex Images
| Pros | Cons |
| --- | --- |
| Extensive Image Database | Language Barrier |
| Advanced Search Filter | Localization Challenges |
| Reverse Image Search | |
| User-Friendly Interface | |
| HD Quality | |
Tips to Use Yandex Images for Visual Search:
In the below section, some tips are given that users can follow for better outcomes from Yandex Images.
Step 1: Accessing Yandex Images
To use Yandex Images for visual search, open your web browser and visit the official website (images.yandex.com). This platform is accessible on both desktop and mobile devices. You will see the search bar and various search options by image, keywords, or combination.
Step 2: Uploading an Image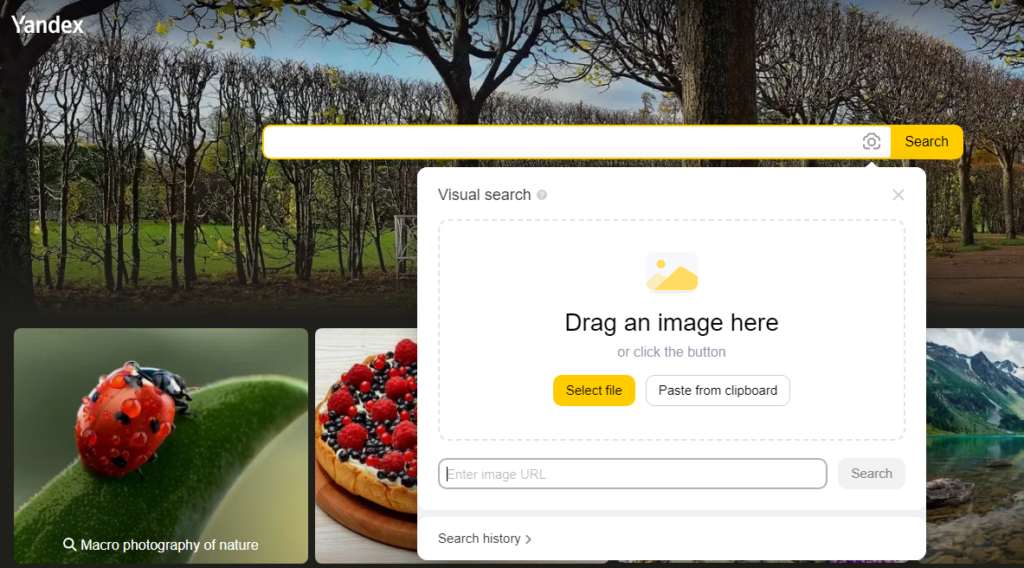 To perform a visual search using an image as a query, follow these steps:
To begin, click the camera icon within the search bar.
A prompt will appear that allows you to upload an image from your device.
You can drag and drop an image or use the file picker to select an image from your computer or mobile device.
Yandex Images will initiate the search process once the image is uploaded.
Step 3: Reviewing Search Results
After uploading the image, Yandex Images will provide you with a search results list.  Among the outcomes, you may encounter visually comparable images, details connected to the image, product listings (in cases where the image features a product), and additional content. Here's what you should anticipate:
Visually Similar Images: Yandex Images will display images that are visually similar to the one you uploaded. This is useful for finding pictures with a similar theme or style.
Text Recognition: If the image contains text, the platform may recognize and provide information related to that text, such as translations, definitions, or search results for that text.
Product Listings: It can help you find similar products and display shopping links if the image includes a product.
Related Articles: It may provide links to articles, blog posts, or news related to the image or its content.
Visual Content Source: If the image is widely shared, it may identify the source or the most popular sources where the image is used.
Step 4: Refining Your Search
Yandex Images allows you to refine your search results further:
Keyword Search: You can combine a keyword search with your uploaded image for more specific results. Type your keywords in the search bar.
Search Filter: Yandex Images provides filtering options that enable you to categorize search results based on criteria like size, color, type, and more to simplify discovering the images you seek.
Step 5: Navigating the Results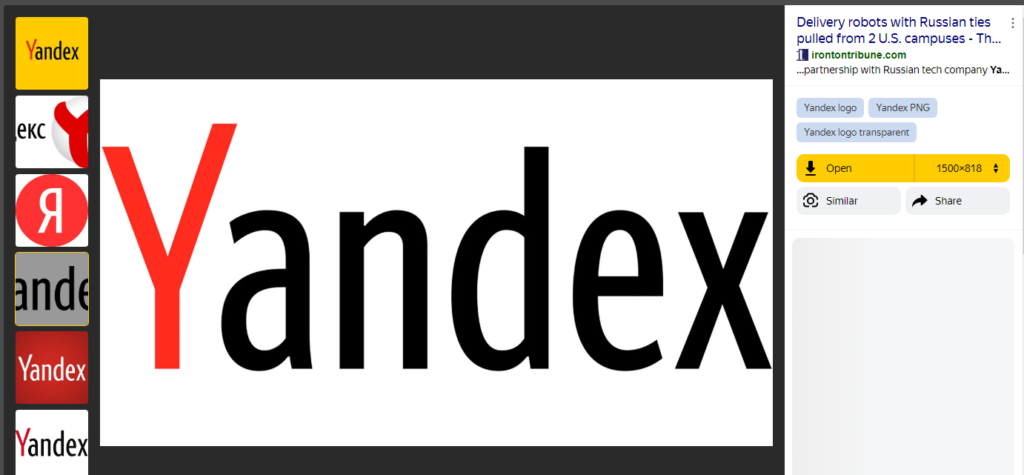 Once you've received your search results, click on any images or links to view more details. Here are some everyday actions you can take:
View Image: Clicking on an image will open a larger view, providing more details and options.
Visit Website: If the result is a webpage or product listing, you can click to visit the source website for more information.
Save and Share: This allows you to save or share images on social media or other platforms.
Use the Translator: It has a built-in translation feature if you need to translate text within an image.
Explore Related Images: It often provides a section with related images to help you discover more in the same vein.
Pro Tip

Yandex is a Russian search engine; as expected, its entire interface is in Russian. For native English speakers, this can pose a challenge. Therefore, the initial step is to right-click on the webpage and select 'Translate to English.'
Using Yandex Images on Mobile
If you prefer using Yandex Images on your mobile device, the process is similar to the desktop version. You can access it through your mobile browser and use the camera icon to upload images or use keywords for searches. The mobile version is user-friendly and designed for easy navigation on smaller screens.
Privacy and Settings
Being mindful of your privacy while utilizing visual search services is crucial. Like other search engines, Yandex Images may gather data to enhance its services. To understand how your data is managed, you can review Yandex's privacy policy. The platform also provides settings that allow you to customize your search experience. You can adjust preferences related to safe search, results per page, and other locations to tailor your experience.
Conclusion
Visual search provides a convenient and robust method for locating information, recognizing items, exploring related images, and engaging in online shopping. Yandex Images presents an easily navigable platform for visual searching, extending its accessibility to a diverse user base. To fully utilize your specific requirements, adhere to the steps detailed in this guide and implement the suggested techniques for efficient visual searching. It is imperative to prioritize privacy and security while using online services, and staying well-informed about the platform's policies is essential to safeguard your data and ensure a secure online experience.
FAQs:
How good is Yandex's image search?
According to experts, Yandex tends to be the best image search platform for localization and faces challenges.
How can I perform a basic image search on Yandex?
Enter your query and click "Search." Yandex will provide image results related to your search terms.
Can I find similar images using Yandex Images?
Yes, click on an image in the search results, then click "Similar" to find related images. To see more similar images, click "More similar images.
How do I search for images on a specific website using Yandex?
Use the search query "site: URL" to find images on a particular website. Append a '*' symbol at the end for images starting with specific values.