Choosing a WordPress theme can be difficult due to the thousands of free and paid options. It's crucial, as it shapes your website's appearance and represents your brand to users. Changing a theme later is not easy and may cause downtime. To make the right choice, follow these easy rules to ensure a successful WordPress website. These rules include considering your website's purpose and target audience and evaluating the theme's responsiveness and compatibility with plugins. It is important to thoroughly research user reviews and ratings to gauge the theme's reliability and support from the developer.
Understand Your Blog's Purpose and Audience
Take a step back and define the goal of your site before jumping into the sea of WordPress themes. Is it a blog that you use to share your ideas and experiences? A blog with a narrow concentration on a single subject? Or about a business blog that highlights your expertise? Define your target market as well. Are your readers more likely to be youthful, tech-savvy, or prefer a more formal and traditional design? You can limit your theme options by being aware of your blog's audience and purpose.
Put Responsiveness First
Responsive design is no longer an option in today's mobile-driven environment. It is a necessity of this era. When using a responsive WordPress piece, you can be sure your blog will look great and work properly on desktops, laptops, tablets, and mobile devices of all scopes. Choosing a responsive theme will improve the user experience and enrich your blog's direction in search engines, as Google considers mobile-friendliness when deciding rankings.
Take Into Account the Loading Speed.
The speed with which your blog loads is important to both the user experience and search engine rankings. Slow-loading websites can turn off visitors and increase the bounce rate. When choosing a WordPress theme, consider how quickly it loads. Many themes have demo sites that may be tested using online tools such as Google Page Speed Insights or GT Metrix. These tools will provide information on the theme's performance and loading times.
Choices for Customization
Every blog has its unique branding and style. Look for a WordPress theme that allows for a high level of customization. Colors, typefaces, layouts, and other design elements can all be altered to represent your company's identity. Avoid themes that lock you into a single style with minimal customization possibilities, as your site's needs may change over time.
Select a Lightweight Theme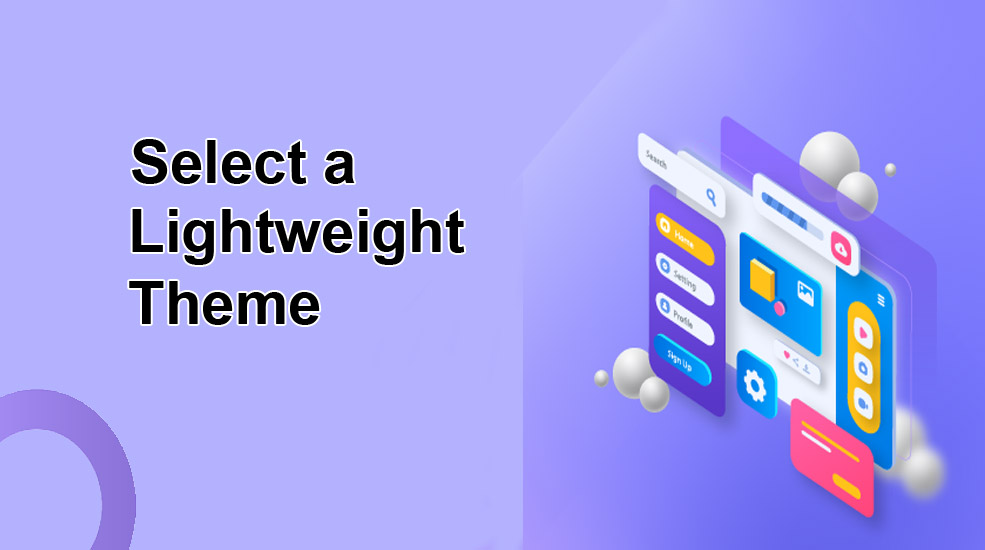 Themes with many design elements, complicated animations and various functions may appear appealing, but they can impact your site's performance. Lightweight themes are designed for speed and are less likely to cause your site to load slowly. They also provide a cleaner and more effective codebase, lowering the likelihood of plugin and other modification conflicts.
Check Browser Compatibility
Visitors will access your blog via various web browsers, including Chrome, Firefox, Safari, and Edge. Ensure the WordPress theme you choose is compatible with major browsers to offer a consistent user experience. Many theme developers include browser compatibility information in their documentation, so double-check before deciding.
Assess SEO Friendliness
Search Engine Optimization is critical for increasing organic traffic to your blog. While most SEO labor is content-related, your selected theme can still impact your SEO performance. Search for themes that have been coded with SEO best practices in mind. This could include proper HTML structure, schema markup support, and meta tag and header optimization choices.
Examine the Theme Updates and Support
WordPress is constantly growing, and themes must be kept up-to-date to be compatible with the most recent version of WordPress and to address potential security concerns. Check the theme's update history before purchasing it. A theme that is updated frequently shows that the creator is actively maintaining it. Consider the theme developer's support options as well. Are they receptive to user inquiries? Is there documentation or a help forum available? If you encounter problems setting up or customizing your blog, dependable theme assistance can be handy.
Look for Compatibility with Page Builder.
Page builders are powerful tools that allow you to create complicated layouts and designs without any coding skills. If you intend to utilize a page builder, ensure your WordPress theme is compatible with popular plugins such as Element, Divi, or Beaver Builder. This compatibility will give you more freedom in creating the pages of your blog.
Examine the User Reviews and Ratings
Before making your final decision, look for customer reviews and ratings for the WordPress themes you're considering. Reading about other people's experiences can provide significant insights into the theme's benefits and drawbacks. Remember that no theme is perfect, but patterns of problems or great characteristics can help influence your decision.
Free vs. Premium Themes
WordPress provides both free and paid themes. Free themes might be an excellent place to start, especially if you're on a budget. Premium themes, on the other hand, frequently have additional features, better support, and more frequent updates. Examine your blog's requirements and budget to determine whether a free or premium theme is best for you.
Conclusion
Choosing the ideal WordPress theme for your blog requires careful evaluation of your blog's purpose, audience, and functionality requirements. To provide a great user experience and optimal search engine performance, prioritize responsiveness, loading speed, customization choices, SEO friendliness.
You can achieve this by following these principles and taking the time to research and try numerous themes. Confidently select a theme that enhances your blog's visual appeal and functionality. Remember, your blog's theme is the digital face of your content—make sure it represents you well.