While designing a website, it is crucial to consider the users' experience to get optimized results in return. Therefore, the designers have to produce such compelling designs that will give an attractive look and be very easy to use simultaneously. Although a professional designer uses his best insights to create such an aesthetically pleasing website, there are inevitable mistakes that can negatively impact visitors. Therefore, we have created a comprehensive guide regarding common user experience mistakes in web design and how to improve them.
Why Enhanced User's Experience Is Needed?
It is crucial to provide the best user experience to your site to get traffic. Suppose you are running an online store or providing some services over the Internet. In that case, your website will be the main headquarters. Therefore, providing an optimized user experience must be the primary concern of a web designer. An organized and easy-to-use website will give a professional look and compel visitors to get a particular service or product from your business. Resultantly, it also directly influences the way of marketing and revenue of your brand.
Common User Experience Mistakes In Web Design
After thorough research, we have created a list of common user experience mistakes in web design that negatively affect your business and cause a decline in revenue. All of them are explained below.
1 – Slow Load Time
Website loading time is critical as it plays an essential part in determining whether a user has to stay on your site or not. Although it is not primarily connected to the website's looks, it depends on how you utilize the homepage. If you have used such elements that are heavy to load over a general network, the user will quickly back away from your site. Therefore, you must have a sharp eye on the loading time of your website to optimize the user experience.
2 – Large Headers & Footers
It is a common thought that using a large-sized header will catch the visitors' attention. However, it is not valid. The users always look for the information instead of focusing on the headers or footer bars. A large header or footer will grab more space, leaving a minimal area for a designer to put essential details regarding the business. Resultantly, a client will find the website unprofessional and stay away from getting the services. This will ultimately have a negative impact on the brand's value.
3 – Lack Of Contrast
A cluttered or poorly contrasted design will make it fairly difficult for a user to understand the data. Using light colors alongside light-colored images and small fonts will not work in the best way for your business as they spoil the users' experience. Moreover, the client will also avoid visiting your website if he comes across it the next time. That's why you must be very conscious regarding the color contrast while designing the website. Try to use catchy gradient-colored fonts when required. Also, pick highly contrasted images or themes to attract the users instead of getting them away from the site.
4 – Poor Readability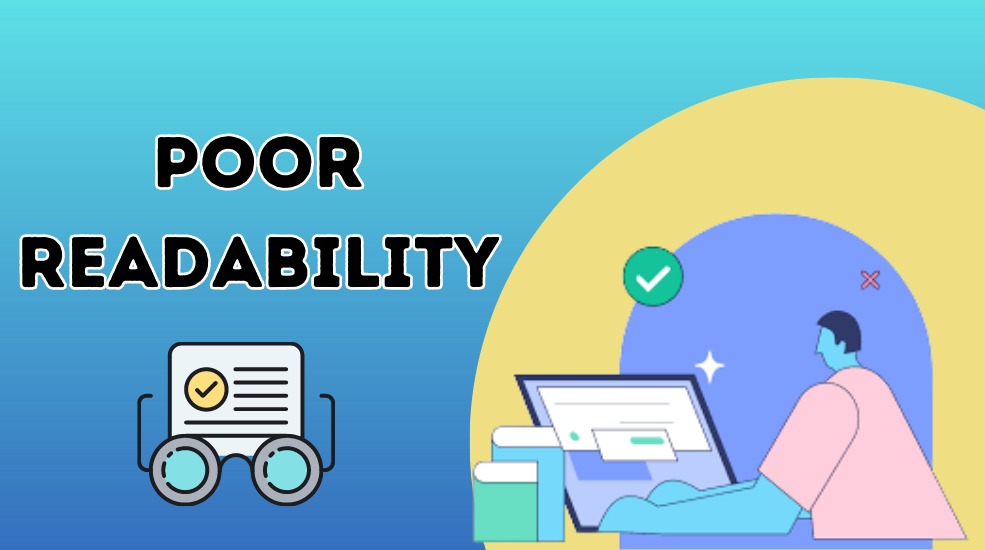 In the previous section, we discussed using the contrasted theme to optimize the user experience. The content readability also connected to the previous one. A client must get precise data regarding the particular question, and it must be easy to read. Using small-sized and fancy fonts will not let the users understand what you are trying to say. Therefore, poor readability will negatively impact user experience and your brand's worth. To overcome this problem, use large-sized and simple fonts.
5 – Improper Navigation
It is a common practice that whenever a visitor comes to a site to get some information, he always tries to reach the particular section without wasting time. However, if he is not finding a way to get the desired information quickly, it will spoil the user experience. Moreover, if you are using an improper working navigation bar, it will direct the user to something different than required. That's why you must be very curious while creating a design that allows a proper navigation panel for visitors to find the desired data in no time instead of sorting the complete site.
6 – Unfunctional Call To Action Buttons
Consider yourself as a visitor and try to access your desired product on a website by clicking the link and finding it broken; what will be your reaction? Indeed, you will try your best not to visit that site again when you reencounter it. The same may happen in the case of your website. Suppose you use unfunctional call-to-action buttons on your landing page or homepage. In that case, the users may declare your website as non-professional, which will negatively impact your revenue. Therefore, always use functional call-to-action buttons with proper links inside.
7 – Lack Of Mobile Optimization
Not everyone is accessing your website from computers, as there is a huge rise in the usage of smartphones (Android and iOS) in the last few years. Therefore, you have to consider the functioning and mobility of your website over smartphones as well. Try to optimize the site's functionality by using interface-friendly elements to acquire any shape precisely when a user visits it from any source or device.
8 – Overuse Of Pop ups
Some websites use different pop-ups to market their products and grab users' attention. It is undoubtedly helpful, but overuse may create some problems. Using many pop-ups will spoil the user experience and will not be able to provide a decent or professional look to the site. Moreover, irrelevant pop-ups also cause the loss of credibility of the website. Therefore, use the pop-ups in decent numbers and make them relevant to your website's products or services.
Final Verdict
As conclusion, we can say that user experience is the basic factor on which the credibility and productivity of your website or business depend. Therefore, we have listed the common user experience mistakes in web design, which must be removed to give a professional look to your website to increase brand value and revenue. I hope this guide works best for you. Stay tuned for more information!