Websites are lifelines for businesses, personal brands as well as for knowledge-sharing platforms in the online world of 2024. In the world of the internet, there are many security issues that compromise one's data which may lead to the total closure of the business.
This article will provide 2024 website security guide, why you need to keep your online presence safe, and how to protect yourself against hackers.
Understanding the Importance of Website Security
Website security has become an imperative rather than something that is ignored. It's not the Wild West of early 2000 anymore; it's an expansive interconnected system that keeps reinventing cyber threats. First and foremost, it is vital to understand why site security is important.
1. Protection of Sensitive Data
You must guard customer privacy when operating an online business that gathers user data like name, bank account number, email etc. Identity theft, financial loss, and legal liability may result from a security breach.
2. Reputation Management
Very often, visitors have their first experience with your brand via your website. Having an insecure website will ruin your credibility as well as make you lose people's confidence. Building trustworthy relationships may take a lot of time and effort, but one security incident can break those relationships.
3. Legal and Financial Consequences
Many states have laws that safeguard the privacy of users' data. You must notify people about a data breach under GDPR and other similar laws. Not complying with such order may lead to high penalties. Financial damage resulting from a breach may prove more critical than legal penalties.
Types of Security Threats in 2024
Understanding the threat landscape is essential to effectively guard against security breaches. Webmasters should be aware of the following types of security threats:
1. Hacking Attempts
Hackers continuously probe websites for vulnerabilities to gain unauthorized access. They may deface your site, steal data, or use your platform for malicious purposes.
2. Malware
Malware, short for malicious software, can infiltrate your website and compromise its functionality or the devices of your visitors. It can be distributed via infected files, links, or vulnerabilities in your site's code.
3. DDoS or Distributed Denial of Service Attacks
DDoS attacks aim to overwhelm your website with traffic, rendering it inaccessible to users. These attacks can disrupt your online services, causing downtime and revenue loss.
Read Also: The 8 Best Free Antivirus Software for 2023
4. Data Breaches
Data breaches involve the unauthorized access, acquisition, or disclosure of sensitive information, such as customer records, credit card data, or proprietary information. This can lead to severe legal and financial repercussions.
Now that you understand the importance of website security and the threats you're up against, let's delve into the practical steps you can take to safeguard your website in 2024.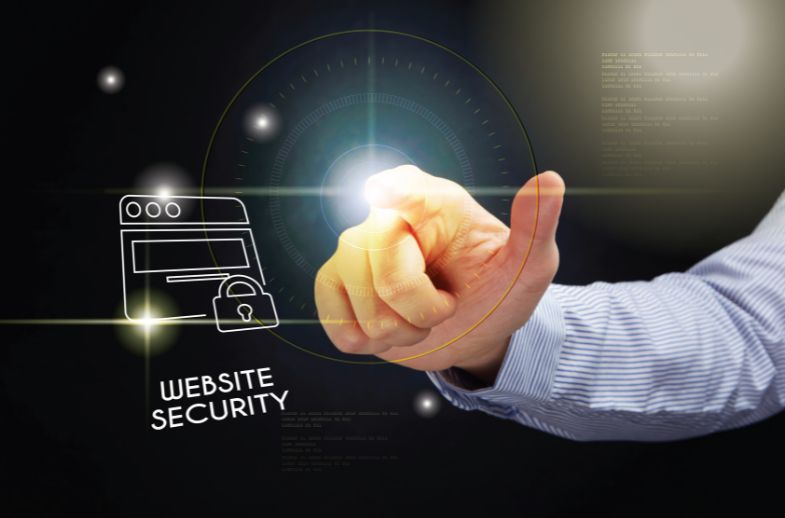 Tips for Protecting Your Website
1. Regular Software Updates
A typical loophole that hackers exploit is old software, among it the CMS, plugins, and server programs. Make sure you update all your software since most of these are patched against existing vulnerabilities. Put all your software on auto update mode or check them manually for updates and install when necessary.
2. Strong Passwords and Authentication
Passwords serve as the most important barrier. Make sure to use hard-to-guess passwords for all accounts related to your website such as those in the CMS, hosting, as well as in the email services. Using an encrypted password manager is also a good idea to keep all your software safe at a place foe easier access. Combine capital, small letters, digits and some special symbols to make passwords strong. Furthermore, make use of the 2FA whenever available. In addition, 2 FA adds a second factor authentication. It is important to note that this second step requires another form of verification such as text message.
3. SSL Encryption
You require SSL (Secure Sockets Layer) encryption your website. It secures traffic and encrypts sensitive data that flows between your website and a visitor with high-level encryption algorithm making intrusion almost impossibly. In addition to that, search engines such as Google rank such websites more highly. Therefore, SSL won't just ensure safety of your information on the way but you may be able to give it a little boost with this particular protocol on as well.
4. Web Application Firewall (WAF)
A WAF is like a virtual wall that screens out unwanted visitors while scrutinizing those who come into contact with your website. It may also act as a firewall that blocks malicious requests, including SQL injection, XSS, or DDoS attacks. A proactive measure involves implementing the WAF in order to harden your website's security.
5. Backup Your Website
Data loss can be catastrophic. Regularly back up your website, including databases, to an offsite location or secure cloud storage. In the event of a security breach, you can restore your website to a clean and secure state, minimizing downtime.
6. User Permissions and Access Control
Limit user privileges to the bare minimum required for their roles. Avoid giving unnecessary administrative access, and regularly review and adjust permissions. Unauthorized access can lead to security breaches, so it's crucial to maintain strict control over who can do what on your website.
7. Monitoring and Detection Systems
Implement intrusion detection and monitoring systems to continuously scan for unusual activities or unauthorized access. Quick detection is paramount for a rapid response to security threats.
8. Response and Recovery Plan
Prepare a comprehensive response and recovery plan. This plan should outline the steps to take when a security breach occurs. It should cover isolating the breach, notifying affected parties, investigating the incident, and restoring your website to its previous secure state. Having a well-defined plan can significantly reduce the impact of a security incident.
9. Educating Your Team
Your team plays a crucial role in your website's security. Educate them about security best practices, the risks associated with their roles, and how to recognize and respond to potential threats. Human error is a significant factor in security breaches, so raising awareness and providing training is vital.
10. Ongoing Security Audits
Regular security audits are necessary to identify and address website vulnerabilities proactively. Consider working with security professionals or using security audit tools to ensure that your website remains secure over time.
Conclusion
Web masters must consider that cyber criminals are constantly inventing new tricks. Your website is the face of your brand which preserves the information and creates a link between you and your audience. And failing to protect your website may result in severe consequences.
Website security is very important these days. It is a matter fact that the threats always change from time to time. Hence, if you are keen on protecting your site, it is important to understand the possible risks, put into place the necessary procedures, and remain watchful over your operations.