In recent years, smartphone cameras have seen remarkable improvements with higher resolutions, more lenses, and advanced storage options. They have become a killer feature for social media fans. Taking full advantage of the latest smartphones, pro tips, and accessories can improve your photography game. Brands can also recognize the value of eye-catching visuals for marketing. But taking exceptional smartphone photos requires more than just point-and-shoot. The secret lies in various techniques. Once you've improved your photography, consider the best mobile photo editing apps to get the perfect result. This guide will provide the most beneficial tips for capturing stunning photos on your phone.
Set Your Camera's Focus
Taking great photos with your phone requires mastering a variety of techniques. Adjusting focus can be crucial when taking pictures, as your phone's camera will often automatically focus on the foreground. It would be best to tap on the screen where you want to target to change the focus point, which is especially useful for moving subjects.
Master Composition
Composition is the foundation for capturing stunning photos on your phone. You should apply classic composition rules like the rule of thirds, leading lines, and framing to your smartphone photography. You need to work with angles and perspectives that are best to add depth and visual interest to your shots.
Use Good Lighting
Lighting plays a crucial role in photography. Natural light is often your best friend. If you want to use good lighting, you should avoid using your phone's flash if possible, as it can create harsh shadows and unnatural skin tones. You should try to shoot in well-lit environments or during the "golden hours" when the sun provides soft and warm light.
HDR Mode for High-Contrast Scenes
HDR means High-dynamic-range mode that is perfect for scenes with a wide range of lighting, such as a bright sky with dark shadows. It can capture multiple exposures and combine them to create a well-balanced image. You should experiment with HDR when shooting landscapes, architecture, or portraits in difficult lighting conditions.
Focus and Exposure
Most smartphones can allow you to tap the screen to set the focus and exposure point. This feature lets you control where the camera will focus and the exposure settings. You can use it to emphasize your subject and adjust the exposure for the best results.
Depth of Field
You can create a shallow depth of field when the subject is in sharp focus while the background is blurred by using Portrait mode or adjusting the aperture settings in Pro mode. This technique is excellent for portraits, food photography, or any subject you want to stand out.
Use Gridlines
Many smartphone camera apps have gridline options that help you apply the rule of thirds and maintain a balanced composition. You need to enable gridlines to guide your framing and alignment while taking photos. You can create more visually appealing and balanced images by incorporating gridlines into your smartphone photography. It's a simple but effective technique that can significantly enhance your photos' quality, especially when you are looking for better composition and visual impact.
Edit Your Photos
Editing your photos can significantly enhance their visual impact. There are numerous photo editing apps that can allow you to adjust exposure, contrast, color balance, and add filters. Some popular choices include Adobe Lightroom, Snapseed, and VSCO.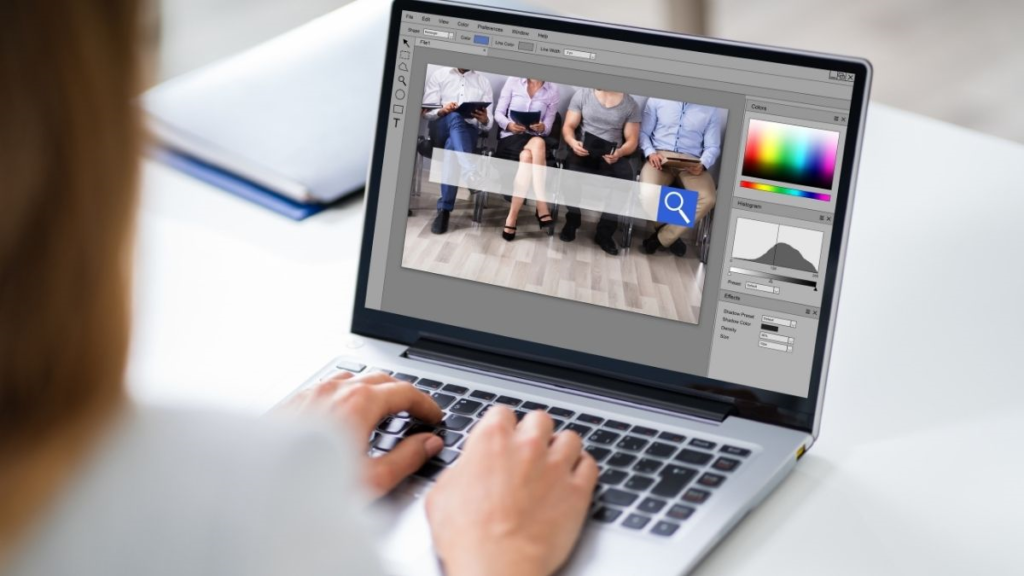 Don't Overdo Filters
While filters can add creativity to your photos, using them in adequate amounts is essential. Overly filtered images can look artificial. Remember that the goal is to enhance your photos, not cover them up. Filters can be powerful tools for improving your smartphone photos, but using them properly is essential. Striking a balance between creative enhancements and preserving the authenticity of your images will result in more visually appealing and engaging photos.
Read Also: 10 Ways to Improve the User Experience on Your Website
Capture Movement with Burst Mode
Burst mode is perfect for capturing fast-moving subjects. It can be best to hold down the shutter button, and your phone will take rapid shots. Choose the best picture from the burst to capture the perfect moment.
Add a Tripod or Stabilizer
You need to consider using a tripod or smartphone stabilizer to eliminate camera shake and take sharper photos. These accessories are beneficial for low-light photography, long exposures, and time-lapse shots.
Experiment with Apps
You should explore third-party camera apps that offer additional features and control your phone's default camera app. Some of these apps can provide you with manual controls, advanced shooting modes, and more extensive options for customization.
Keep It Steady
Stability is crucial for getting sharp images. For this, press your phone against a stable surface or use two hands to hold it steady. If you don't have a tripod or stabilizer, improvise with everyday objects to achieve better stability.
Tell a Story
Don't just take pictures. You can tell a story with your images by taking better photos. For this, you should consider the narrative, emotions, or message you want to convey through your photos. Capture the moments that make your photo memorable and engaging.
Know Your Phone's Limitations
While smartphone cameras have come a long way, they have limitations, especially in low light and zoom capabilities. You should understand these limitations to help you work around them and maximize your phone's strengths. By knowing the limitations of your phone you can be capturing stunning photos on your phone.
Practice
The more you use your smartphone camera, the more familiar you become with its capabilities, and you will know how to get the best results. Practice is vital to improving your photography skills.
Stay Inspired
You should follow professional photographers on social media, read photography books, or attend workshops to stay inspired. It will help you to learn new techniques. Inspiration can come from various sources and help you take your smartphone photography to the next level.
Share Your Work
You can share your stunning photos on social media platforms, photography websites, or with friends and family. The constructive feedback and appreciation can motivate you to keep improving your skills and take more stunning photos.
Conclusion
In the world of advanced smartphones, your mobile device has become a powerful photography tool that can produce stunning images compared to those captured by traditional cameras. You can take your smartphone photography game to new levels by using this guide's valuable tips and techniques. These tips cover the complete variety of smartphone photography, from basics like setting your camera focus to more advanced techniques like mastering composition and focusing. Understanding and using camera settings like HDR and portrait mode can open up new creative possibilities. I hope this guide helps you to make your photography better by capturing photos on your phone