Creating an online store these days is easier than ever. Technology has enabled small businesses to quickly build and maintain their web stores — even with limited resources. With the right eCommerce platform, you can have a sleek, powerful, and reliable website that boosts sales and drives traffic to your business. Whether you're a reluctant beginner or an experienced digital marketer, this post will look at some of the best eCommerce platforms for small businesses in 2023 – platforms that provide ease of use, customization options, scalability options as well as cost-effectiveness. Read on to discover which ones are worth considering this year.
What are eCommerce platforms:
ECommerce platforms are software solutions that provide the necessary tools to build and manage online stores. These platforms help you set up your website, process payments, display products, track orders, and analyze customer data. The best eCommerce platforms for a small business typically offer a range of features including product catalogs, shopping cart and checkout processes, inventory tracking, shipping options, and customer accounts.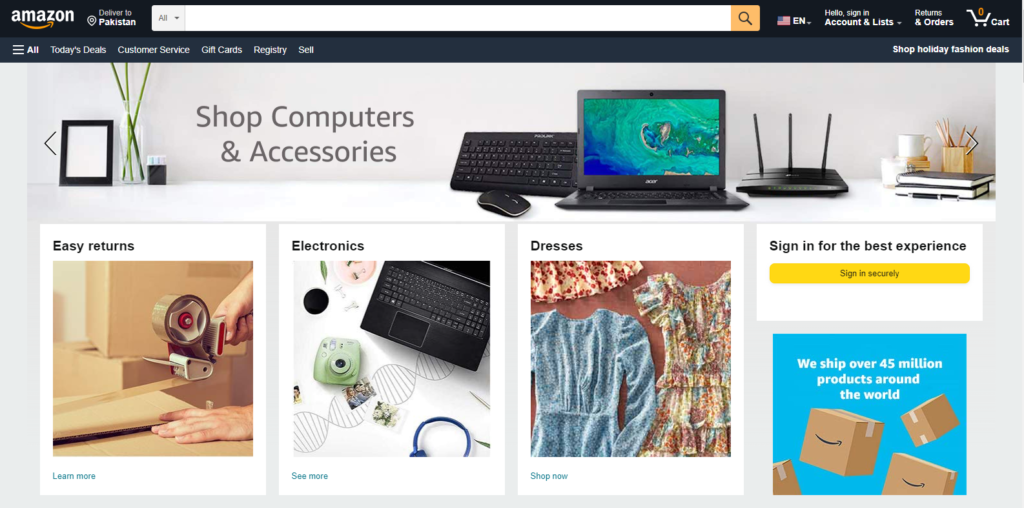 Amazon is the world's largest online marketplace, offering customers access to over 400 million products from around the world. Amazon is known for its competitive prices and fast shipping. In 1994, Amazon was established as a modest e-commerce site that solely sold books. Today, Amazon has expanded to include a variety of products and services such as groceries, electronics, apparel, and accessories. In addition to providing customers with products, Amazon also offers services such as Prime Video, Kindle Unlimited, and Alexa Skills.
It also offers a variety of services such as Prime membership which includes free two-day shipping, streaming services, and access to exclusive deals.
Key Features:
• Wide Range of Products
• Competitive Prices
• Fast Shipping
• Free Prime Membership With Benefits
• Variety of Services Such as Prime Video, Kindle Unlimited, and Alexa Skills
• Buyer Protection
• Easy Returns and Refunds
• Gift Cards Available
• Amazon Prime Wardrobe to Try Clothes Before You Buy
• Amazon Fulfillment Services for Businesses
• Product Reviews and Ratings.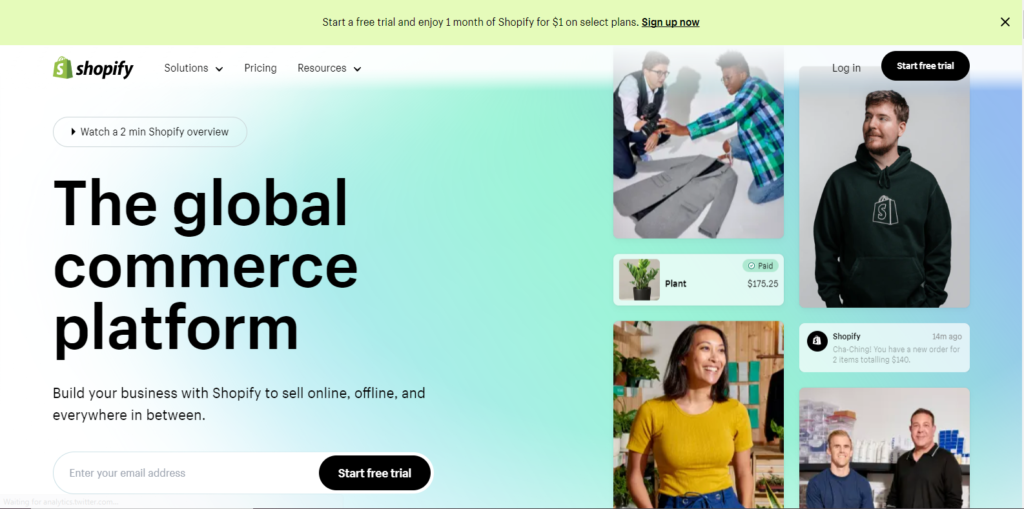 Founded in 2006, Shopify has revolutionized the eCommerce landscape and become one of the most sought-after platforms globally. It is a complete platform for entrepreneurs to start, operate, and expand their businesses with ease – it already powers millions of companies all over the world. Shopify is an ideal platform for any novice in the online community, as it provides a simple and intuitive user interface that even beginners can understand.
Key Features:
• Fully integrated eCommerce platform with the ability to manage multiple sales channels.
• Offers a wide range of payment processing options to accept payments from all major credit cards, PayPal, Apple Pay, and more.
• Built-in analytics to track sales performance and customer behavior.
• Comprehensive selection of apps to enhance your store's features.
• Highly customizable themes and store designs to reflect your brand identity.
• 24/7 customer support available for fast resolution of queries and issues.
• Comprehensive security measures for protecting customer data.
• Ability to expand your store's reach globally.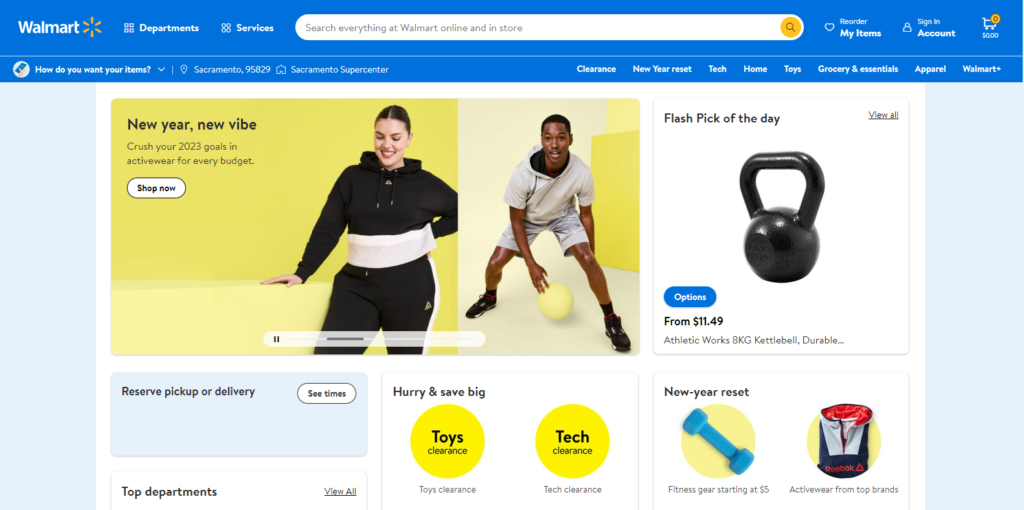 Walmart is the world's largest retail chain, with over 11,000+ stores in 27 countries. In 2016, Walmart launched its eCommerce platform, Walmart Marketplace, which allows third-party merchants to sell their products on the site. Not only does this give customers access to more products and a larger selection, but it also allows merchants to reach a global audience. Walmart Marketplace is ideal for merchants looking to reach a global audience and take advantage of all the features Walmart has to offer. Walmart Marketplace offers merchants access to powerful marketing tools, mobile-responsive designs, and analytics to help them run their eCommerce stores.
Key Features:
• Mobile-responsive design
• Variety of payment options
• Powerful marketing tools
• Comprehensive analytics and reporting
• Ability to integrate with other eCommerce platforms
• Secure and reliable platform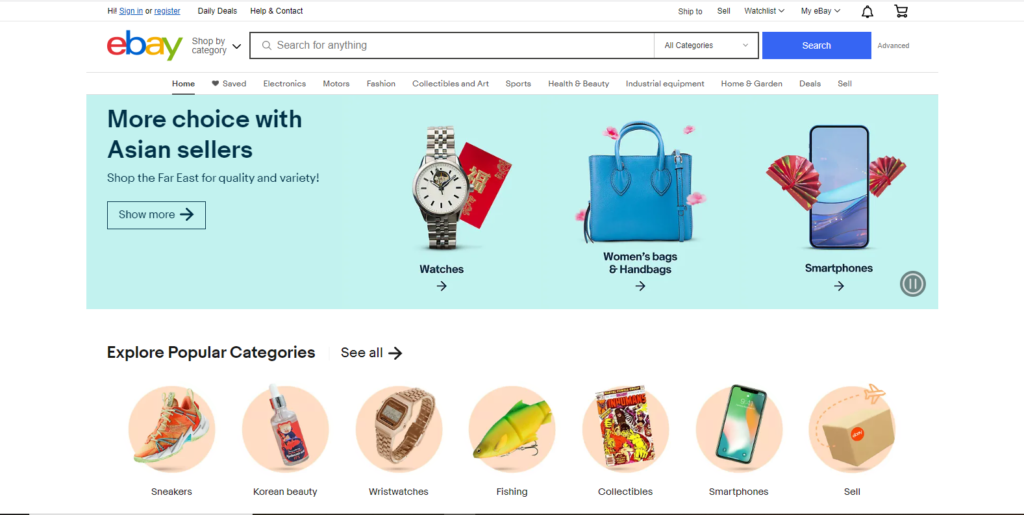 eBay is an innovative platform where buyers and sellers can engage in a virtual shopping experience. Consumers have the opportunity to win items through auctions, while private vendors are afforded the chance to list their wares for sale. In 1995, Pierre Omidyar established eBay which quickly became a celebrated success during the dot-com bubble. eBay is the perfect platform to get rid of your pre-owned goods while earning some extra cash – no matter if they are new or secondhand. Nowadays, eBay is a world-renowned platform where businesses and consumers alike can purchase or sell whatever they desire.
Read More:
Key Features:
• Robust auction platform
• Easy payment processing
• Multiple payment options
• International shipping and delivery
• In-depth analytics and reporting to gain performance insight
• Supportive customer service team
• Secure and reliable platform
• Ability to integrate with other eCommerce platforms
• Mobile-friendly designs for both buyers and sellers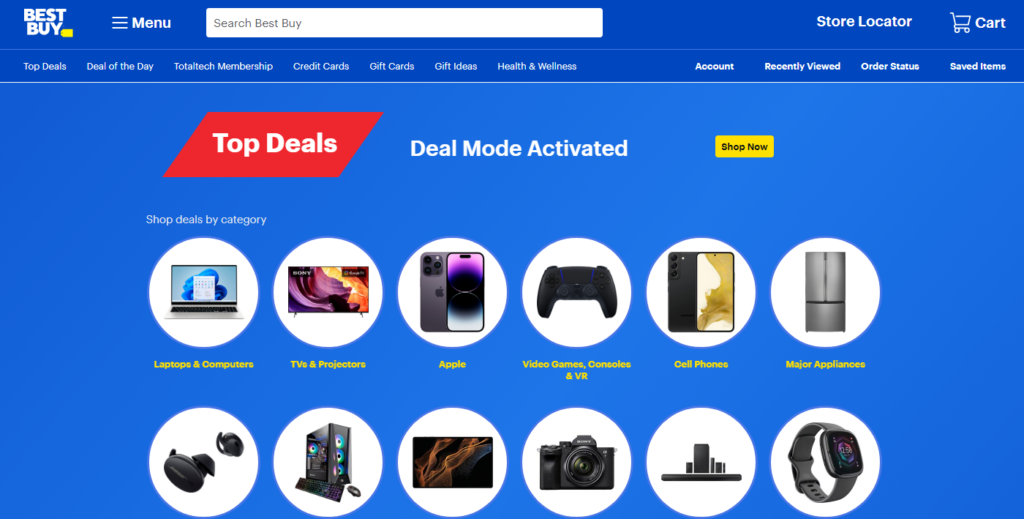 Best Buy is a popular electronics retailer in the US, with over 1,000 stores located across North America. The company was founded in 1966 as an audio specialty store. Since then, Best Buy has become a leader in consumer electronics and home entertainment products by offering competitive prices on items such as computers, tablets, televisions, and other devices. Best Buy also offers a variety of services such as Geek Squad technical support and product installation. For customers looking for a more personalized shopping experience, Best Buy also offers its Reward Zone program, which allows members to earn points on purchases and redeem them for discounts.
Key Features:
• Multiple Payment features: including credit and debit cards, PayPal.
• Geek Squad Technical Support
• Reward Zone Program
• Product Installation Service
• Price Match Guarantee
• Wide Variety of Electronics and Home Entertainment Products
• Store Locator to Find a Location Near You
• Buy Online, Pickup in Store Option Available
• In-Store Pickup Options and Curbside Delivery Available
• Easy Returns and Exchanges
• Special Offers and Deals Throughout the Year.
WooCommerce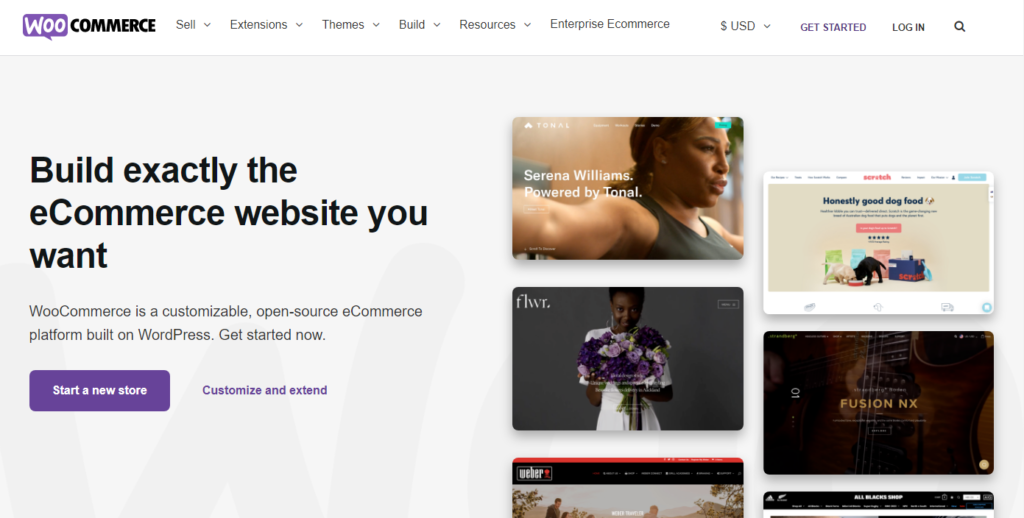 WooCommerce is the most popular eCommerce platform for small businesses, powering over 28% of all online stores. It is a free WordPress plugin specifically designed for entrepreneurs to create their eCommerce sites quickly and easily. WooCommerce allows users to set up their stores to sell physical and digital products, as well as offer subscription services. In 2011, WooCommerce revolutionized the landscape of online stores by offering a dependable platform for small-to-medium-sized merchants who use WordPress as their eCommerce system.
Key Features:
• Easily customizable
• Flexible payment options
• Powerful analytics
• Intuitive design
• Security features
• Built-in search engine optimization (SEO)
• Comprehensive marketing tools
• Seamless integration with other WordPress plugins and themes
• Comprehensive payment gateways, including PayPal and Stripe
• Built-in shipping options
• Comprehensive customer support services