As an influencer, you have the unique opportunity to leverage your online presence and monetize it. You can use this platform to showcase your favorite products and earn commissions from sales made through your store. The Amazon Influencers Program is a great way for influencers of all sizes to make money and promote their brand. Let's take a look at what the program entails.
What Are Amazon Influencers?
Amazon Influencers are individuals who have established a significant online following, such as on blogs, YouTube channels, Instagram accounts, Twitter accounts, and more. They partner with Amazon to create virtual stores that showcase products they love or have used. Their followers can purchase those products directly from their stores, and the influencer will receive a commission on each sale.
Who can Become an Amazon Influencer?
The good news is that anyone can become an Amazon Influencer. All you need is an active blog or YouTube channel where you regularly post content related to the topics available on Amazon. You also need followers/subscribers so that your recommendations reach a wider audience. Once you meet these requirements, you can apply for the program and start making money.
Is there any difference between Amazon Influencers and Amazon Affiliates?
Amazon Affiliates are those who promote specific items from certain categories on different websites or blogs using unique links assigned by the company itself. Meanwhile, influencers use their platforms (e.g., YouTube channels or blogs) to recommend products from any category on the site. Additionally, influencers get exclusive deals not available to affiliates such as early access to new product launches and exclusive discounts for followers.
What is the Amazon Influencer Program?
The Amazon Influencer Program is an invitation-only program designed to give influencers access to a range of promotional tools and resources. Influencers can create their own customized stores with products they choose from across all of Amazon. These stores allow influencers to connect with their followers, while also providing them with an easy way to earn money through referral fees and commissions.
How Does It Work?
Once you've been invited and accepted into the program, you will be provided with a custom URL that links directly to your store page. You can then use this URL in all of your promotional activities, such as social media posts, newsletters, blogs, etc., for followers and potential customers to find your store. When customers click on the link and purchase any item from your store page, you will receive credit for any commissions or referral fees associated with that purchase.
By leveraging different tools and strategies, brands can make sure their store stands out and reaches more customers. Let's explore some of these strategies and how you can use them to your advantage.
Integrate Your Amazon Store with Your Website
One of the most effective ways to promote your store on Amazon is to integrate it with your website. This will allow customers to browse through your products from within your website and even add items directly to their shopping cart without leaving your site. It will also give you access to customer data that can help you optimize your marketing efforts and reach more customers.
Integrate Your Amazon Store with Your Social Media Presence
Another great way to promote your store is by integrating it with your social media presence. You can use platforms like Instagram and YouTube to showcase products from your store, share reviews, or even host giveaways for users who follow you on social media. Additionally, many influencers are willing to work with brands in exchange for free products or discounts, so this could be a great opportunity for you as well.
Leverage Amazon Live
Amazon Live is another powerful tool that allows you to broadcast live videos of yourself showcasing products from your store or simply answering customer questions about what they should buy from you. This is a great way to reach potential customers who may not have known about you before, as well as build relationships with existing ones.
Additionally, it allows viewers to interact directly with the brand behind the product they're interested in buying, which increases trust and loyalty among shoppers.
How Can Brands Find Amazon Influencers?
If you want to take advantage of influencers' reach but don't know where to start looking for them, here are a few tips:
1. Check Out #Found It On Amazon
This hashtag is used by many influencers when showcasing products from their favorite stores on Amazon. Searching for this hashtag will give you access to hundreds of influencers who are already familiar with the platform and its products.
2. Browse Amazon Live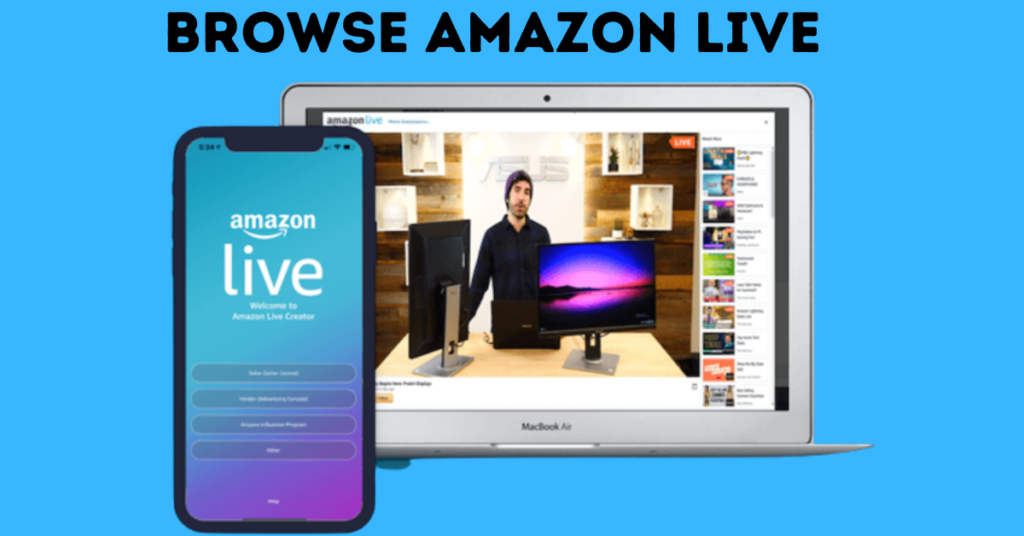 As mentioned earlier, many influencers use this feature in order to showcase their favorite products from stores on Amazon and engage directly with viewers in real time. Take a look at some recent broadcasts and find out which influencers seem right for you.
3. Search Influencer Marketplaces That Include Amazon Influencers
There are plenty of dedicated marketplaces out there specifically designed for finding influencers who have worked with stores on the platform before. Simply search these websites using keywords related to the type of product or service that you offer in order to find potential candidates quickly.
4. Survey Your Customers and Fans
If all else fails, don't forget that sometimes the best people promoting your store might be right under your nose, those who have already purchased one or more items from it. Ask current customers about what kind of content would make them come back again, this could help uncover some hidden gems among fans who haven't yet been tapped into by other influencers.
Conclusion
The Amazon Influencer Program provides a great opportunity for influencers who want more control over their content monetization process while utilizing one of the world's most powerful platforms at the same time. If you are looking for a way to increase exposure for yourself as an influencer as well as market specific products from within a particular niche then joining this program may just be what you need. With so many different ways that you can promote yourself through this program, there should be no reason why any influencer shouldn't take advantage of its potential.