Advanced tech tools and solutions play a significant role in improving operational efficiency and productivity at the workplace. But the rise of artificial intelligence has ignited concerns about job insecurity. Many employees think AI will replace their roles, but it is possible to protect your job and survive in this changing landscape with the right strategies.
This article will explore the best ways to safeguard your job from AI and ensure professional success.
How to Protect Your Job from AI
1. Embrace Continuous Learning
In the face of AI, continuous learning is crucial to staying relevant in your field. Invest in learning new skills and knowledge in high demand and aligned with technological advancements. You can be a valuable asset to your organization by staying updated and improving your skills.
Take online courses, attend workshops, and participate in industry events to keep up with the latest trends and developments. You showcase your adaptability and willingness to embrace new technologies by proving a commitment to learning.
2. Develop Unique Human Skills
While AI excels at tasks that involve data analysis and automation, it often lacks essential human qualities. To protect your job, learn and improve skills that are uniquely human and difficult to replicate by AI. You can improve your creativity, emotional intelligence, critical thinking, and problem-solving skills to thrive in this changing job market.
Invest time in developing your creative thinking abilities by engaging in activities that stimulate your imagination. Embrace empathy and emotional intelligence to build strong relationships with colleagues and clients. Sharpen your critical thinking skills by analyzing complex problems and offering innovative solutions. You position yourself as an indispensable asset in an AI-driven world by showcasing these human skills.
3. Be Proactive and Adaptive
Rather than fearing change, embrace it and stay proactive in identifying how AI can enhance your work. Seek opportunities to collaborate with AI technologies to improve your productivity and efficiency. Stay updated on the latest AI tools and platforms relevant to your industry.
Consider automating repetitive tasks using AI-based solutions, allowing you to focus on more strategic and value-added activities. By being proactive and adaptive, you demonstrate your willingness to evolve with technology, making it difficult for AI to replace your job entirely.
4. Become an AI Advocate
In an era dominated by AI, educate yourself about AI and become an advocate within your organization. Help your colleagues understand the benefits of AI technology and how it can improve their efficiency. Position yourself as a knowledgeable resource who can bridge the gap between humans and AI.
Stay informed about the latest advancements and applications of AI in your industry. Share relevant articles, case studies, and success stories to showcase the potential of AI as a tool to enhance productivity and decision-making. By becoming an AI advocate, you establish yourself as an invaluable team member who can effectively leverage AI technologies.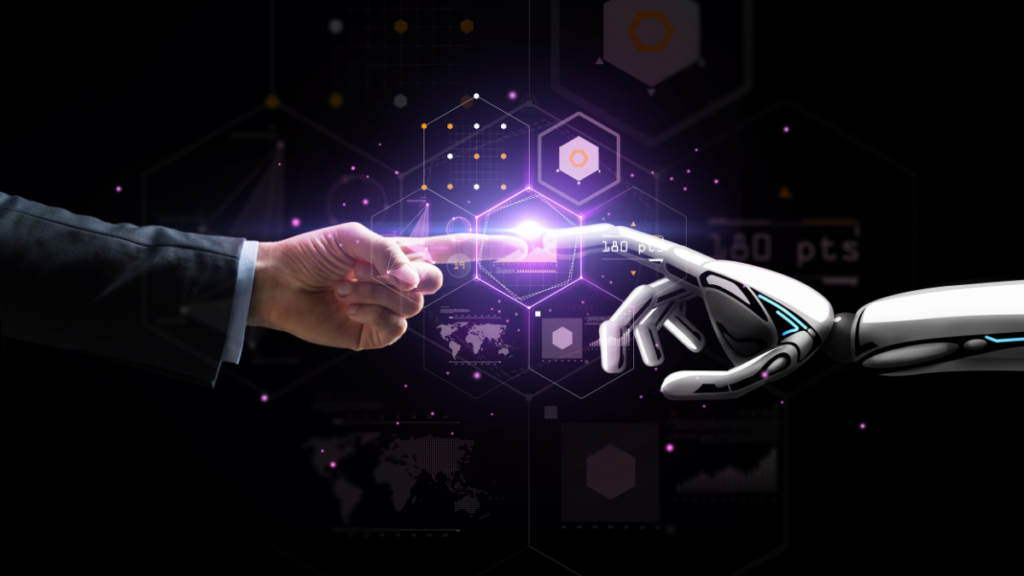 5. Cultivate Strong Interpersonal Skills
While AI may excel at performing certain tasks, it still struggles with interpersonal interactions. To safeguard your job from AI, nurture your ability to connect with others and build strong relationships. Focus on developing excellent communication skills, active listening, and empathy.
Collaboration and teamwork are critical in many work settings. By fostering strong interpersonal skills, you can contribute to effective teamwork, build a positive work environment, and add value beyond what AI can provide. Position yourself as a trusted team member who can handle complex interpersonal dynamics and build successful professional relationships.
6. Identify New Opportunities
The rise of AI is creating new opportunities and job roles that didn't exist before. To protect your job from AI, stay vigilant and identify areas where AI can be integrated into your work to improve outcomes. Embrace these opportunities and position yourself as a specialist in the intersection of your field and AI.
For example, if you work in customer service, explore how AI-powered chatbots can enhance customer support processes. By embracing these new opportunities, you secure your job and open doors to explore new career growth and advancement avenues.
7. Adapt Your Skill Set
Evaluate your current skill set and identify areas where you can adapt to the changing job landscape influenced by AI. Upskilling or reskilling may be necessary to align yourself with the demands of the AI-driven job market.
Research the highly sought-after skills in your industry and invest time in acquiring them. This could involve learning programming languages, data analysis, machine learning, or understanding the ethical implications of AI. By adapting your skill set, you position yourself as a versatile professional who can work alongside AI technologies.
8. Foster a Growth Mindset
In the face of AI, embrace a growth mindset that welcomes challenges and sees failures as opportunities for learning and growth. Maintaining a positive and adaptable mindset allows you to survive through job loss issues and emerge stronger in your career.
Adopt a continuous growth mindset where you are open to feedback, willing to learn from mistakes, and constantly seeking ways to hone your skills. A growth mindset enables you to adapt to new technologies, acquire new knowledge, and overcome obstacles with resilience.
9. Stay Updated on Industry Trends
Stay informed about the latest advancements and trends in your industry to protect your job from AI. Subscribe to relevant newsletters, follow industry influencers, and participate in conferences and workshops.
Industry events help you to network with professionals in your field, exchange ideas, and gain a deeper understanding of the impact of AI on your industry. Being knowledgeable can anticipate changes and position yourself as a thought leader who can survive the evolving landscape driven by AI.
10. Network and Collaborate
Building a strong professional network within your industry is vital for protecting your job from AI. Attend networking events, join online communities, and engage in collaborative projects. Networking provides opportunities for learning, mentorship, and potential career advancements.
Collaboration helps you leverage collective intelligence and stay ahead in the AI-driven landscape. By actively engaging with your peers and network, you can learn from others, share innovative ideas, and uncover new opportunities that may not be immediately apparent.
Conclusion
As AI continues to shape the future of work, it's essential to take proactive steps to protect your job. Embrace lifelong learning, develop unique human skills, be proactive and adaptive, and become an AI advocate. Cultivate strong interpersonal skills, identify new opportunities, adapt your skill set, foster a growth mindset, and stay updated on industry trends. Network and collaborate with professionals in your field to strengthen your position in the face of AI. By implementing these ten strategies, you can secure your job and thrive in the age of AI.
Remember, protecting your job from AI is not about resisting change but embracing it and positioning yourself as an asset for your company that complements AI technologies. By combining your uniquely human skills with the power of AI, you can create a successful and fulfilling career in the AI-driven world.