A strong social media strategy is vital for business success in the digital era. An effective social media strategy can significantly contribute to brand growth, customer engagement, and increased sales. Thorough audience research facilitates personalized content creation, while competitor analysis offers valuable industry insights. Social media platforms have become essential marketing channels, offering businesses a unique opportunity to engage with their customers, build brand awareness, and drive leads. In this article, we will guide you through the process of developing a social media strategy that will help your brand thrive and flourish in the competitive online landscape.
Set Specific, Measurable Goals
Establishing clear, specific, and achievable goals that align with your brand identity is vital. Whether you choose a single objective or multiple interconnected ones, ensuring they are measurable allows you to track progress and success. Typical social media marketing goals encompass enhancing website traffic, generating leads, driving conversions (e.g., signups, sales), increasing engagement rates, and managing brand reputation through active conversations. By adhering to these criteria and customizing your goals to suit your brand's distinct requirements, you can create a compelling and influential social media presence that yields meaningful results.
Research Your Audience
Creating personalized messaging and content hinges on deeply understanding our audience's desires and preferences. Market research through online surveys, customer interviews, or focus groups is invaluable. By combining buyer profiles and insights, we can develop comprehensive buyer personas that clearly depict our ideal customers. Having multiple personas allows us to capture diverse insights, demographics, and pain points, enabling us to tailor our marketing strategies and content to resonate with each audience segment effectively. This customer-centric approach strengthens brand-consumer relationships and drives business success.
Check Out the Competition
Analyzing competitors' social media profiles and content is essential to a continuous social listening process. We can identify trends, preferences, and audience behavior by monitoring their activities regularly. This deeper understanding helps us tailor our content to match our audience's interests while avoiding topics that don't engage them. Moreover, we can discover potential underserved platforms with a more engaged audience by observing which platforms yield the best results for competitors. Staying vigilant in this ongoing process enables us to adapt our marketing strategy effectively, capitalize on opportunities, and maintain a competitive edge in the dynamic social media landscape.
Decide Which Platforms You'll Use
Understanding the preferred social apps of our target audience is crucial for a focused marketing approach. We must spread ourselves evenly and concentrate on the platforms most relevant to our audience. While targeting retirees on TikTok might not yield results, having a presence on the "big four" – Facebook, Twitter, Instagram, and LinkedIn – is generally advantageous. Each platform offers unique strengths and weaknesses. We must tailor content to suit their specific dynamics and align with our overall strategy. This strategic approach ensures efficient use of resources and maximum impact in reaching our target audience.
Optimize Your Profile
Setting up or optimizing our social media profiles is crucial for presenting a professional and informative image online. Key details such as business name, contact information, and relevant information should be prominently displayed. Utilizing keyword research tools helps us understand our customers' search behavior, allowing us to incorporate relevant words and phrases into our profile to enhance discoverability. Consistent branding is essential, ensuring high-resolution images that remain visually appealing even as thumbnails. This cohesive approach fosters instant recognition of our brand across all touchpoints, reinforcing our identity and making a lasting impression on our target audience.
Plan Your Content
Effective content requires considering multiple factors, including the promotional focus and audience preferences aligned with the goals set in Step 2. Content may encompass memes, educational videos, blog post links, or anything valuable to our audience. We foster better engagement and sharing by striking a balance between informative and entertaining content and promotional pieces. This approach establishes a stronger connection with the audience, as they perceive genuine value in the content beyond sales pitches. Aligning content with our audience's needs and interests builds trust and credibility, ultimately increasing brand loyalty and conversion rates.
Tools for Automating Social Media Marketing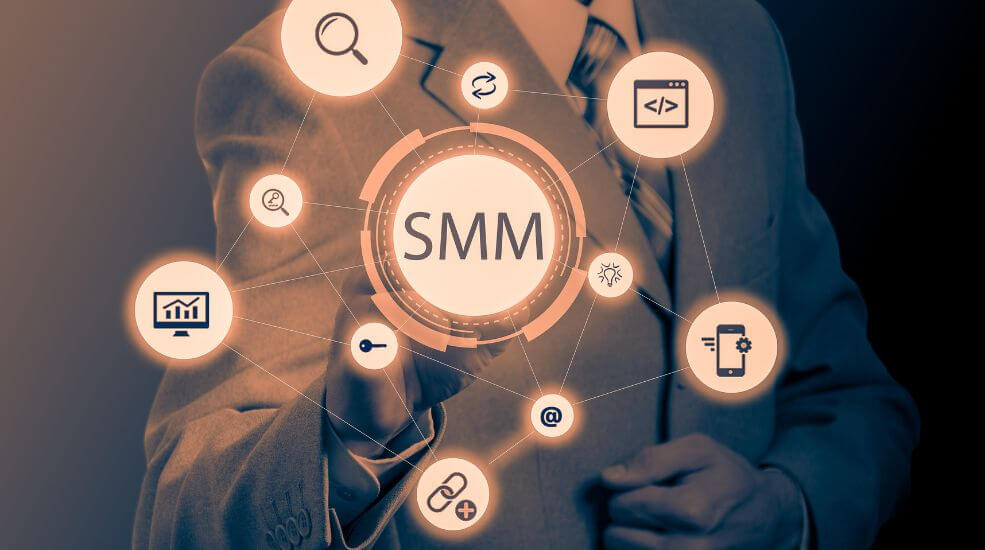 While real-time posting enhances social media visibility, it may only sometimes align with our work schedule or personal life. Fortunately, various affordable social media management platforms offer valuable features worth the investment. These tools streamline our strategy with automation and provide comprehensive analytics, allowing us to track performance, understand audience behavior, and optimize content.
By scheduling posts in advance, we maintain a consistent online presence, even during off-hours, without being tied to constant monitoring. This efficient approach maximizes our reach, engagement, and impact, ensuring that we stay competitive and connected with our audience in the dynamic world of social media.
Create Compelling Content
Recognizing the unique functionalities of each social media platform is vital, demanding distinct strategies for maximum impact. Instagram's focus on captivating images appeals to visual-centric audiences, while LinkedIn is a professional networking hub. Facebook fosters connections and idea-sharing, while YouTube hosts informative and entertaining videos. Crafting tailored strategies for each channel is essential to meet their demands effectively. Compelling and relevant social media content should be created and aligned with the preferences and expectations of each platform's users. By optimizing content for diverse platforms, we engage with our audience more effectively, fostering brand loyalty and achieving marketing success.
Grow your Business with a Strong Social Media Strategy.
Being successful on social media requires dedication, time, and proper resources. A meticulously crafted social media strategy, tailored to our business goals and backed by customer and industry insights, is the key to standing out and making an impact. We build connections and engagement by addressing our target audience's pain points, propelling our business forward.
Embracing a robust social media plan empowers us to harness the potential of these platforms effectively, fostering brand awareness, customer loyalty, and business growth. So, leap into the social media world with a strong strategy, and watch your business thrive in the digital landscape.
Track Your Performance
Once we begin publishing posts, analyzing metrics becomes crucial to gauge performance and identify trends. Social media platforms typically provide commercial users valuable analytics, presenting statistics on reach, impressions, and response rates. The specific metrics to focus on will vary depending on our goals.
If brand awareness is our priority, tracking reaches, and impressions becomes essential, while engagement metrics like likes, comments, and shares are vital indicators of audience interaction and content resonance. Monitoring these insights allows us to continually refine our social media strategy, optimize content, and make informed decisions, leading to improved results and achieving our business objectives.
Conclusion
In conclusion, developing a robust social media strategy requires a systematic approach. Begin by establishing specific, measurable goals that align with your business objectives. Conduct in-depth audience research to create personalized, resonant content. Learn from competitors' successful practices and gain valuable insights. Select the most suitable platforms to reach your target audience effectively.
Optimize profiles with essential information and consistent branding for maximum impact. Plan and schedule compelling content to engage your audience. Utilize automation tools for efficiency. Cultivate brand loyalty and business growth by captivating your followers.