Privacy has become a paramount concern for individuals and organizations in today's digital age. The need for secure and private communication has never been more significant due to the increasing threats to our personal and sensitive information. Mobile messaging platforms have brought our friends or families within easy reach, and group chats have transformed how we coordinate, engage, and cooperate in our social interactions. Messaging apps are one of the most common ways we communicate, which makes it crucial to choose apps that prioritize user privacy and data security. This blog post will explore the top 10 privacy-focused messaging apps that offer secure and encrypted communication. 
Privacy-Focused Messaging Apps for Secure Communication:
The most effective encrypted messaging applications play a crucial role in safeguarding your privacy by creating formidable barriers against eavesdropping on confidential conversations, often extending their security shield even to the companies that develop them. Many of these top-tier encrypted messaging applications employ such robust encryption that even government agencies and law enforcement entities find it nearly impossible to breach their protective layers. Here, we present a list of the finest encrypted messaging apps currently accessible:
Signal stands as an outstanding messaging option for security-conscious mobile users. It's a comprehensive, free messaging solution encompassing voice calls, text messages, and group chats wrapped in its proprietary end-to-end encryption protocol. With Signal, you can effortlessly communicate with your phone contacts, including sending media and attachments, without the hassle of PIN codes or special login credentials. Recent updates have enriched the app with user-friendly features like customizable wallpapers and animated stickers, while Signal group video chats now support up to 40 participants.
Features:
Share Without Insecurity
Make Privacy Stick
Get Together With Groups
Free for Everyone
No Trackers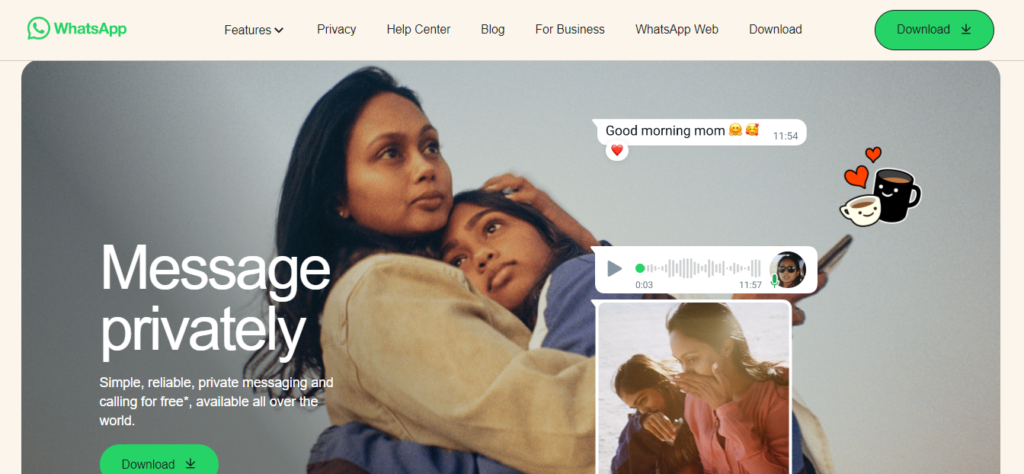 WhatsApp enjoys the level of widespread adoption that technology companies aspire to achieve. This has evolved into a powerhouse initially conceived as a solution to evade expensive international texting charges. It offers end-to-end encryption for text, voice, and video calls, ensuring that only you and the recipient can read or hear your messages. While WhatsApp has faced criticism regarding its data-sharing practices with Facebook, it still provides robust encryption and remains a widely used choice for secure communication.
Features:
Speak Freely
Keep In touch With Your Groups
Transform Your Business
Say What You Feel
End-To-End Encryption
Telegram has redefined the concept of instant messaging, offering a distinctive and multifaceted experience. While you can chat with your friends on Telegram, it goes beyond that by allowing you to create communities, share blog-like posts, host live streams, and more. This diverse range of features can be overwhelming, but it's important to note that Telegram needs to improve security compared to other apps. Telegram's cloud-based nature allows users to access their messages from multiple devices while maintaining security.
Features:
Strong Social Features in Channel
Fun Features Like Stickers and Interactive Emojies
Messages are Heavly Encrypted
Access your Chats From Multiple Devices
Deliver Messages Faster
Threema stands out as a highly secure end-to-end encrypted messaging application that employs the NaCl cryptography library to safeguard your conversations. Upon launching the app, it creates a unique Threema ID key, enabling you to use it anonymously without needing names. Alternatively, you can link your account to an email address or phone number, simplifying the process for other Threema users to connect with you. Additionally, you'll receive a scannable QR code for in-person meetings, eliminating the need to exchange names with fellow Threema users.
Features:
Provides Self-Hosting Solutions
Offer Secure Enterprise Messages Solution
Enable Messages API
Use Ful Too for Targeted Down Communication
Getting Feedback From Friends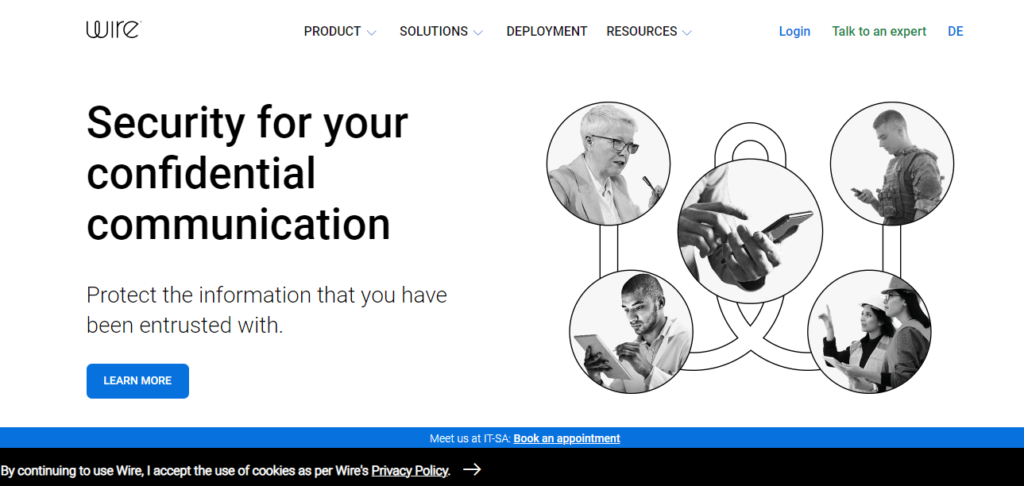 The parent company, Wire Swiss, initially established its roots in Switzerland, renowned for its robust privacy regulations. However, in 2019, the holding company relocated to the United States, causing some users' concerns. Subsequently, in early 2021, it shifted its base to Berlin. Wire relies on its proprietary Proteus encryption protocol, rooted in the Signal protocol, and embraces open-source principles, subjecting its code to external security evaluations. The mobile and web iterations of the app are freely accessible, complemented by a premium tier tailored for businesses.
Features:
Secure Communication
Used by Majority of G7 Government
Support for GIFs and Video Clips
Provide Dropbox File-Sharing
Offer Multiple Cross-Device Syncing
Wickr stands out as one of the most widely acclaimed secure messaging applications, renowned for its commitment to privacy. This messaging platform enables users to engage in instant one-on-one or group text conversations while ensuring the encryption of text messages, voice messages, and memos. Notably, Wickr's registration process does not require users to divulge personal information like phone numbers or email addresses, prioritizing security. It is often regarded more as a collaboration tool than a traditional private chat app.
Features:
Automatic Enforcement of Data Retention Policies
On-Premise Deployment Options
Industry Leading End-to-End Encryption
Zero Trust Platform Design
Advanced Security Features
iMessage ranks among the most privacy-focused chat messaging apps, especially for iPhone users, largely due to its robust end-to-end encryption feature. Furthermore, it empowers users with precise control over message lifespan and view limits, an unconventional yet pivotal aspect contributing to data security. Nevertheless, like any private chat messaging application, iMessage has drawbacks. Even iPhone users have expressed concerns, particularly regarding the limited options for cloud backups.
Features:
Search Text Messages on Your iPhone
Recover Deleted Messages
Reply to Specific Messages
Provide a Mute Notification
Block and Unblock the contact Number
Zulip is a collaboration platform and messaging application, notable for its distinctive thread-based conversation model. Originally created and introduced by a company named Zulip, it subsequently came under the ownership of Dropbox in 2014 and was unveiled as an open-source messaging app in 2015. Further, Zulip is highly regarded for its capacity to boost team communication and productivity, especially for projects and tasks that demand in-depth discussions.
Features:
Efficient Communication App
Helps to Collaboration at Scale
Take Charge of Your Mission Critical Communication
Quires or Ideas Were Spreadly Openly
Best User Experience
The line is a standout secure messaging application that has redefined communication by embracing a unique infrastructure. It offers free and top-notch security for various smartphones and desktop platforms. Originally conceived by a team of Japanese engineers as a means of communication following the Tohoku earthquake in 2011, Line swiftly integrated end-to-end encryption, enhancing privacy protections and branding this feature as Letter Sealing. While this feature is available to all users, it requires manual activation to take advantage of its benefits.
Features:
Keep Current with the Latest News
Easily Make Payments Online
Connect With a Doctor
New Communication App
Meet New Friends with Similar Interests
Dust is the ultimate secure private messaging application that shields your chats from web searches and data theft. Renowned for its unwavering commitment to user privacy and safeguarding against data breaches, Dust operates similarly to Telegram, utilizing a trusted contacts mode. In this mode, users can add their trusted contacts, and all messages within the chat remain unrecorded on local or cloud servers. The app primarily emphasizes self-destructing statements, ensuring the protection of users in cases of threats or blackmail attempts within their chats.
Features:
Protect Your Assets
Screenshots Detection
Secure File Sharing
Encrypted Messaging
No Message Storage
Conclusion
Privacy-focused messaging apps are essential tools for maintaining the confidentiality of your conversations and protecting your personal information. The apps mentioned in this article prioritize user privacy and data security through various encryption methods, anonymity features, and data retention policies. While the best privacy-focused messaging app choice ultimately depends on your specific needs and preferences, these top 10 options offer a range of features to ensure secure communication. Whether you prioritize end-to-end encryption, anonymity, or open-source software, an app on this list likely suits your requirements.